What Nina Dobrev And Ian Somerhalder's Relationship Is Like Today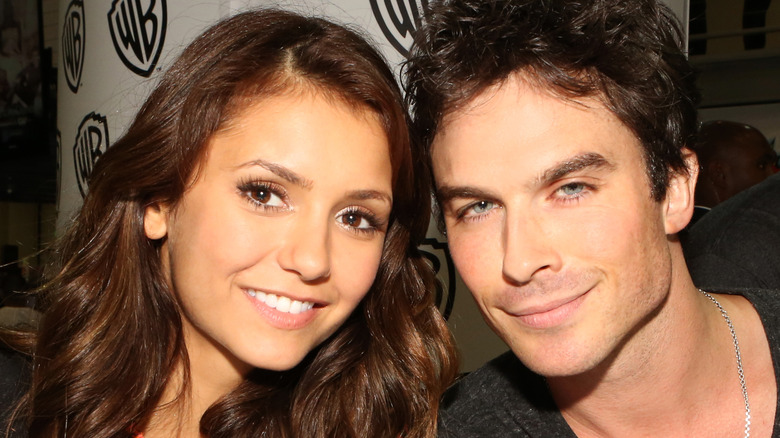 Chris FrawleyWBTV/Handout/Getty Images
"The Vampire Diaries" is a fantasy drama which centered on a teenage girl's encounters with vampires and other supernatural entities within the fictional town of Mystic Falls, according to IMDb. Nina Dobrev and Ian Somerhalder's "Vampire Diaries" characters (human Elena Gilbert and vampire Damon Salvatore) were two-thirds of the show's most popular love triangle. The third member was none other than Damon's brother, Stefan Salvatore, who was portrayed by Paul Wesley. During much the show's eight seasons, which ran from 2009-2013, Damon and Stefan fought to gain the love and trust of Elena; however, ultimately, Damon won out during Season 5, effectively cementing "Delena" as the show's resident ship until Dobrev left the show at the close of Season 6.
In real life, Dobrev and Somelhalder dated from 2010-2013. Unfortunately, the couple, who are 10 years apart, couldn't make it work in real life. According to People, Somerhalder first alluded to their breakup in May 2013 with a cryptic since-deleted tweet which read, "A THOUGHT FOR TODAY: People change and forget to tell each other. Lillian Hellman, playwright (1905-1984)." In the years since, the former couple has moved on to other relationships. Somerhalder has married actor Nikki Reed of "Twilight" fame. Meanwhile, Dobrev is dating snowboarder Shaun White as of this writing. 
But even though Dobrev and Somerhalder have found happiness with other people, how do the exes feel about each other? 
Nina Dobrev and Ian Somerhalder are friends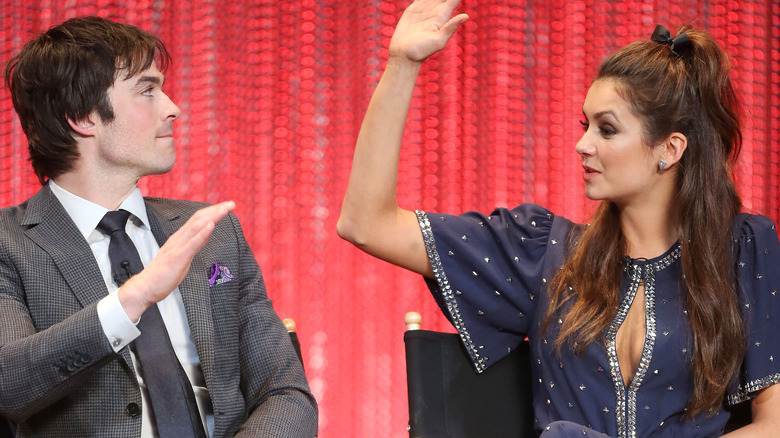 Frederick M. Brown/Getty Images
Compared to some celebrity couples, Nina Dobrev and Ian Somerhalder had a relatively peaceful breakup, but it wasn't exactly a clean one. After calling it quits in 2013, the couple had to continue portraying onscreen love interests for several more years, which could have made things super awkward. Fortunately, the exes have always remained cordial — publicly, at least. In 2014, Dobrev and Somerhalder even poked fun at their breakup when accepting their award for "Favorite On-Screen Chemistry" at the People's Choice Awards. 
Around this time, Somerhalder's whirlwind romance with "Twilight" actor NIkki Reed kicked off, and culminated in a marriage about a year an a half later, per USA Today. Given the timing of Dobrev's "Vampire Diaries" departure, there's been speculation that Somerhalder's wedding was the real reason that Dobrev left "The Vampire Diaries." 
However, Dobrev and Somerhalder have remained on good terms. "When I heard about the wedding, I thought it was beautiful," Dobrev shared with E! News. "They look happy, and I am happy, and so I don't see why there should be a problem with that," Dobrev said. In the years since, Dobrev has not only maintained a friendship with Somerhalder, but also with his wife, Reed. During a 2019 appearance on "Watch What Happens Live," Dobrev addressed critics who may think her decision is out of the ordinary. "I don't think that's weird at all. I think that's great," she said.
Nina Dobrev and Ian Somerhalder were very professional on the Vampire Diaries set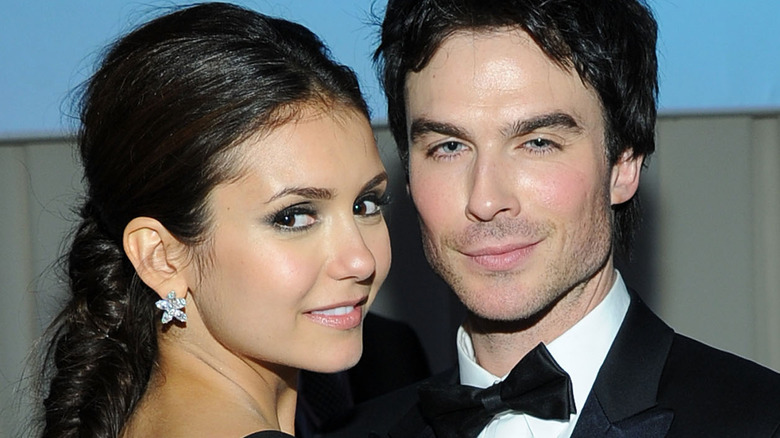 Larry Busacca/Getty Images
Celebrity breakups, especially, are known for being heartbreaking and, sometimes, chaotic. Fortunately, Nina Dobrev and Ian Somerhalder handled things amicably and didn't make the people they worked around feel any discomfort after their breakup. Clare Holt, who appeared in several episodes of "The Vampire Diaries," appeared on the "Not Skinny But Not Fat Podcast" and dished on her first hand account of the exes' working relationship. "I was on The Originals at that point so I don't know the timing," Holt shared (via Yahoo!). "But honestly, they were really — they kept it super professional, it never got weird, like props to them."'
The exes' ability to remain cordial may also be due to Nikki Reed's cool nature. In 2017, Reed posted a photo of she, Dobrev and Somerhalder to Instagram. This effectively shut down rumors of contention, including "friends backstabbing friends," "cheating exes," and  "cast members exiting shows" — alluding to Dobrev's Season 6 exit. Long story short? There's no drama between these three.