Did Evan Peters And Taissa Farmiga Ever Date?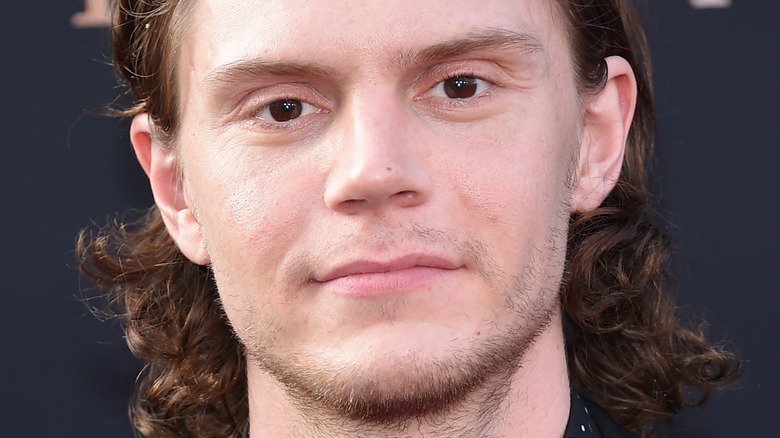 DFree/Shutterstock
Some co-stars are just a so good at playing lovers on screen that fans want it to spill over into real life. That's the case for Evan Peters and Taissa Farmiga, who played Tate Langdon and Violet Harmon in "American Horror Story" Season 1, "Murder House." The angsty (and somewhat sinister) romance between Farmiga's Violet and Peters' Tate quickly became a fan-favorite among "AHS" fans.
But Farmiga only appeared in a few seasons, while Peters has been a staple in Ryan Murphy's horror anthology series. When asked about why Farmiga wasn't returning right away for Season 2, "Asylum," he told Entertainment Weekly that it really came down to character logistics. "I missed her this season. There wasn't really a role for her," Murphy revealed. "I feel very protective of her and I didn't want her to go back into the loony bin — it was too dark." That's why he made sure to create a season where Farmiga could come back as a lead in "AHS" Season 3, "Coven."
The fact that Peters and Farmiga played love interests again in "Coven" didn't help with the rumors and desires from fans for the two to date. Their characters, Zoe and Kyle, had a deeper, star-crossed love vibe to them too, making the connection even more appealing. But did the stars ever date in real life?
Evan Peters and Taissa Farmiga only starred on American Horror Story together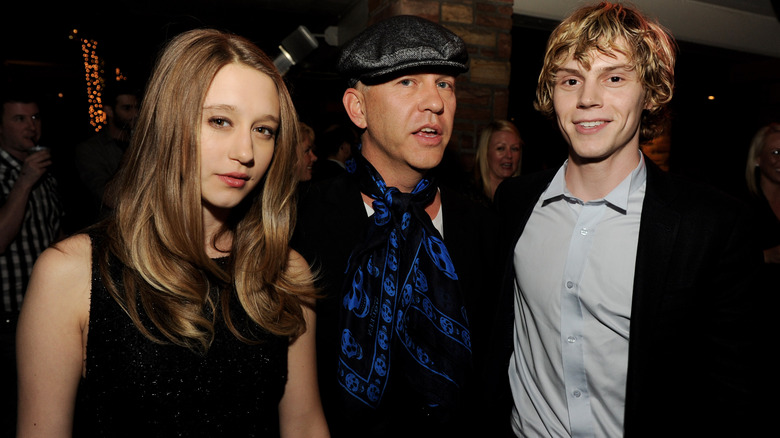 Kevin Winter/Getty Images
Sorry to break the hearts of Violate shippers everywhere, but Taissa Farmiga never dated Evan Peters. Their scenes as a couple got awkward at times, especially once Peters' real-life girlfriend at the time, Emma Roberts, came on set.
"The threesome scene was probably the most awkward, just because it was ... bizarre. Super weird," Peters told Vulture about their spicy storyline in "Coven." "We just didn't want to — we wanted it to be tasteful. If that could be tasteful in any way. Because Emma and I are dating and then poor Taissa's there and we had to get together and do this thing and it's weird."
But that doesn't mean that the real-life friendship between Farmiga and Peters suffered from that awkwardness at all. While talking to HollywoodLife.com in 2017, Farmiga said she doesn't see Peters and "AHS" star Sarah Paulson enough. "It's just like old friends, as simple and straightforward as it is," she said about when they do meet up. "Everyone is so busy doing their thing, working, and I think they're incredible. We're just the little American Horror Story crew. We're family."
Evan Peters dated another American Horror Story co-star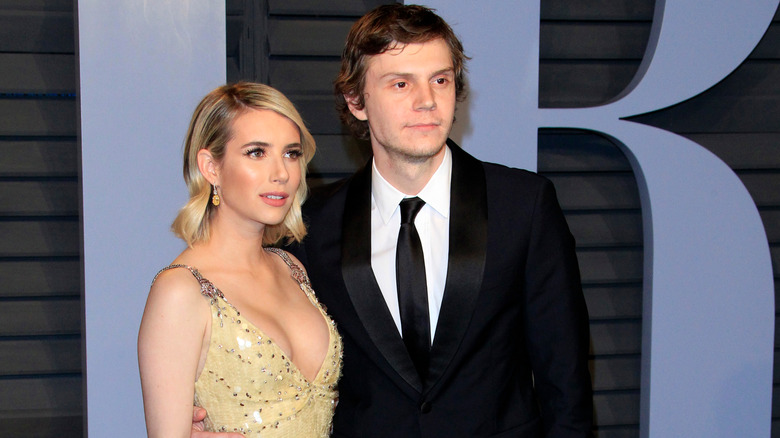 Kathy Hutchins/Shutterstock
Despite remaining platonic with his screen partner Taissa Farmiga, Evan Peters dated Emma Roberts during the early seasons of "American Horror Story." According to PopSugar, the two started dating after wrapping their film "Adult World" in 2012. Roberts and Peters have since broken up after calling off their engagement in 2019, per People.
While they were together, Peters told Vulture in 2014 that filming the scene in "American Horror Story: Coven" where his character Kyle strangles Roberts' character Madison to death wasn't that awkward. "It was like me and Emma were in an acting class, doing a scene," he said. "We were both so gung-ho about it and ready to get into it. It was almost kinda fun; we were feeding off each other." The two went on to play messy love interests again in "American Horror Story" Season 4, "Freak Show." But that was the last time they did so on screen, and Peters took a break from the series for the first time in Season 9, "1984," while Roberts took on a leading role. 
Meanwhile, Farmiga is married to director Hadley Klein, and had a guest appearance in "AHS" Season 6. She later returned to reprise her "AHS" Season 1 and 3 characters in the crossover season, "Apocalypse."