Who Was Kody Brown's First Wife On Sister Wives?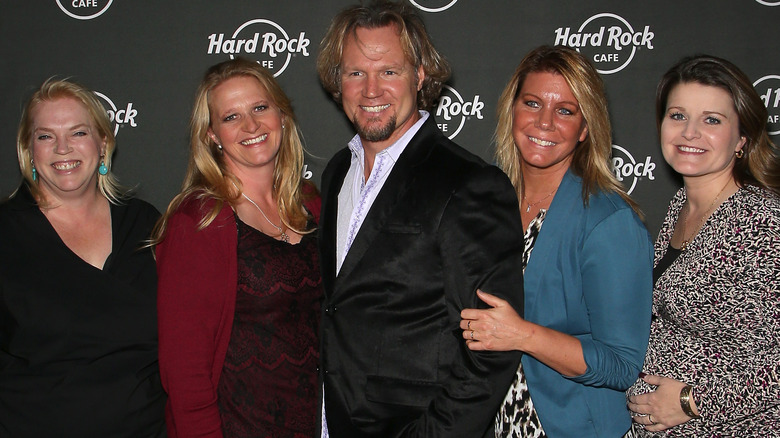 Gabe Ginsberg/Getty Images
The TLC reality television series "Sister Wives" follows patriarch Kody Brown and the lives of his multiple wives and children. The show might be taboo because of its subject matter, but it has led to some progress. In 2013, per Reuters, part of a state law in Utah regarding bigamy was deemed unconstitutional following a legal challenge by Brown and his wives, who moved to Nevada to avoid prosecution. Although Brown has faced difficulties in maintaining all of his marriages, laws in the United States mean that he cannot legally be married to more than one person at a time (via Pew Research Standpoint).
Based on this difference between the law and Brown's personal beliefs, what might be surprising to fans of "Sister Wives" is that his first wife isn't the same woman to whom he's legally married today.
Kody Brown's first wife was Meri Brown
Kody Brown's first marriage was to his wife Meri Brown, as noted in a report from ABC News. The two met in 1989, when Meri was 19 years old, and married in 1990. "On Oct. 20, 1989, I met up with my new friend who was visiting from out of town. At that time, she introduced me to Kody, her brother," Meri wrote. "During that weekend while she was visiting, the three of us hung out together, shopping, going to movies, and just having fun together. After she went home, I figured that would probably be the last I would see of Kody for a while. Not so!"
Showbiz Cheat Sheet writes that the Browns' memoir mentions that Meri's mother, Bonnie Ahlstrom Barber, was also the first of her husband's five wives.
Per ABC News, it was Meri who introduced Kody to his second wife, Janelle.
Kody Brown is now legally married to Robyn Brown
As of 2014, from a legal perspective, Kody Brown has been married to Robyn Brown, as reported by In Touch Weekly. Kody chose to marry Robyn so that he could adopt her three children from her previous marriage — but he has remained spiritually married to his first wife, Meri, even though they have legally divorced. The magazine also notes that Kody and Robyn have had two children together, Solomon and Ariella.
After Kody legally wed Robyn, the Browns said in a statement, per E! News: "We have chosen to legally restructure our family. We made this decision together as a family. We are grateful to our family, friends, and fans for all their love and support."
Per ABC News, Kody and Robyn married each other spiritually in 2010, four years before their legal marriage, after they met at church in 2009.