The Sad Reason Halle Berry's Second Marriage Fell Apart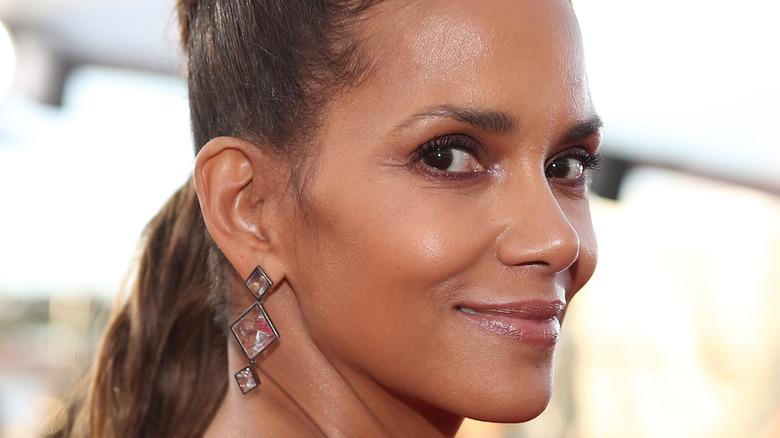 Christopher Polk/Getty Images
Halle Berry used to have tough luck with love. Despite being Hollywood's perpetual It Girl, the star had been involved in multiple relationships that ended in heartbreak.
Prior to her romance with musician Van Hunt, Berry had high-profile romances with the likes of Kevin Costner, Shemar Moore, and Gabriel Aubry. She also married thrice in the past, with David Justice, Eric Benét, and Olivier Martinez. In 2017, the "Gothika" actor admitted to feeling "guilty and responsible" when her relationships fail. "We go into marriage thinking it's going to last forever and that this is our prince on a shiny horse. That's what fairy tales taught me as a kid," she said at the time (via Us Weekly). "And I'm kind of anti–fairy tales today." Berry also confessed that she used to feel like a "huge failure and a huge disappointment" when her past marriages ended up in divorce.
But Berry said that even though the relationships weren't successful, they were "necessary" for her growth. "We all come here with lessons that we have to learn, and those relationships provided me with lessons that got me to where I am right now," she continued. "For that, I'm grateful. But it has been hard. It's been a difficult part of my life." As an A-list actor, Berry's relationships are always in the spotlight. But the one relationship she admitted to being by hurt the most was likely with Eric Benét.
Halle Berry and Eric Benét divorced due to infidelity issues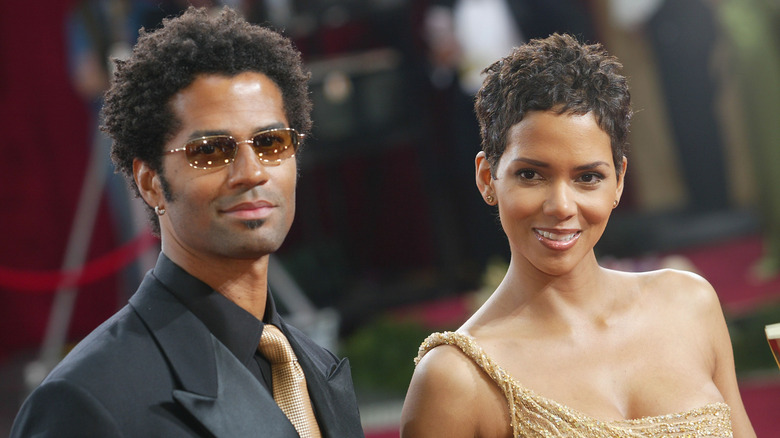 Kevin Winter/Getty Images
Halle Berry and R&B star Eric Benét first met in 1997 at a concert, but at the time, Berry said there "weren't any sparks." After exchanging emails for more than a year, "I turned to him and said, 'You know what? I think I love you,'" she told People. They tied the knot in 2001 but unfortunately, the sparks faded, and the two called it quits in 2003, with their divorce being finalized in 2005.
"Eric and I have had marital problems for some time now and have tried to work things out together," Berry said in a statement announcing their split. "However, at this point, I feel we need time apart to reevaluate our union. We ask that you respect our privacy as we are going through this emotional time." There were speculations that their divorce was brought about by cheating and Benét's sex addiction, but it was all cleared by the R&B artist himself in a separate interview with People.
"We all know I cheated. It was out there. It's a betrayal. But I never did have sexual intercourse with anyone while I was with Halle," he admitted, adding that he checked himself into rehab for sex addiction. "Going into rehab was presented to me by her mother that in order for the marriage to have a shot." He did it to "save [his] marriage," but ultimately, he could never get Berry's trust back. "What was the end of us was she just couldn't trust me anymore. You can't blame her for that."
Halle Berry on finding love again
Halle Berry shared that she had learned an important lesson from her marriage to Eric Benét: recognizing and acknowledging red flags. "I've learned that when I see a flag in a relationship next time, recognize it as a flag," she said in an interview with Oprah. "Don't think, 'Oh, that's just a shadow,' That's a flag. And when I looked back at our relationship, I saw the flags ... but I wanted this relationship, I loved this man so much, that I made up in my mind it wasn't a flag."
Speaking with Parade, the "Catwoman" star also shared that she took the breakup hard, and if it weren't for her experience with the fallout of her first marriage, she probably would not be here today. "We were in sex rehab after one year. I wish I had left then, but I was putting everyone's needs before mine," she confessed (via Reuters). "If I hadn't gone through the first breakup and made that promise to myself, this would have leveled me. I would have walked into moving traffic."
Now that she's happily in love with Van Hunt, she told fans that the key to finding true love is to never give up. "NEVER SETTLE for less than what makes your heart sing!" she wrote in an Instagram post. "If you desire love, you will find your match, your equal... your person... even if it takes you until you're 54!"