How Ellen DeGeneres Found Out She Was Related To Kate Middleton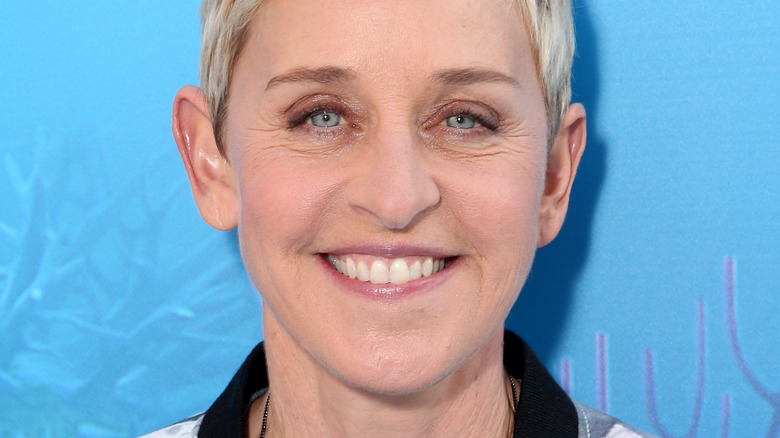 Todd Williamson/Getty Images
Imagine waking up one day and finding out you're related to royalty. But not just any royalty... Kate Middleton kind of royalty. Well, that's exactly what happened to comedian, actor, and television host Ellen DeGeneres. 
 "Hold on to your crumpets everybody. This is really exciting," DeGeneres warned during a 2011 episode of her daytime talk show. "I'm related to Kate," the talk show host proudly declared. "I'm definitely invited to the wedding now," she quipped about the upcoming nuptials between Middleton and Prince William. She then looked directly into the camera and asked her new "cuz" to let her know where she was registered, explaining that she had "a Pier 1 and a Target real, real close to her house" and even offered to plan the bachelorette party complete with "straws shaped like... well, never mind." 
But how did DeGeneres find out she was related to Middleton? The answer just might surprise you! 
Ellen DeGeneres got a letter in the mail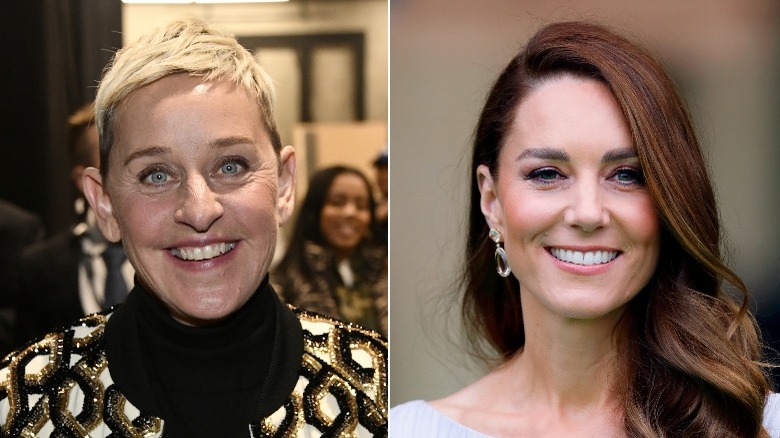 Frazer Harrison & Max Mumby/indigo/Getty
Snail mail for the win!
The story goes that the famous talk show host was maxing and relaxing all cool in her Malibu pad with her wife, Portia De Rossi, when she received a letter from the New England Genealogical Society, "which, of course, I thought was from my lady doctor" she recalled. "And so I said, 'why is she writing me?'" Fortunately, however, the subject matter of the letter turned out to be much more exciting. According to DeGeneres, the letter revealed that she was Middleton's 15th cousin "via a man named Sir Thomas Fairfax and his wife, Agnes Gascoigne." And while 15th cousins might seem awfully distant to some, DeGeneres seemed completely unbothered by that minor detail. "So how about that???" she gushed. As the American novelist and author of "Far Far Away" Tom McNeal once penned, "Distance means so little when someone means so much."
Perhaps, however, DeGeneres is starting to get used to finding out she's distantly related to other famous people... 
Ellen DeGeneres has another famous distant cousin
As it turns out, Ellen DeGeneres is also related to famous singer and songwriter Madonna! Yep, you read that right. The one and only Madge.
According to Ancestry.com, DeGeneres and the "Material Girl" crooner are related "through a common 10th great-grandfather—a Frenchman named Martin Aucoin." And while some might consider the women to be polar opposites, Anastasia Tyler, a genealogist for the website argued that the distant cousins actually have a lot in common. "They were born the same year, have both written books and been on tour, and are known for their impressive dance moves." Maybe those distant cousin genes are stronger than we thought. 
It appears, however, that DeGeneres and Madonna shared a strong connection even prior to learning that they were related. During a 2012 episode of her daytime talk show "The Ellen DeGeneres Show," DeGeneres revealed that when she first came out, it was Madonna who reached out and offered her some sage and loving advice. "Madonna called me out of the blue. We had never met. I just all of a sudden get a call saying 'It's Madonna and I just wanna say that I'm behind ya, I'm with ya, I support ya," she recalled. "It meant the world to me."