Everything We Know About Miley Cyrus' Older Half-Brother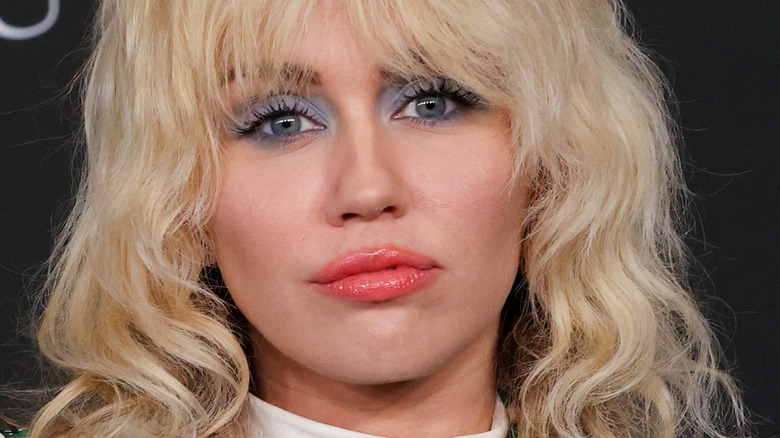 Kevin Winter/Getty Images
Singer and actor Miley Cyrus has been a household name since first appearing on the hit Disney Channel show, "Hannah Montana." Surprisingly, her family life off-screen has been a bit more complicated than her titular character's secret double life as a teenage pop sensation. In addition to siblings that fans are well aware of, like her little sister Noah Cyrus, Miley has a half-brother named Christopher Cody Cyrus, whom she has never publicly spoken about (via the Mirror).
For those keeping track, the "Wrecking Ball" singer has five siblings altogether. While Christopher Cody is a half-sibling with whom Miley shares the same father, Brandi and Trace Cyrus are half-siblings from one of her mother's previous relationships (via Life & Style). And while they may not share the same mother, Brandi and Trace have also tried their hand at show business, with the former dabbling in acting and the latter being the frontman for the rock band Metro Station. It's easy to wonder why Christopher Cody never sought the limelight. Here's everything we know about Miley's older half-brother.
Miley Cyrus and half-brother Christopher Cody Cyrus share a father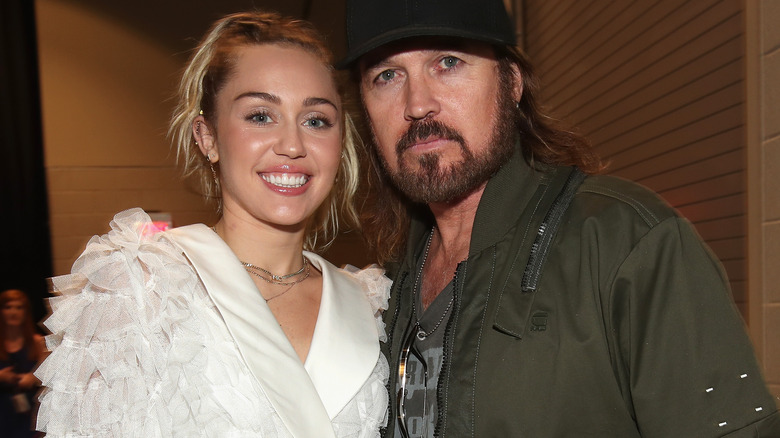 Chris Polk/bbma2017/Getty Images
Miley Cyrus and her half-brother Christopher Cody Cyrus call country singer Billy Ray Cyrus their father, but each was born to a different mother. Miley was born to Leticia "Tish" Cyrus, while GQ reports that Christopher Cody's mother is Kristin Luckey. According to the Mirror, Billy Ray had a brief fling with Kristen while she was working at a restaurant in South Carolina, and by the time he was born, they had already separated.
Miley's relationship with their father has recently taken a turn for the worst, but Christopher Cody has always had a distant relationship with him. In 2009, he revealed that he had texted Billy Ray to wish him a merry Christmas, but says more than a week passed before he finally heard back. "Hey bud, where you been? You disappeared on us," Billy Ray reportedly responded, to which Christopher Cody answered: "I disappeared? You disappeared. I tried to get a hold of you."
Christopher Cody says he spent time with Miley when the two were kids, and only had positive things to say about his famous half-sister. "She's the same now as she was before all this fame," he said. "She's still my goofy sister. Miley is not a self-obsessed person at all. She's just trying to have fun while working hard, and I don't know anyone who dislikes her."
Christopher Cody Cyrus lives a normal life
While a teenaged Miley Cyrus raked in $15,000 per episode on "Hannah Montana," her half-brother Christopher Cody Cyrus earned a humble wage while employed at an electronics store. "I work at a store for $7.50 an hour," he told the Mirror. "Sometimes I'll get five hours a week, other weeks I'll do 20. I take what I can get."
According to Spock and Christine, when Christopher Cody got older, he decided against the glitz and glam of Hollywood and pursued a career in law. The outlet reports that the oldest child of Billy Ray Cyrus attended the University of Texas School of Law. According to his LinkedIn profile, he currently works as a Litigation Associate for Graves Dougherty Hearon & Moody. 
It isn't known if Christopher Cody is in a relationship or has any children. It's also uncertain if he has patched things up with his father over the years. Per the Mirror, he has a stepfather named Mark Sorine and a younger half-sister named Ali. Based on an obituary for grandmother Ann Luckey in the Times West Virginian, Christopher Cody appears to have two other younger half-sisters, Sophia Sorine and Ava Sorine.