Amy Schumer's Son Had A Serious Health Emergency Before Her SNL Hosting Gig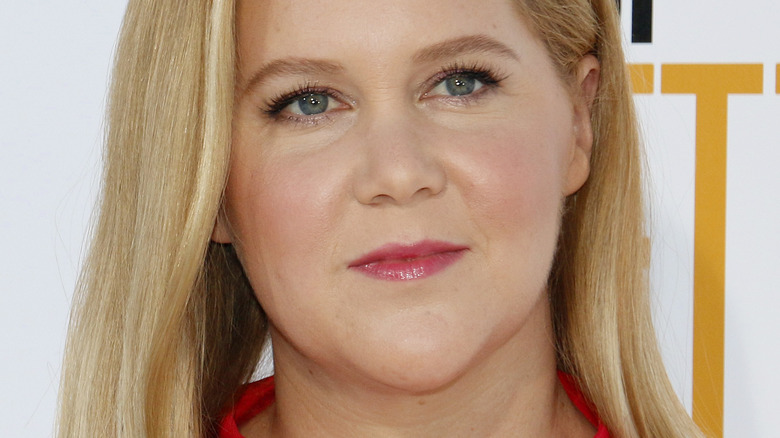 Tinseltown/Shutterstock
Comedian and actor Amy Schumer used to have a "party girl" persona, per the New Yorker, starring in comedy movies that spotlighted that life. But once she got married and gave birth to her son, Gene, the content of her projects and her jokes matured. Although her jokes can still be considered raunchy, they became less focused on the bachelorette life and more focused on her marriage and the birth of her son.
She even mentioned that Gene likes to join his mother on the set of "Inside Amy Schumer," telling E! News about how he keeps her grounded as a well-known comedian. "I think your kid just wants you to be their mom," she told the media outlet. "He's not impressed that there's a microphone and a camera. He's just like, 'OK, when can we go? 'Cause I want chicken nuggets.'" She also said that she keeps the environment "child-friendly" for Gene.
In October, the "Trainwreck" actor told People how hard it was to be on tour for 65 days without her son. "I just want to be with him as much as I can," she told the media outlet. She mentioned that she's always happy to be able to do things alone, but it's "brutal" for her to be away from her son for that long. And it seems that she recently had to put her son before work, as she missed rehearsals for "Saturday Night Live" just days before the live show aired.
Amy Schumer's son was in the emergency room for RSV
On November 6, the day after she hosted "Saturday Night Live" for the third time, Amy Schumer revealed that her three-year-old son Gene was hospitalized for RSV, causing her to miss SNL rehearsals on Thursday. "My son is home and better," she wrote in her Instagram caption. She also thanked everyone who works at the live comedy show for the support, even after missing rehearsals. "Lorne has assembled the most talented people with the kindest hearts," she added. But according to viewers, the comedian didn't miss a beat during the live taping.
The celebrity that are chosen to host SNL each week add to the success — or lack thereof — of the show. For the November 5 episode, expectations for Amy Schumer were pretty high, as she is a comedian herself and would be in her comfort zone. Vulture's Joe Berkowitz said that the episode may not have met everyone's expectations, as it focused heavily on "the nightmare of being a woman," but it was a strong enough episode to recommend to others.
The Guardian's Zach Vasquez mentioned that in the light of midterm elections coming up, he would've liked to see more political comedy in the episode, though he understood that Schumer isn't as well-versed in political satire as others might be. He said the episode was "roundly solid" because of the "I Feel Pretty" actor's hosting skills.