How Wayne Gretzky Really Feels About His Son-In-Law Dustin Johnson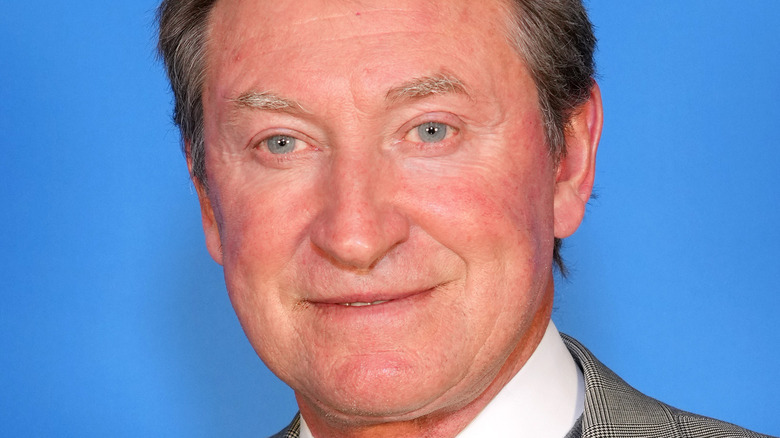 Kevin Mazur/Getty Images
Paulina Gretzky, the eldest daughter of hockey legend Wayne Gretzky, tied the knot with professional golfer Dustin Johnson in April 2022 after a nine-year engagement, according to Us Weekly. The pair, who got engaged in 2013, was never in a hurry to get married despite being in a committed relationship for years. In 2014, Gretzky opened up to Golf Digest about why they didn't just pick a date and start planning. She explained, "We wanted so badly to do it this fall, but with his schedule and all, it's been hard to set a date. It'll be our special day, and we just want it to be right and to fit" (via Us Weekly).
Although they were never in a rush to say, "I do," the couple started a family together years ago. In 2015, they welcomed their first son, Tatum, into the world, per ET Canada, and two years later, Gretzky gave birth to their second son, River, according to People.
Although Gretzky has seemed happy throughout her relationship, her father has not always been fond of Johnson. The professional golfer was partying hard and reportedly had problems with drugs several years ago, according to the New York Post — which, of course, didn't sit well with Wayne. In 2014, he even threatened to call off Paulina's wedding to Johnson if he didn't get his act together. So, how does Wayne Gretzky feel about Dustin Johnson now?
Wayne Gretzky and Dustin Johnson seem to get along now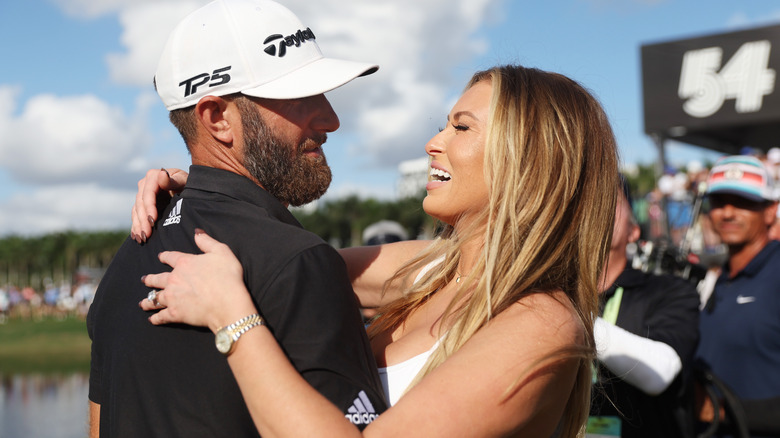 Jonathan Ferrey/liv Golf/Getty Images
Although Wayne Gretzky hasn't always seen eye-to-eye with his son-in-law Dustin Johnson in the past, they appear to be in a much better place now. Gretzky appeared on the "Smartless" podcast on Nov. 7 and candidly spoke about his relationship with the professional golfer. Gretzky said, "I still get nervous playing with him ... he's just intimidating, but he's so nice. He's one of those guys, he just has a love for the game, and if he plays with a beginner or a 10 handicap or with his boys, he has the patience of a saint." The hockey legend spoke fondly about Johnson's love for the game, as well, revealing, "He just truly loves the game and, that's something really special — you either have that, or you don't, and he has that."
When Gretzky addressed what kind of son-in-law Johnson is, he explained, "Oh, he's the best. There's an old saying in golf, 'When you hit a bad shot, you call it a son-in-law,' and people say, 'What does that mean?' and you say, 'It's not quite what I had in mind.' I'm the opposite; my son-in-law is the best. He's great to his kids, he's a good father, he's a wonderful guy."
Although Johnson is still beyond busy with his professional golfing career, he always seems to make time for his family. Most recently, Johnson was named the inaugural LIV Golf champion, according to the Daily Mail.
Wayne Gretzky originally approved of Dustin Johnson as Paulina's husband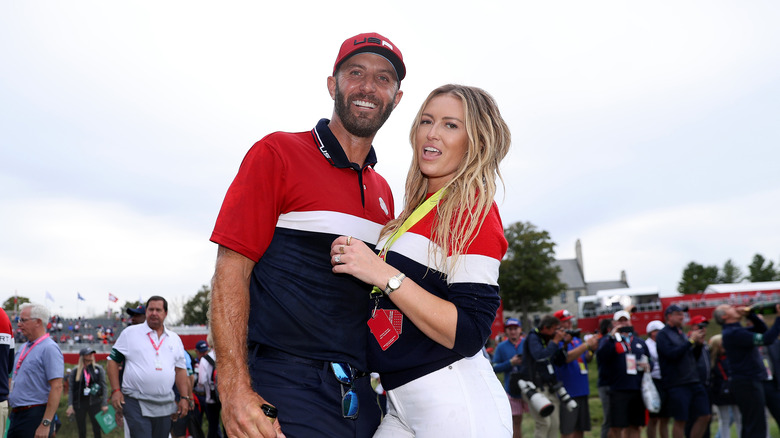 Warren Little/Getty Images
Paulina Gretzky has revealed some important advice she received from her father, Wayne Gretzky, regarding her marriage to Dustin Johnson. When a fan on Instagram asked Paulina what her dad's first impression of Johnson was, she said, "He told me I should marry him" (via the New York Post). She also shared some advice that her father provided her while she was dating and said, "The best dating advice I ever received was from my dad," Gretzky revealed in a post. "He told me to weigh the pros and cons of dating someone. If there are few cons and many pros, then don't rule them out right away. If the cons outweigh the pros, then don't try to be the person who thinks they can change them."
Paulina and Johnson have seemed to be enjoying life as newlyweds. Paulina always keeps her followers updated on Instagram as she lets them follow along on her and Johnson's adventures. And it appears that Johnson and Paulina are spending even more time together now. In June 2022, Johnson officially resigned from the PGA Tour and announced he'd instead be playing in the LIV Golf series, per ESPN.
When asked about his decision to switch to LIV Golf, he cited his family. Johnson said, "I'm very thankful for the PGA Tour and everything it's done for me. I've done pretty well out there for the last 15 years, but this is something that was best for me and my family."