Whoopi Goldberg Repeatedly Shuts Down Intense Argument Between The View Co-Hosts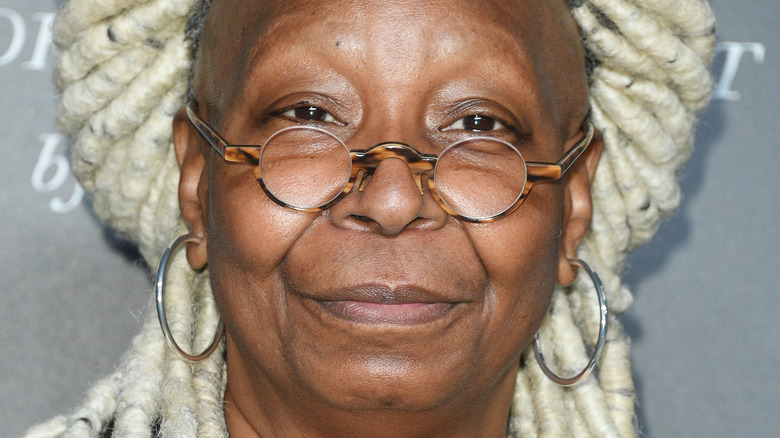 Daniele Venturelli/Getty Images
There is never anything short of drama on the popular talk show, "The View." As the midterm elections began to approach, conversations between the co-hosts became more tense and argumentative. The show is notorious for firey political discussions. Recently, Arizona gubernatorial candidate Kari Lake decided to take a shot at the talk show when discussing her race against Democratic candidate Katie Hobbs. Hobbs refused to publicly debate Lake, according to the Wall Street Journal but insisted that she had no regrets about her decision afterward. Lake, on the other hand, insisted that she would debate Hobbs anywhere and said "even on 'The View,' and let Joy Behar and Whoopi ask the questions," per Yahoo. Lake infamously denies that Donald Trump truly lost the 2020 election and has strong conservative views, so taking a shot at "The View" was a bold remark.
Whoopi Goldberg, one of the co-hosts of "The View," had a quick response to the comment. "That would be your dream wouldn't it?" Goldberg said on the show. "We don't turn people away," she added (via Yahoo). "Oftentimes they come to sell a book. They don't like to come to just talk to us."
The midterm elections have been a popular topic of conversation on "The View" for the past several weeks, but recently, Goldberg had to repeatedly shut down a specifically intense argument between the co-hosts.
Things got heated between Sunny Hostin and Alyssa Farah Griffin
Jamie Mccarthy/Getty Images
"The View" co-hosts are feeling the heat of the midterm elections. Whoopi Goldberg had to shut down a tense political argument between Sunny Hostin and Alyssa Farah Griffin on the show's November 8 episode. There seemed to be some serious tension between Sunny Hostin and Alyssa Farah Griffin. Hostin said that the "far left did not storm the capitol," Griffin quickly pulled out Hostin's controversial comments from last week's episode and told her she had "called white republican women cockroaches." The repeated quote was inaccurate based on reports, per Yahoo.
Goldberg attempted to mediate and ended up shouting over her co-hosts, who were speaking over each other. She yelled, "Here's what I'm going to ask you to do! I'm gonna ask you to tone it down a bit, 'cause I can't hear anything. No one can hear what's being said" (via Twitter). Unfortunately, her message was not received as the co-hosts continued the intense on-air bickering.
Hostin eventually got approval from the "Sister Act" star to correct Griffin, telling her she'd misquoted what she actually said, which she stated was: "Suburban's [women] are now going to vote Republican. That is like roaches voting for the Raid." While Hostin and Griffith continued to argue, Goldberg again attempted to calm the chaos, which appeared only to be worsening, by saying "We're going to break. I can't take it." The show was then inevitably forced to take a commercial break.