The View Fans Are Fuming Over Polarizing New Co-Host Prospect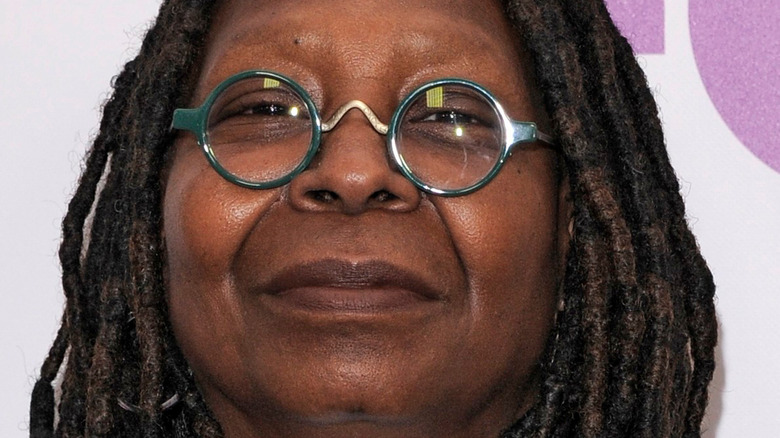 Ron Adar/Shutterstock
"The View" has had a lot of hosts and a lot of drama since the chat show first aired in 1997 (per IMDb). The original panelists included Barbara Walters, Meredith Vieira, Star Jones, Debbie Matenopoulos, and Joy Behar. Who could forget the huge televised fight between Rosie O'Donnell and Elisabeth Hasselbeck? More recently, in February 2022, Whoopi Goldberg came under fire for her remarks on the Holocaust.
One of the other most talked-about members of "The View" was the late senator John McCain's daughter, Meghan McCain. According to her IMDb profile, she appeared on the series from 2017 through 2021. As the lone conservative, McCain often went toe-to-toe with many co-stars, including Joy Behar. Finally, in 2021, the outspoken star announced that she would be leaving the series. "I am just going to rip the band-aid off. I am here to tell all of you, my wonderful co-hosts and the viewers at home, that this is going to be my last season here at 'The View.' I will be here through the end of July to finish out the season with all of you, which I am grateful for," she told the audience (per ABC News). At the time, she shared that it "was not an easy decision."
Since McCain's exit, producers have been trying to find a full-time replacement, and it looks like they've found their match. But, some fans are not happy.
Fans aren't keen on Meghan McCain's rumored replacement
Since Meghan McCain's exit from "The View," producers have been working tirelessly to find a replacement for the conservative star. On August 1, the show revealed on Twitter that they found McCain's replacement but did not divulge any further details, including who exactly would be replacing the star. "Who will be the next co-host of @TheView? The wait is finally over! Find out only on @TheView this THURSDAY at 11e|10c|p on ABC!" the show tweeted with a teaser video.
Fans suspect that former President Trump's Director of Strategic Communications, Alyssa Farah Griffin (per CNBC), will be the one to fill the seat, and they are not thrilled about the possible casting choice. "This is an awful decision and a terrible look for @TheView. You should not involve yourselves in attempting to rehabilitate someone who knew what she was doing when she worked in the Trump administration," one person commented. "If it's AFG and not Ana. I'm out again. After recovering from the toxic MM. I'll have to stop watching again," one more wrote. "No one from DT former staff should have a permanent seat at the table."
According to Fox News, MSNBC's Tiffany Cross is also unhappy with the rumored replacement and even accused Griffin of riding the former president's "wave of open xenophobia and racism all the way to network television." Griffin's already bringing the drama to "The View."