Meghan McCain And Joy Behar Take Their Feud To A New Frontier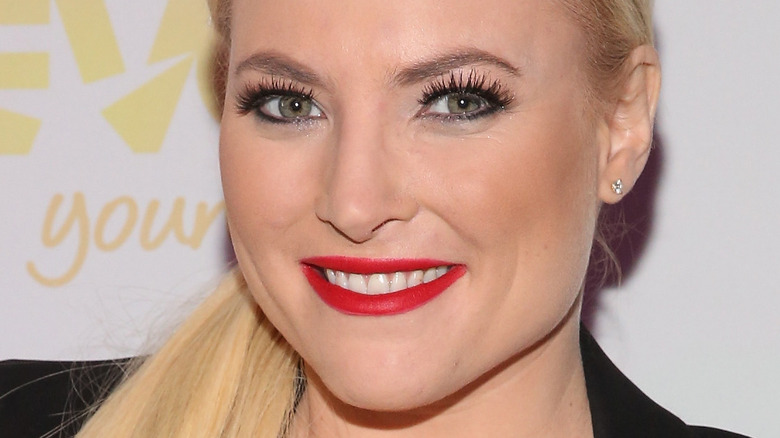 Robin Marchant/Getty Images
Meghan McCain has made it no secret that when it comes to "The View" that chapter in her life is one that she never wants to go back to again. In fact, McCain recently set the record straight on her exit from "The View" by admitting that it was hard for her to be the lone pundit on the panel with an opposing — and generally conservative — opinion. In her book "Bad Republican" (via Variety) she wrote, "As the country got worse under Trump, the treatment from Whoopi, Joy and some of the staff grew meaner and less forgiving." That said, McCain has also said that she doesn't feel "anything negative" towards the daytime talk show.
Even though Joy Behar did sing some praises for McCain following her announcement that she was departing from the show back during the summer of 2021, saying, "We take a lot of hits on this show and we stick to our points of view. You have done that brilliantly for four years," it seems like the two women are feuding once again. This time around though they seem to be exchanging jabs on a totally different platform than "The View" — and, no, it's still not pretty. 
Meghan McCain calls out Joy Behar for being a troll
Santiago Felipe/Getty Images
Meghan McCain seems to be none too pleased that Joy Behar is seemingly trolling her on Twitter. In fact, McCain says that it flat out creeps her out. On Valentine's Day, McCain shared a special tribute to her husband Ben Domenech by posting a photo and a message that said, "I love you and am grateful every day for the life we have together." When one social media user commented on McCain's post with, "Does every thought and sentiment need to be on Twitter," Behar followed up with, "Apparently," according to People.
McCain didn't appreciate the trolling and screenshot everything on her own Twitter account and wrote, "Imagine spending your Valentines Day trolling your ex colleagues tweet about her husband." In another since-deleted tweet, McCain compared her experience post-"The View" to "having ex's who won't stop drunk texting you." 
That said, McCain has still weighed in on her former employer from time to time, like earlier in February 2022 when she opined that Whoopi Goldberg's controversial comments on the Holocaust were very offensive but didn't believe she'd be fired, calling Goldberg "untouchable," per the Daily Mail. The barbs from the ladies on "The View" seem to really go around just as much as the love does on Valentine's Day, if not more.