Britney Spears Shuts Down Millie Bobby Brown's Biopic Idea With One Simple Comment
Jaguar PS/Shutterstock
Britney Spears just loves to use Instagram to get her feelings off her chest, doesn't she?
In a now-deleted post (via Glamour), the "Piece of Me" hitmaker was accused of body-shaming fellow singer Christina Aguilera after uploading a quote previously said by comedian Rodney Dangerfield that read, "I found there was only one way to look thin: hang out with fat people." Her caption, however, is where fans believed Spears went too far. "I wish I could have chosen the nannies for my children ... my dancers ... I mean if I had Christina Aguilera's dancers I would have looked extremely small," she wrote before explaining that her conservatorship left her with no control. As a result, Page Six noted that Aguilera unfollowed Spears on Instagram after the post.
In a new interview with Millie Bobby Brown, the "Stranger Things" actor expressed on "The Drew Barrymore Show" that she is keen to play the iconic pop star in a biopic. "I think her story resonates with me," Brown admitted. "Just growing up, watching her videos, watching interviews of her when she was younger ... I see the scramble for words and I don't know her, but when I look up pictures of her I feel like I could tell her story in the right way and hers only." While Brown is a very talented, young actor with a bright future ahead of her, it seems Spears feels differently about the idea.
Britney Spears makes her feelings clear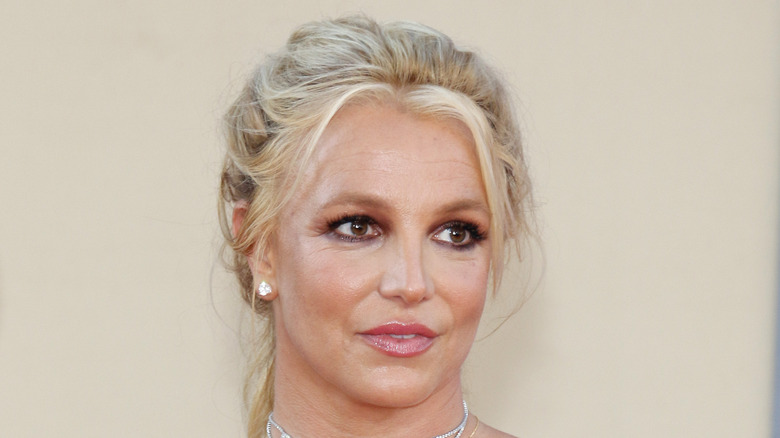 Tinseltown/Shutterstock
Following Millie Bobby Brown's interview on "The Drew Barrymore Show," it seems word got out to Britney Spears that the young star wanted to play her in a movie about her life. While many would feel flattered that someone so talented would volunteer themselves, Spears wasn't all that pleased. "I hear about people wanting to do movies about my life ... dude I'm not dead !!!" she wrote on Instagram after putting her parents on blast, insisting they took her life away. Spears added, "Although it's pretty f***ing clear they preferred me dead ... I guess my family is going to lock their doors now."
Even though Brown hasn't responded to Spears' reaction, many users in the comments section sure did. "Millie did nothing wrong. She answered a question. She obviously admires you and instead of you being dramatic about literally everything, you need to chill out," one user wrote. "I think Millie Bobby Brown meant it as a compliment that she wanted to play you in a movie and that she'd honor you properly, don't be offended Queen!" another person shared. "She was asked a question and answered it. You need to stop attacking people," a third user commented.
Spears didn't reply to any comments and appears to have moved on from the situation. Since then, she posted a video of her husband, Sam Asghari, boxing.