Mary-Kate Olsen Had One Odd Feature At Her Wedding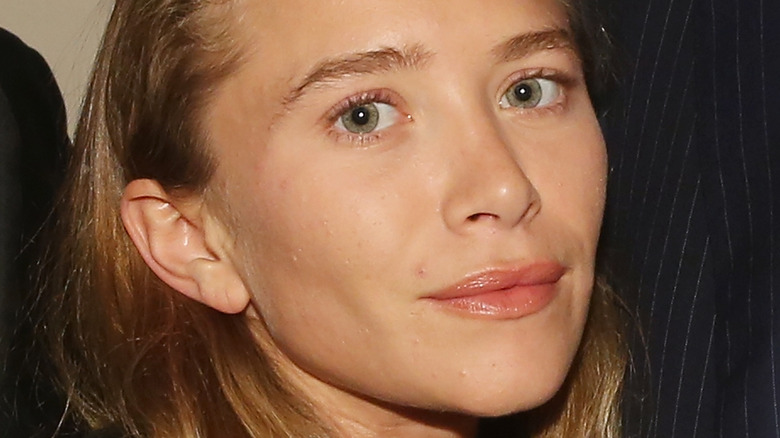 Mireya Acierto/Getty Images
Despite being in the public eye since infancy, Mary-Kate Olsen prefers to lead a private life. Or as private as possible for someone who had her Hollywood debut at 9 months old, when she and her twin sister, Ashely Olsen, famously starred in "Full House," The New York Times noted. Unlike many Hollywood stars, Mary-Kate had few relationships with fellow actors. Instead, she seems to prefer dating men either working behind the scenes, like DreamWorks co-founder Jeffrey Katzenberg's producer son, David, or outside of the industry entirely, like Stavros Niarchos, the son of a Greek billionaire, Us Weekly pointed out.
Despite her attempts to maintain a low profile, Mary-Kate's relationship with the Greek heir became the subject of a media frenzy in 2005, when he reportedly had an affair and then started her then-friend Paris Hilton, according to a 2006 W magazine report. The scandal supposedly ended her five-month relationship with Niarchos, a split that hit her hard. "I miss him, and I love him, and I don't speak with him anymore. It's a hurtful and painful subject," she told W.
Following the breakup, Mary-Kate was linked to a few names before settling down. In 2012, Mary-Kate began dating Olivier Sarkozy — a French banker 17 years her senior and who counts former France president Nicolas Sarkozy among his siblings — the Daily News reported. Mary-Kate and Sarkozy married in late 2015 in a private ceremony. Despite their efforts, the media caught wind of some of its rather unusual details.
Mary-Kate Olsen used cigarettes as decoration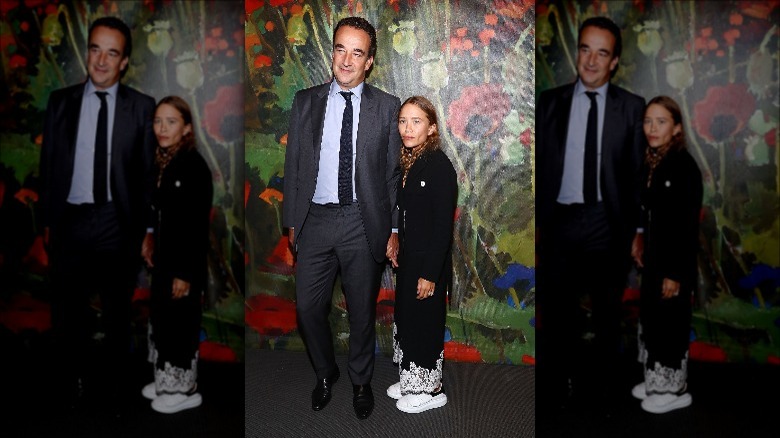 Astrid Stawiarz/Getty Images
Mary-Kate Olsen tied the knot with Olivier Sarkozy in November 2015 in a small ceremony at a private home on 49th Street in New York, Page Six reported. The unlikely couple invited about only 50 guests to celebrate their union. To ensure the privacy of their wedding, Olsen and Sarkozy had every guest turn in their cell phone at the door. But their strategy wasn't foolproof, as an unnamed source spilled some of the deets nonetheless, including a description of the unusual decor.
The couple reportedly laid out "bowls and bowls filled with cigarettes, and everyone smoked the whole night," the insider told Page Six. In addition to smoking, attendees enjoyed drinks in a back garden before moving inside for an intimate dinner. Cigarettes may be an odd — and perhaps even offensive — feature to include in a wedding, but fans were probably not surprised.
Mary-Kate's smoking habit has long been a subject of interest, with the former child star being criticized for smoking at formal events, like the 2018 Creative Time Gala. "[She was] sitting at her seat and smoking an actual cigarette ... At a gala that's $1,500 a ticket, and she's just smoking inside 'cause she's a billionaire, and she can do whatever the f*** she wants," a source told Page Six. While some are distraught by the Olsen sister's habit, others find it soothing. "My self-care when sick is googling 'Mary Kate and Ashley smoking,'" Vulture's Rachel Handler tweeted.
Mary-Kate Olsen and Olivier Sarkozy's marriage didn't last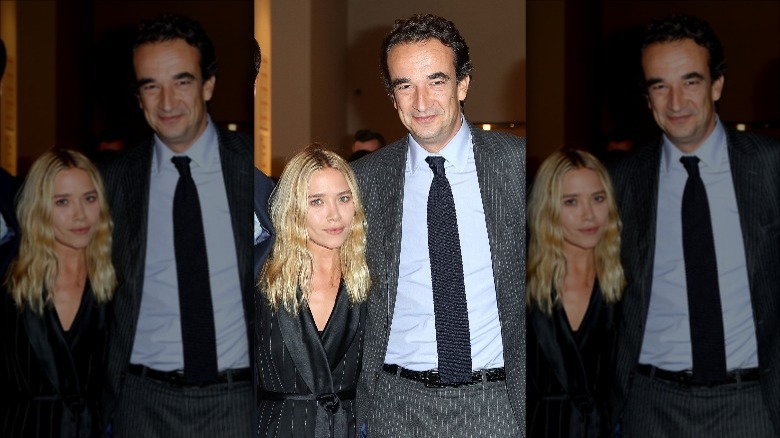 Monica Schipper/Getty Images
Despite their shared nicotine habit, Mary-Kate Olden and Olivier Sarkozy's marriage ended four years after they said their I dos. In April 2020, the fashion designer filed for divorce, a process that proved rather messy. Olsen wanted to dissolve her marriage so badly that she filed an emergency order to expedite the proceedings amid the delays caused by the onset of the COVID-19 pandemic, TMZ reported. In the documents, Olsen contended that Sarkozy was trying to force her out of their New York apartment right in the middle of quarantine measures.
Like she did with their wedding, Olsen attempted to keep the details of her divorce under wraps. But just like her nuptials, her divorce ended up in the spotlight, Cosmopolitan noted. Court documents painted a grim picture of Sarkozy. In addition to threatening Olsen with eviction, Sarkozy also reportedly attempted to thwart Olsen's career ambitions. "Mary-Kate is extremely hard working and focused on her business ... Olivier never understood her drive and passion," a source told People in May 2020. "He would have loved to have a stay-at-home wife."
Olsen and Sarkozy also supposedly diverged on their family goals. While Sarkozy, who has a son and a daughter from a previous relationship, was done having children, Olsen wanted to be a mother. "A few years ago, having a baby was not a priority for her. This has changed," a source told People. The couple finalized their divorce in January 2021.