Cody Johnson's 2022 CMA Tearjerker Performance Has Fans In Their Feels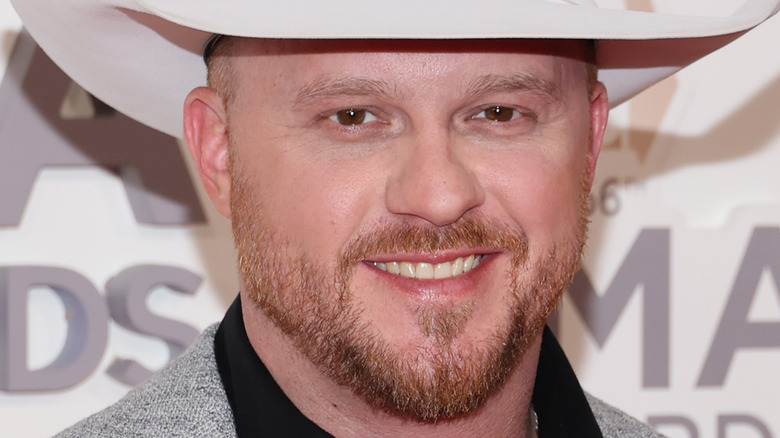 Jason Kempin/Getty Images
Country music singer Cody Johnson sings, "If you got a dream, chase it, 'cause a dream won't chase you back," in his song "'Til You Can't," per Genius Lyrics. Johnson took those lyrics to heart when he snagged his first CMA Award. According to The Boot, the powerful country ballad won Music Video of the Year before the November 9, 2022, broadcast.
Johnson also admitted that he felt the message of the song during a scary situation. He was reportedly in a private jet with his wife Brandi and managers when the plane almost crashed, per Country Thang Daily. Although it landed safely, it was still a scary moment. Johnston explained that he thought about not being able to tell people he loved them and about the things he has yet to accomplish in his life. "Our days are numbered, and I think it's something people need to hear," he said.
Even one of the writers of the hit song, Ben Stennis, had a personal tie to the theme. "My childhood is that first verse," he told Wide Open Country, adding that he remembers being "too busy" in college to go fishing with his grandfather — unbeknownst that the last time he went fishing with him would actually be the last time. The song translated well from the writers, to the singer, and now to the fans.
'Til You Can't by Cody Johnson touches fans' hearts
Michael Loccisano/Getty Images
As Cody Johnson sang his hit song "'Til You Can't" at the CMAs on November 9, fans took to Twitter to express their emotions. "'Til You Can't' by @codyjohnson changed lives over the last year," one person tweeted. "It's that kind of special song and resonates with country fans across every single platform." Another person tweeted that the lyric, "If you got a dream chase it, 'cause a dream won't chase you back," got them feeling all emotional. And another fan tweeted about how that line resonates with Johnson's career path.
The country music singer admitted to being the kind of person who loves action and adventure, which is why he got into bull riding in his teen years. "I saw a challenge, and I wanted to accomplish it," he told Billboard. "I had just enough of a taste of it to keep me going, and I really never expected to fail." But the dreams of being a bull rider fell short when he couldn't muster up the money to pursue it, so he turned to music.
And from bull riding and trying out music, he's got a number one hit song he gets to perform in front of a big crowd. According to People, he describes the fans' reception of the track as "incredible," and it's "like nothing he's ever seen" when the crowd sings it back to him.