Inside Patrick Mahomes And Josh Allen's NFL Rivalry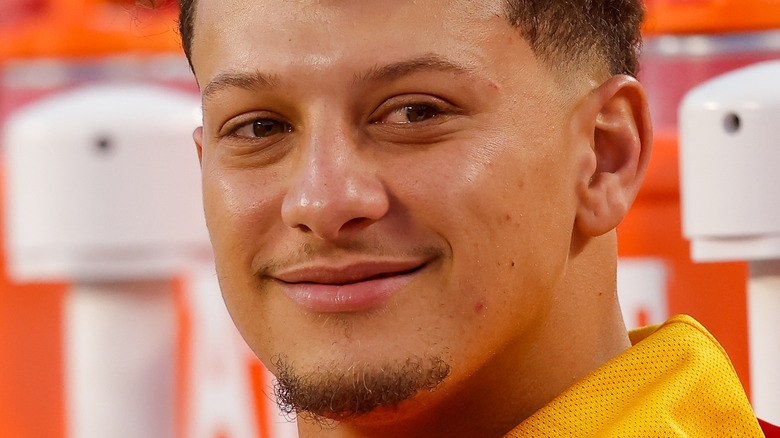 David Eulitt/Getty Images
A natural rivalry began bubbling between Patrick Mahomes and Josh Allen before the two men even faced off on the field against each other. They were both drafted by teams in the AFC — Mahomes in 2017 by the Kansas City Chiefs, and Allen in 2018 by the Buffalo Bills — but the competition between the two became very stiff in 2020 when they began dominating quarterback rankings, per CBS Sports.
The rivalry between the teams and their quarterbacks picked up in 2021 when the Chiefs were able to beat the Bills in the AFC Championship game and secure a spot in the Super Bowl. Once again, they met in the playoffs the following year, and Allen was ready to supplant the defending AFC champs. "That's the type of level we want to be and in order to be the best you have to beat the best," the Bills quarterback said leading up to their match up in the 2022 playoffs, per Bills Wire.
That game wound up being an instant classic, as the two teams scored a total of 25 points in the last two minutes of regulation. Ultimately, the Chiefs came out on top 42-36 in overtime. Immediately following the game, Mahomes sought out his counterpart to give him a hug. "It was tough to be in that moment," Allen recalled of his interaction with Mahomes, per Sports Illustrated. Experts believed fans were witnessing the birth of a modern quarterback rivalry for the ages.
Patrick Mahomes and Josh Allen discuss their place in history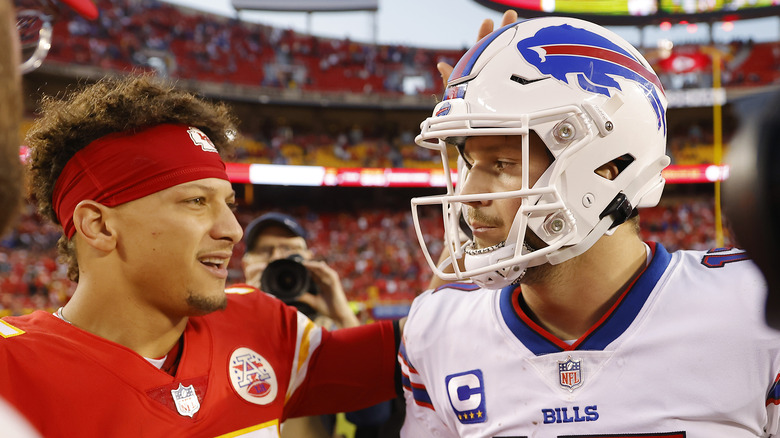 David Eulitt/Getty Images
Patrick Mahomes took note of Josh Allen's incredible development at the quarterback position, and that was before their epic duel in the 2022 playoffs. "He's definitely gotten better and better each and every year and I'm sure we'll have lots of battles as both of our careers go on," the Kansas City Chiefs franchise player said about Allen in October 2021, per Arrowhead Pride. 
By the following year, fans and experts alike were ready to anoint the competition between Mahomes and Allen the next great quarterback rivalry. "I'm not gonna lie, it kinda dawned upon me today," Allen said on the "Kyle Brandt's Basement" podcast in October when discussing how the two quarterbacks were amid a historic rivalry. "It's such a weird feeling and I don't really take steps back to look at it from that lens too often... it's surreal," the Bills star added.
While Mahomes acknowledged that the competitiveness between he and Allen had heated up, the Chiefs quarterback was not ready to put them in the same category as other legendary NFL rivalries. "We're two guys that love to compete. We love to go out there and find a way to will our team to win, but [Tom] Brady and [Peyton] Manning, we still got a long way to go," Mahomes said on 610 Sports Radio's "The Drive" in October, (via Chiefs Wire). Despite their epic battles on the gridiron, off the field, Mahomes and Allen forged a friendship. 
What Josh Allen thinks of Patrick Mahomes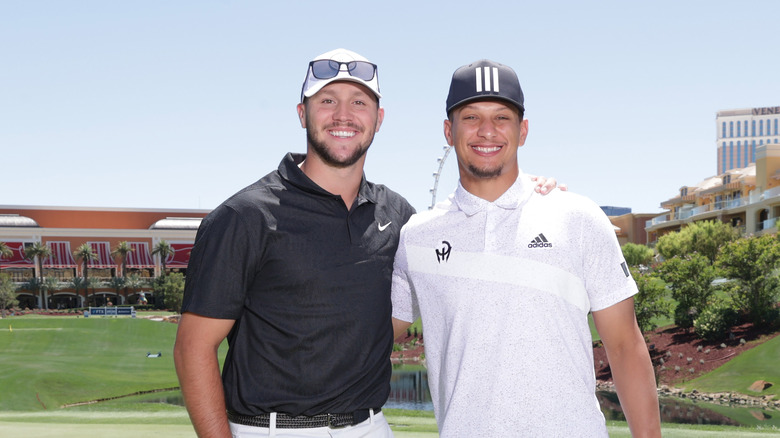 Carmen Mandato/Getty Images
When the "Madden NFL 21" player rankings were released in 2020, EA Sports gave Josh Allen a throwing rating of 99, which was slightly higher than the 97 rating they gave Patrick Mahomes. This inspired the Kansas City Chiefs quarterback to challenge Allen to a friendly throwing competition to prove who could throw a ball further. At the time, the Buffalo Bills quarterback was eager to show off his arm. "Yes, I'm game ... We're working on it," he told CBS Sports in 2020. Unfortunately, restrictions due to the COVID-19 pandemic prevented the showdown from happening.
A couple years later, Mahomes and Allen teamed up, but left their football pads at home. The two quarterbacks faced off against Tom Brady and Aaron Rodgers on the golf course for The Match. Leading up to the golf competition, Mahomes jokingly threw a jab at his teammate when he was asked what Allen's "biggest fear" was. "A coin toss," the Chiefs star responded, which was a reference to their overtime playoff thriller earlier that year, per Fansided.
The on-field battles had forged not only a rivalry, but also a friendship between the two NFL superstars. "I know people want us to kind of hate each other for what we do and who we play for, and how many times we played against each other, but it's hard to hate such a good dude," Allen said about Mahomes prior to their golf game against Brady and Rodgers, per The Athletic.