Tiffany Trump Is Reportedly 'Flipping Out' At The Possibility Of A Hurricane Ruining Her Wedding Weekend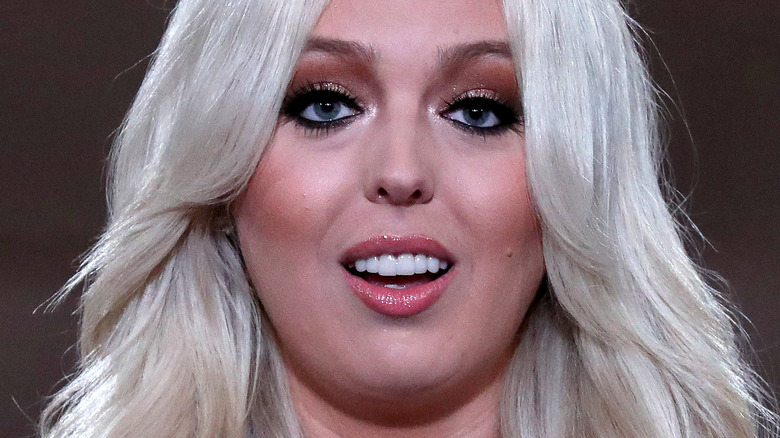 Chip Somodevilla/Getty Images
Tiffany Trump, the youngest daughter of former president Donald Trump, certainly isn't a stranger to the spotlight. The Georgetown Law graduate boasts an impressive social media following of 1.3 million on Instagram alone, and she uses the platform to share a variety of things, including some glimpses into her personal life — one of those being her romance with Michael Boulos. Tiffany posts milestones like their engagement anniversary, sharing a photo of Boulos down on one knee in front of the White House Rose Garden. According to Page Six, the pair met in 2018, while vacationing in Mykonos, Greece. Like Tiffany, Boulos comes from a wealthy family that "owns a multibillion-dollar conglomerate," and that money shows. People reports that Tiffany's sparkler is worth a whopping $1.2 million. 
The couple plans to wed at Donald's posh pad at Mar-A-Lago, in Palm Beach on November 12, per Page Six. "There has been a lot of planning and a lot of staging. This is Tiffany's big moment, and it will be lavish. It is going to be a huge and beautiful affair," a source told the outlet. A year prior, a different source told Page Six what a big deal the wedding is to Tiffany. "Tiffany has been waiting to plan a very big wedding," the source shared. "Her fiancé is from a very wealthy family, she is from a very wealthy family, and they want all their friends from around the world to be there."
But, there's one problem. 
Tiffany Trump's upset over the pending hurricane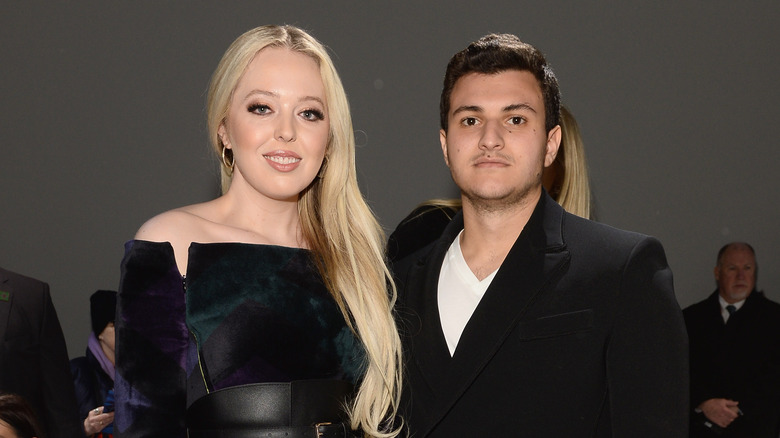 Noam Galai/Getty Images
When it rains, it pours. Yet, when it comes to hurricanes? It's much worse. Most brides dream of their wedding day for years and want everything to go off without a hitch. But, in the case of Tiffany Trump, she has a lot to worry about on her wedding day, most notably a hurricane. According to Page Six, Tiffany's wedding to Michael Boulos is slated to take place at Mar-A-Lago the weekend of November 12 — but the weather forecast has other plans, as a Category 1 hurricane looms nearby.
The wedding festivities are set to begin Friday, but a source close to Tiffany says things aren't looking bright. "Friday is supposed to be a welcome dinner, and they aren't sure it's going to happen," the insider shared. "Tiffany is flipping out." To make matters worse, the source added that "they've sent staff home," but Tiffany is still there. "Some guests came in for the week, and they had all these things planned. It was going to be a whole over-the-top thing," the insider shared. "They had to cancel events today and canceled a golf outing for tomorrow. Everyone is stuck inside."
According to TMZ, Tiffany and Boulos still obtained their marriage license and it will remain valid for 60 days. So if they have to push back or cancel the event, they have a short window of time to reschedule. It certainly will be interesting to see how things pan out.