Melinda Gates Is Rumored To Be Dating Again After Her Divorce From Bill Gates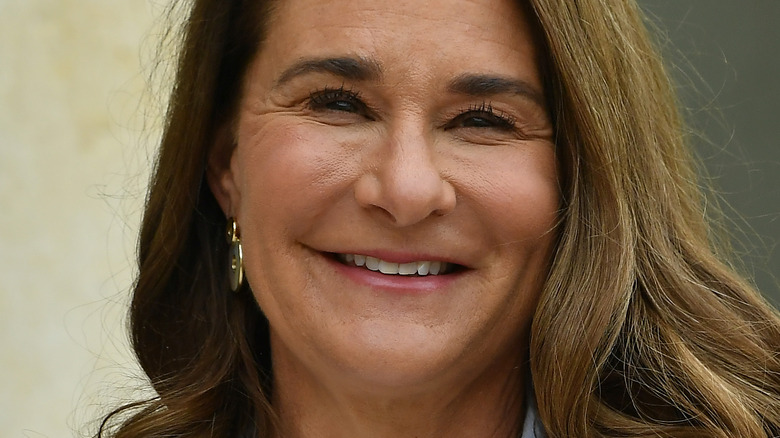 Aurelien Meunier/Getty Images
One year after the pair's surprise announcement, some light had finally been shed on the factors that precipitated Melinda and Bill Gates' divorce. During a March sit-down with Gayle King, Melinda addressed what led to their marriage's dissolution, including Bill's affair with an employee two decades ago, per The Washington Post. Despite thinking that she and the Microsoft founder had moved on from the affair some time ago, Melinda told King, "There just came a point in time where there was enough there that I realized it wasn't healthy and I couldn't trust what we had." 
Although there were days when Melinda recalled "literally laying on the floor," she also told King that she was able to look forward to the future again. In fact, the philanthropist revealed that she was back on the market, romantically speaking, again. "I hope that happens for me again," she told the "CBS Mornings" host, teasing that she was already "dipping my toe in that water a little bit." Testing the waters has reportedly proved fruitful for Melinda, as she may have found herself a new paramour. 
Melinda Gates' reported new beau has body ink
Melinda Gates' rumored new boyfriend sure seems a whole lot different from ex-husband Bill Gates. According to TMZ, sources claim that Melinda has been dating former Fox News correspondent Jon Du Pre for at least several months. The two were spotted as early as April this year at a NBA game together, so their relationship timeline may extend even further back. Melinda and Du Pre were also recently joined by some respective family members at a five-star Newport Beach resort recently, per the outlet. 
The founder of Du Pre Hill Media, a broadcast media company, Du Pre is a strategic communications specialist with 35 years of experience in broadcasting, video production, community activism and advocacy, per his LinkedIn. Having published a memoir in 2000, "The Prodigal Father – A True Story of Tragedy, Survival, and Reconciliation in an American Family," he's also worked as a longtime anchor and TV correspondent for numerous networks, including Fox News. While Du Pre's LinkedIn may be all business, his Instagram feed shows a decidedly more relaxed side. In a March post, Du Pre is shown touting his shirtless bod, bicep tattoo, and an Arnold Palmer Spiked drink in a sunlit selfie. Bill certainly wouldn't have done that!