Katharine McPhee's Trick For Dealing With Critics Is Surprisingly Simple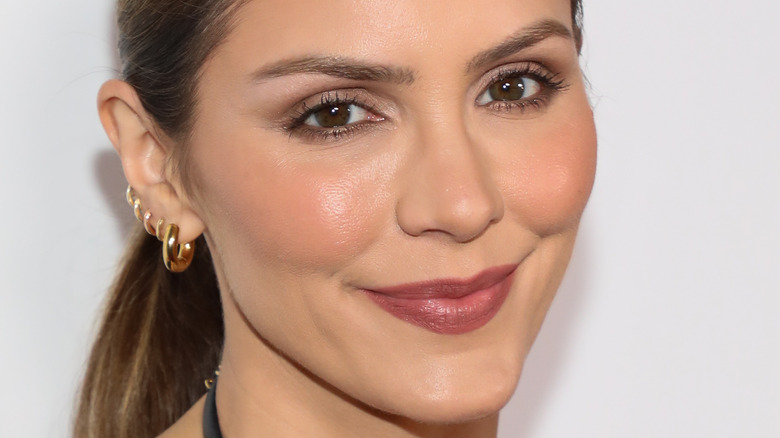 Paul Archuleta/Getty Images
As far as her love life goes, Katharine McPhee seems to be on cloud nine. In 2019, the actor-singer tied the knot with David Foster, who was previously married to "The Real Housewives of Beverly Hills" alum Yolanda Hadid. Though Foster and McPhee initially met during McPhee's run on "American Idol" in 2006, they didn't ignite romance rumors until 2017, per Insider. In 2021, the happy couple welcomed their son Rennie into the world.
McPhee has found joy in motherhood, as well as in creating music with her husband. Foster, a Grammy Award-winning musician and producer, recently collaborated with McPhee on a Christmas album, per People. He gushed about his wife, telling the outlet that recording "was easy because she sings so amazing." Throughout the years, McPhee and Foster have kept their spark alive. They've spoken candidly about their relationship, declaring their love in social media posts and interviews. In a recent conversation with Fox News, McPhee revealed, "There's nothing extravagant about what we like to do. We just want to reconnect. I love to just sit and have dinner with him."
Despite their loving marriage, McPhee and Foster have been criticized for their 35-year age gap. However, McPhee has proven to be a pro at managing online trolls — and her trick for doing so isn't complicated at all.
Katharine McPhee isn't sweating the haters
Kathy Hutchins/Shutterstock
On social media, Katharine McPhee and David Foster have received their share of negative comments about their age gap. However, the former "American Idol" star isn't wasting time with the haters. McPhee described how she handles criticism, telling Fox News, "So I'm going to spend about as little time on it as the person who decided to write it in the first place. I'm sure they don't even think about it 5 seconds later, after posting it." This wasn't the only time she described her practical approach to dealing with trolls. In a 2021 appearance on "Dr. Berlin's Informed Pregnancy Podcast" (via Page Six), McPhee said that while she "totally get[s] the judgment initially," she's "in love with [their] love story, and that's all that matters."
While Foster is well-aware of the judgments surrounding his and McPhee's relationship, he has also taken the criticism in stride. In October 2022, he told People that he knows they're an "unconventional couple." While he admitted that a big age difference can be a bit strange at first, he added, "But I think we're over that hump now with five years of being together, and hopefully, people just start looking like we belong together because we feel like we do." McPhee chimed in, defending their relationship. She explained, "Even if they don't, we don't care. We just love our history, how we met and where we are now."