What Janelle Brown From Sister Wives Does For A Living
There's been plenty of speculation about what's really going on with "Sister Wives" star Janelle Brown. The reality star has made no secret of the fact that things within their polygamous family maybe aren't exactly peachy, with plenty of speculation her marriage to Kody Brown may be on the rocks. Things appeared to boil over when Janelle moved into an RV, with Kody admitting during an October episode of "Sister Wives" that he wasn't exactly thrilled about the decision. "We should've never bought the RV because we're going to be moving it all the time. I'm struggling because I'm not optimistic about how this is going to come together," he said (via Us Weekly). "There's things that Janelle does frequently that aren't like a married husband and wife. We do things separate," he also admitted during the episode, while Janelle shared, "He's no longer advocating. He's no longer acting as my husband here."
Things then only boiled over further when it came to speculation there was trouble in paradise when Christine Brown's daughter, Gwendlyn Brown, appeared to suggest in a November TikTok video with a friend that Janelle and Kody were apparently no longer together. Neither Janelle nor Kody have officially confirmed all the split speculation though, but if the two really have gone their separate ways, how would Janelle support their kids as a single mom?
What is Janelle Brown's job?
Janelle Brown has been a qualified IIN (Institute for Integrative Nutrition) health coach since 2019, and runs her own health and lifestyle business, called Strive with Janelle. The star offers health coaching appointments via her website, in which customers can purchase a 40-minute session with the reality star to discuss their health goals for $45. There's also plenty of merchandise on offer via the website's official shop, where fans can purchase items such as t-shirts and water bottles featuring her company's logo. On her LinkedIn page, Janelle described herself as being the president of Strive with Janelle since 2016. Janelle has also joined forces with her daughter, Maddie Brush, and sister wife Christine Brown for the health business Life With Health & Happiness, which focuses on getting people healthier through changing their habits and mindset, while offering products like juices.
But that's not all, Janelle is also a partner in My Sisterwife's Closet. The company is owned by Kody, Janelle, Christine, Robyn Brown, and Meri Brown, and sells items including jewelry. The website boasts that it sells one of a kind items and prides itself on promoting the American Dream by employing hard-working people to create its items. As of November 2022 though, the website doesn't have any items listed but is being updated.
How much does Janelle Brown earn from Sister Wives?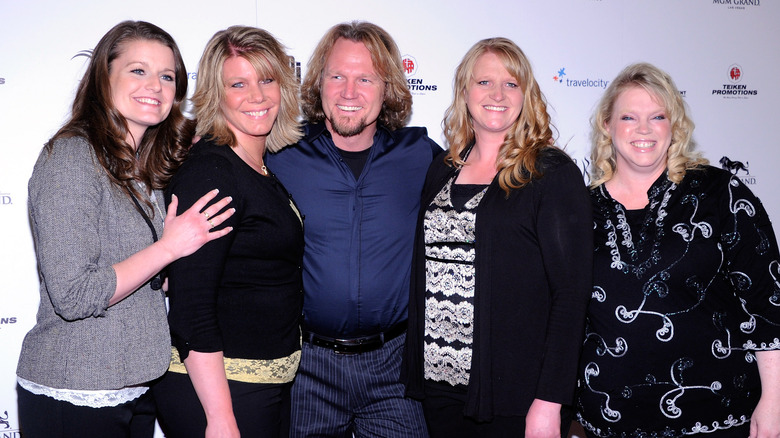 Ethan Miller/Getty Images
Of course, Janelle Brown is also making bank from putting her life on display on TLC's "Sister Wives." Reality producer Terence Michael claimed to The Sun that the cast could earn around 10% of the amount network TLC puts into each episode, which could be anything between $250,000 and $400,000. That means the famous family could split around $25,000 and $40,000 between them per episode. The family's fame also means they can earn serious cash from promotions on their social media. With more than 775,000 followers as of November 2022, Influencer Marketing Hub estimates Janelle could earn between $2,244 and $3,741 for one sponsored post on her Instagram.
But reality TV and sharing her passion for health aren't the only fields Janelle is qualified in. Before taking on her latest business ventures, Janelle was actually a Realtor at TMI Realty from 2013 until 2018. Prior to that, she earned a Bachelor's degree in Accounting from the University of Phoenix, per LinkedIn.
Clearly, Janelle Brown is a woman of many talents!