All The Famous Athletes Olivia Culpo Has Dated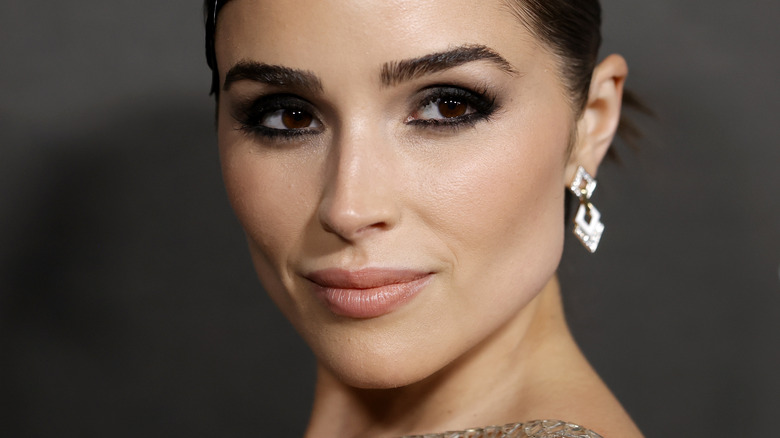 Frazer Harrison/Getty Images
Olivia Culpo may be known for her stunning looks, her modeling career, and her former title as Miss Universe. However, she's also become known for her high-profile relationships. Since rising to fame, Culpo has dated many famous men, including singer Nick Jonas. The couple first met in 2013 at the Miss USA competition and soon began dating. Their relationship even inspired Jonas' 2014 song "Jealous" (via PopSugar). The pair were so serious that Culpo later admitted that she thought they'd spend the rest of their lives together. "I thought we were going to get married — I thought all the things," she confessed, per Billboard. Sadly, the pair couldn't make things work and they called it quits in 2015.
Culpo has also dated famed DJ Zedd. The pair started up a romance in April 2019, when they were seen getting cozy together at Coachella (via Life & Style). The pair were photographed together yet again during the model's birthday celebration in Miami a month later. However, their relationship was short-lived, and neither spoke out publicly about the romance.
In addition to her attraction to men in the music business, Culpo has also proven that she's one celebrity who loves dating athletes, having dated many fan-favorite sports stars over the years.
Olivia Culpo was linked to Ryan Lochte and dated Tim Tebow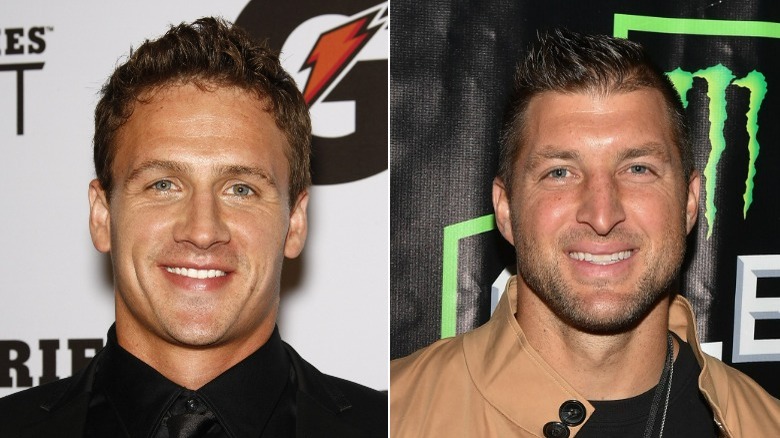 Phil Stafford/Shutterstock & Paras Griffin/Getty
Before her relationship with Nick Jonas, Culpo was linked to Olympic swimmer Ryan Lochte in 2012. Lochte even opened up about his feelings for the beauty queen, revealing that he found her to be a joy to spend time with. "She is beautiful. I love hanging out with her. She has a great sense of humor, she makes me laugh, she's just a good girl to hang out with," the swimmer told E! News at the time. "She was telling me yesterday that she had never done a pageant until like a year ago, and now she's Miss USA. She's got something," Lochte added. It was never confirmed if they were dating — though they were very close at one point.
Shortly after her split with Jonas in 2015, Culpo was linked to another athlete in football player Tim Tebow. The NFL quarterback was known for his strong religious beliefs, and even proclaimed a vow of celibacy until marriage during a 2009 press conference, per PopSugar. Culpo and Tebow only dated for a few months before calling it quits, and Us Weekly reported that the athlete's stance on virginity had something to do with the couple's split.
Despite not being able to make it work with Lochte or Jonas, Culpo kept her heart open and eventually fell in love again, this time with a fan-favorite NFL star.
Olivia Culpo found love with Danny Amendola and Christian McCaffrey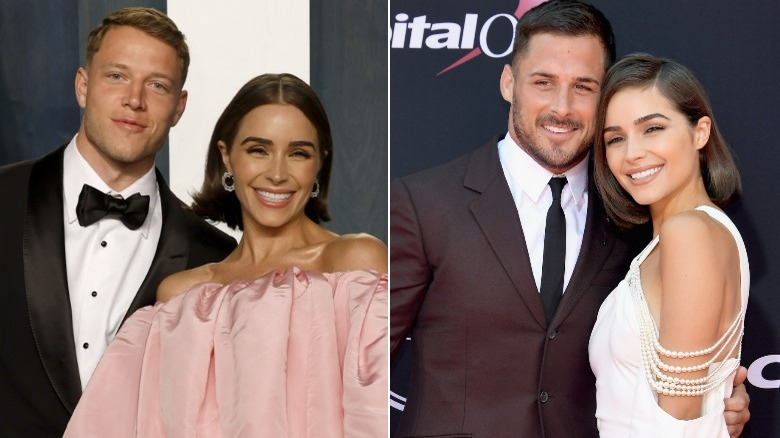 Frazer Harrison/Getty & Matt Winkelmeyer/Getty Images
In 2016, Olivia Culpo began dating NFL star Danny Amendola. The couple became Instagram official in February 2016, and the baller had no problem attending Hollywood events and smiling for photos on the red carpet with his then-girlfriend (via E! Online). Sadly, the couple faced difficulties due to their busy careers. "Danny couldn't handle Olivia's demanding lifestyle and wasn't pleased with certain choices she was making," a source told E! at the time of the couple's split. "The constant travel was also causing a rift."
However, Amendola and Culpo weren't done just yet. The pair tried to work things out on a couple of different occasions before finally calling it quits for good, per PopSugar. Surprisingly, Culpo's failed romances with Amendola and Tebow didn't deter her from entering into another romance with an NFL star, Christian McCaffrey.
Culpo and McCaffrey started up their romance in 2019, and have been going strong ever since (via Us Weekly). "I'm so grateful for the voice inside me that told me to give love another chance," the model wrote in an Instagram post to her beau. "Thank you for being my rock and restoring my faith in love. You are everything I ever dreamed of and more," Culpo added. Although it's been a bit of a rough road, it seems that Culpo may have found her perfect match in McCaffrey.