Ellen DeGeneres Worked A Ton Of Random Jobs Before Hitting It Big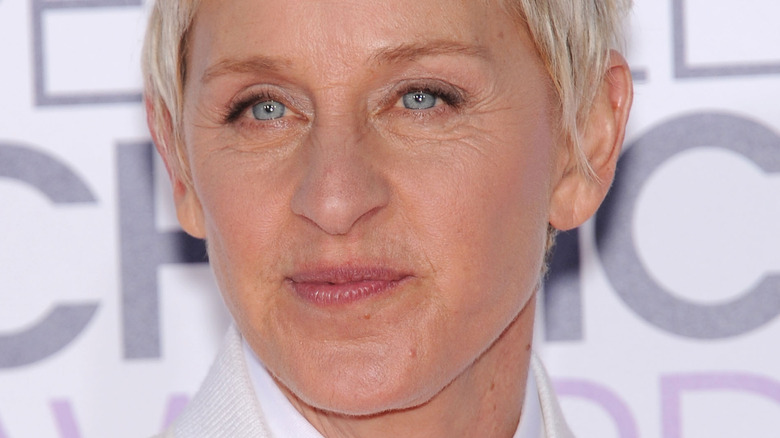 DFree/Shutterstock
Ellen DeGeneres is one of the most famous comedians today, but her success did not come without a struggle. The future millionaire had humble beginnings while growing up in Louisiana, but being raised in a family that didn't have a lot of money ultimately pushed her to do more for herself. "I was poor growing up," DeGeneres said during a 2018 episode of her talk show. "I was poor, and I just was like ... I am always going to just get what I want. I'm going to do what I want ... I will always have enough. And that's how I live my life. You shouldn't live your life in fear of money."
DeGeneres' struggling family never took a vacation — except one. She once revealed that when she was a young girl, her family went on a tour of the Warner Bros. lot in Burbank, California. "And now, I work on the Warner Bros. lot and I have my own stage with my name on it. So [my father] was really proud of that," she said, per People.
In 2022, DeGeneres' net worth hovers around an estimated $500 million, per Celebrity Net Worth. So how did she go from being a poor young girl to being one of the wealthiest celebrities today? Turns out, DeGeneres took on all types of jobs as she climbed her way up the ladder of success.
Ellen DeGeneres worked a series of random jobs before finding her niche
Getty Images/Getty Images
After Ellen DeGeneres graduated from high school, she wasn't sure exactly what to do with herself. She gave college a try, attending the University of New Orleans as a communications major, per Us Weekly, but dropped out after one semester and began to work a series of odd jobs.
In the book "Ellen DeGeneres: A Biography," author Lisa Iannucci wrote that the future superstar did it all. "[She] sold clothes at the Merry-Go-Round chain store at the Lakeside Shopping Center, served food, painted houses, worked at a car wash, bar-tended, wrapped gifts ... sold Hoover vacuums and shucked oysters," Iannucci wrote.  Of that seafood-themed job, DeGeneres once joked that it was a given. "When you live in New Orleans, you're bound to be an oyster shucker, aren't ya?" she cracked, per VH1.
DeGeneres also worked as a legal associate at one point, per Entertainment Tonight. But according to Notable Biographies, that job didn't pan out because she didn't like the dress code required for the office.
Ellen DeGeneres' standup career led to huge opportunities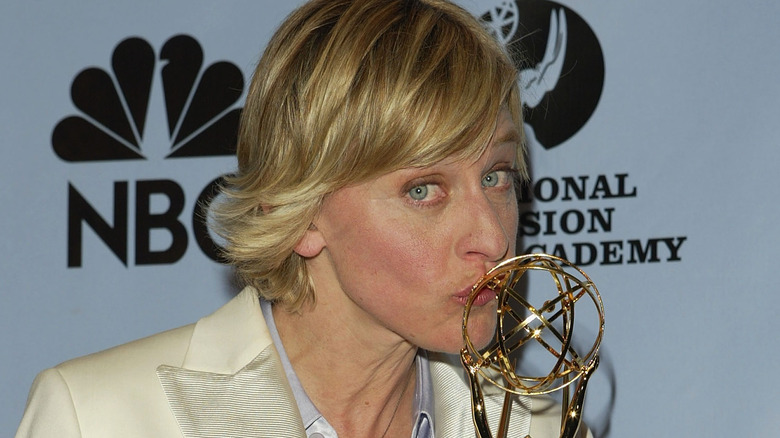 Peter Kramer/Getty Images
Ellen DeGeneres finally found massive wealth doing something she loved. According to Us Weekly, after she dropped out of college, she did stand-up gigs at comedy clubs, which led her to her breakout 1986 appearance on "The Tonight Show Starring Johnny Carson." After performing her now-famous "Phone Call to God" routine, she became the first female stand-up comedian invited to Carson's couch. DeGeneres told Entertainment Tonight that after appearing on TV comedy specials, she was offered acting roles, eventually scoring her own sitcom, "Ellen," in 1994. After her sitcom ended, DeGeneres voiced the character Dory in the 2003 film "Finding Nemo." That same year, she debuted her own self-titled syndicated daytime talk show, per IMDb. In an unexpected career move, she also became the face of Cover Girl at age 50, per The Drum. 
DeGeneres told Good Housekeeping that she constantly tries new things because she gets "bored easily." "I've started a record label, so I get to nurture new talent and talk about music, which is a passion of mine. I've written another book. And I get to come to work and do the TV show, which is always really fun," she said in 2011. In 2021, DeGeneres announced the end of her Emmy-winning talk show. "When you're a creative person, you constantly need to be challenged — and as great as this show is, and as fun as it is, it's just not a challenge anymore," she told The Hollywood Reporter.
With so many jobs under her belt, DeGeneres still knows her main career objective. She previously told CBS News that her only job "is to make people happy." She has certainly done plenty of that!