Are Ryan Reynolds And Jake Gyllenhaal Friends?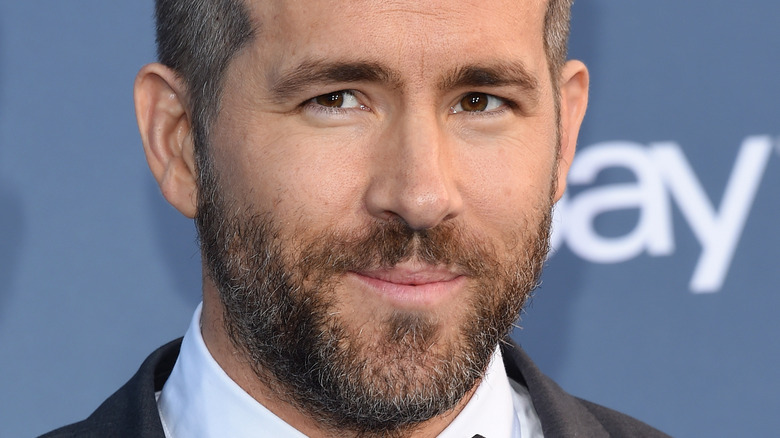 DFree/Shutterstock
A pair of Hollywood heartthrobs by the late aughts, both Ryan Reynolds and Jake Gyllenhaal kicked off their careers in the early '90s. Although contemporaries, the duo only brushed shoulders with one another until shooting 2017's sci-fi thriller, "Life." While the film itself might have been a box office flop, an apparent camaraderie blossomed from its press tour.
The two gassed it up during promotional interviews for the film at every opportunity. Their March 18, 2017 interview with Fox 5 went viral for the duo's inability to answer questions without getting derailed by wisecracks and laughter. As one video commenter observed, "These two would have been separated in elementary school." During Gyllenhaal's solo appearance on "The Tonight Show with Jimmy Fallon" soon after, he admitted that his and Reynolds' goofy antics forced "Life"'s producers to sit the pair down and implore them to cut out their tomfoolery. "We're being chased by aliens — terrifying — but we would cut and we just couldn't stop laughing and joking. We wasted so much money!" Gyllenhaal laughingly recalled. In another viral moment, Reynolds quipped during a "Good Morning America" segment, "Blake [Lively] my wife is very good at cooking and Jake might just be a little bit better. It gets very competitive between the two."
How much of this Hollywood bromance was genuine? Were Reynolds and Gyllenhaal just paying chummy lip service to promote a film, or was their bond the real deal?
Ryan Reynolds and Jake Gyllenhaal are a geniune Hollywood friendship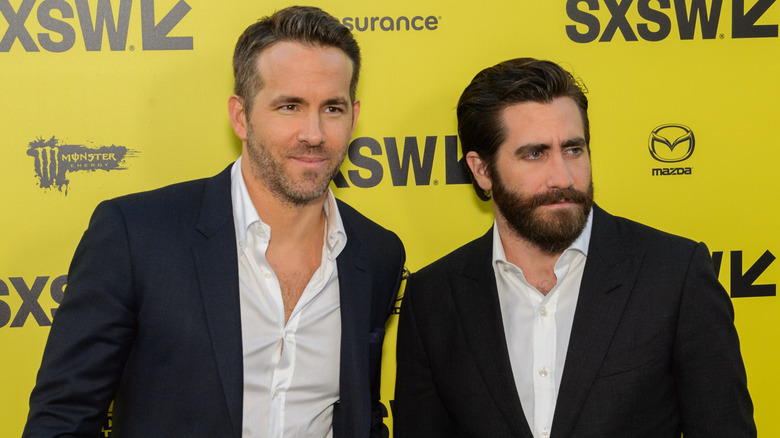 Jim Bennett/Getty Images
On-camera banter aside, it appears Ryan Reynolds and Jake Gyllenhaal forged a lasting bond off the set of "Life." Speaking to Access Hollywood (via AP) in March 2017, Reynolds related that many actors imagine staying in touch with costars. The unfortunate reality, Reynolds explained, is that "you don't most of the time because you go on living your life," before adding about Gyllenhaal, "We've stayed friends. That's a lucky thing." In turn, during a solo appearance on BBC's "The One Show," Gyllenhaal explained the unique backbone behind their camaraderie. "It's rare in our industry to meet someone, a contemporary, and there's no competition," the "Nightcrawler" star said, via the Daily Mail. 
Gyllenhaal was so taken by Reynolds that he even wrote his friend an open love letter at Variety's behest in 2018. Describing their first meeting, Gyllenhaal recalled that Reynolds struck him "a gentleman in an era of foppish putzes." After he got to know and befriend him, Gyllenhaal wasn't surprised by the massive success of 2016's "Deadpool," initially seen as a gamble by studio execs. "For all of the effortlessness that Ryan projects, the man works tirelessly," he penned, noting that Reynolds wrote at night so as to spend his days with his wife and children. That is what Gyllenhaal admired most in his pal: "As good a writer and comedian as Ryan is, he is a better friend and father and husband."
Did Ryan Reynolds and Jake Gyllenhaal grow apart?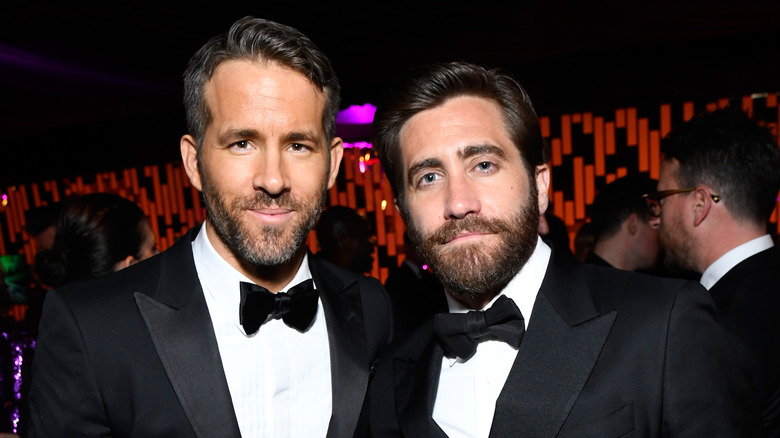 Matt Winkelmeyer/Getty Images
Although Ryan Reynolds and Jake Gyllenhaal seemed thick as thieves in past years, there have also been rumors of turmoil in their bromance. Known for pulling public pranks on one another, the duo once got fans in a tizzy over a faux feud they started on social media. To commemorate Best Friends Day on Instagram in June 2019, both parties wished each other, "Happy #BestFriendsDay," but opted to pose instead with mutual pal Hugh Jackman. As both Gyllenhaal and Reynolds wrote in their tongue-in-cheek captions, the other was, simply, "not pictured." While promoting his 2019 film, "Spiderman: Far From Home," a short while later, Gyllenhaal continued the guise of a feud, telling E! Insider, "As everybody knows, Instagram had its way with our friendship."
Unfortunately, tales of the once-hot bromance cooling may not have been greatly exaggerated. In July 2021, a source told OK! Magazine that, although Gyllenhaal didn't use to find their relationship competitive, that is exactly how the two friends reportedly drifted apart. "Things started cooling down once they realized they were competing for the same roles," the insider claimed. "Ryan and Jake realize that in Hollywood, there are only so many seats at the table." 
While that is certainly not unheard of in showbiz friendships, the source also acknowledged that their two divergent lifestyles — with Reynolds being married with children and Gyllenhaal still a bachelor — could have driven another natural wedge.