Inside Chicago Med Star Jessy Schram's Real-Life Relationship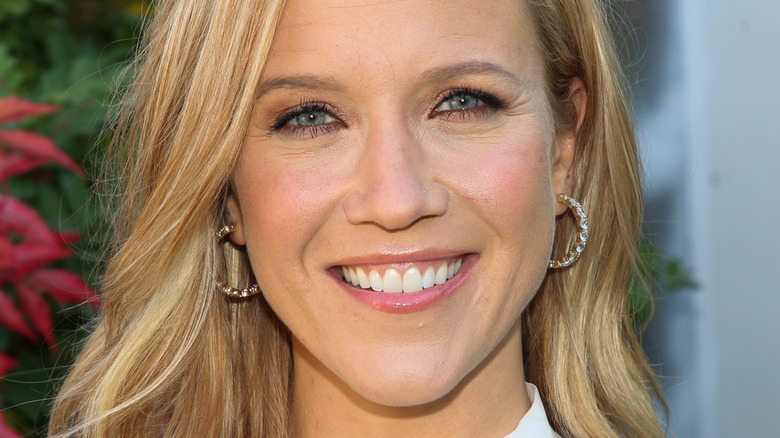 Paul Archuleta/Getty Images
Fans of Jessy Schram have watched the actor tell many different stories about love. She's brought a fairytale to life as Cinderella on "Once Upon a Time," provided workaholic Pete Campbell with a kindred spirit to rebound with on "Mad Men," and delighted fans of Hallmark movies with more than one heartwarming tale of true love. But to many, she may be best known for her role on "Chicago Med" as Dr. Hannah Asher, an OBGYN whose struggle with addiction has caused chaos in her professional and personal life.
One of Schram's major storylines on the show has been Asher's complicated relationship with fellow doc Will Halstead, who's played by Nick Gehlfuss. And if you feel like the two actors have great on-screen chemistry, it might be because they have an excellent working relationship. "I personally absolutely adore working with Nick Gehlfuss," Schram told Hollywood Life. "I feel like he cares so much about the work and so do I. He's such an easy person in real life to get along with."
But no, the "Chicago Med" cast members are not a real-life couple — Schram has settled down with someone who seems to share her passion for the unsettled life she described in an interview with Once Upon a Fandom. "I like to be random and explore," she said. "Lately, any hobby I've been active in is something that can be accessible on a plane." But her partner prefers to do his exploring via motorcycle.
One of Jessy Schram and Sterling Taylor's early dates was extreme
Jessy Schram chronicles her adventures with her longtime love, Sterling Taylor, on Instagram, and depending on your activity level, her photos and videos will either give you major FOMO or make you feel exhausted. Schram credits Taylor for snapping many of the images she shares. According to his website, he's a photographer who once put his skills to use during a road trip through 49 states. Taylor made the 18-month trek on a motorcycle in 2015, per Huckberry, and it inspired him to start writing a book, titled "The Motorcycle Dirtbag." Said Sterling, "I wanted to be an outlaw, but the kind where nobody gets hurt. ... I slept under the stars and was fully immersed into the elements."
Schram and Taylor also spend a lot of time outdoors, as evidenced by the actor's Instagram posts. They enjoy rock climbing, hiking, surfing, van life, and swimming in ponds. Schram revealed that the couple embarked on this adventurous lifestyle together early on in their relationship. "[Throwback] to our third date," she captioned a video filmed near a lake surrounded by rocky peaks. "I told Sterling I like to hike — so I pretended it was no big deal when he told me we'd hike in 7 miles and set up camp for a few days." But, she admitted that she did not join Taylor and his friends when they climbed Temple Crag, which is located in California's Sierra Nevada mountains.
Jessy Schram and her fiancé are proud parents of a furless fur baby
On December 21, 2021, Jessy Schram and Sterling Taylor announced their engagement in a joint Instagram post. It included a photo of Schram holding her hand up in the sky to show off her engagement ring, and the shot featured quite the backdrop: the mystical green glow of the aurora borealis. 
While the two nomads are clearly perfect for each other, Schram told TV Fanatic that Taylor has some competition for her affection. "My cat is the love of my life," she said. "Yes, my boyfriend will be very upset that I just said that, but my cat's name is Pirate. He's a little, rescue Sphynx cat, so he's a hairless cat." In a Hallmark Channel interview, Schram explained how Pirate got his name, recalling, "When I got him, he was so sunburnt and scratched up, and his eyes were all closed."
Luckily, Pirate has adapted well to his parents' nomadic lifestyle, and Taylor appears to be a fan of the feline. Schram has shared photos of Taylor cuddling Pirate, and the two most important men in her life have even rocked matching lion costumes. They also both got a shoutout when Schram described her ideal Sunday to Naluda Magazine: "A happy wake up from my cat, Pirate. A good breakfast. Chess with my boyfriend. Fresh air. Anything other than that is just frosting on the cake."