How Did Tiki Barber And Traci Johnson Really Get Together?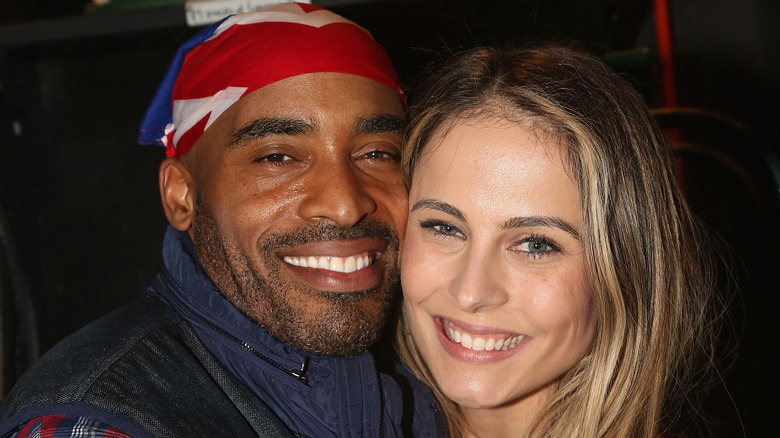 Bruce Glikas/Getty Images
You may recognize Atiim Kiambu "Tiki" Barber from his days playing in the NFL. The talented footballer played for the New York Giants for a whopping 10 seasons between 1997 and 2006, before hitting our screens to share his knowledge of the game. Post his on-field career, Barber appeared on NBC shows like "Today" as a correspondent, while also giving his two cents on "Sunday Night Football." But, aside from his career, Barber has also hit the headlines for his personal life over the years.
Back in 2010, Barber's name was firmly in the gossip when it was revealed he and his first wife, Ginny Cha, were going their separate ways after marrying in 1999. Around the same time, it was confirmed Barber had struck up a romance with Traci Johnson, which, naturally, made for plenty of tabloid speculation — particularly after Inside Edition reported Johnson had shared a photo of herself on her MySpace page wearing a football jersey with Barber's number on it. Years later, the two would pop up on Season 12 of "The Real Housewives of New Jersey," which began airing in February, and their foray into reality TV had plenty of fans wondering once again what the true timeline was when it came to this romance. So, what really did happen here?
Did Tiki Barber cheat on Ginny Cha with Traci Johnson?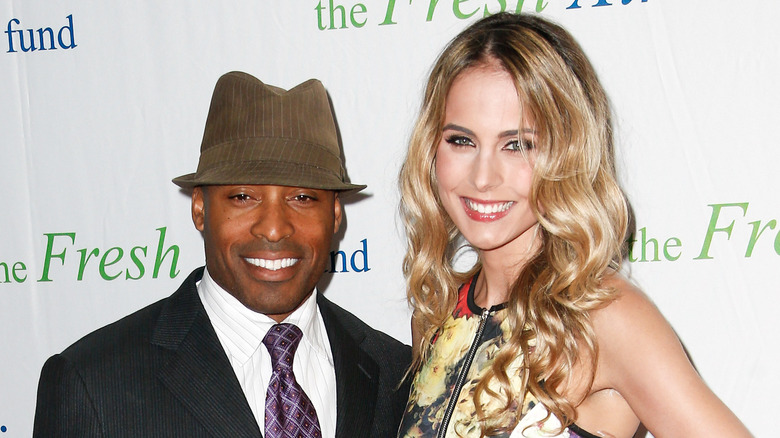 Debby Wong/Shutterstock
Back in April 2010, speculation was rife that Tiki Barber had cheated on Ginny Cha by embarking on a romance with Traci Johnson, who was then an intern at NBC. New York Post's sources claimed Barber had allegedly been having an affair with Johnson for months before news of his separation from Cha, who was pregnant with their twins at the time, was made public. "We were shocked to find out that he could walk out on his wife of 11 years while she's pregnant with twins. He was with this girl in Senegal while Ginny was three months pregnant. And we believe she was also with him in Vancouver while he was blogging about the Winter Olympics for Yahoo.com," they purported.
In a statement announcing their separation, Barber suggested their split was amicable. "After 11 years of marriage, Ginny and I have decided to separate. This decision was a painful one, but we are moving forward amicably and will continue to work together to raise our children with the love and dedication they have always known," he said. It was Cha who filed for divorce after the two made the decision to separate, according to TMZ, with the outlet claiming that they had supposedly agreed that neither would file legal documents until after their babies were born in the wake of his supposed affair hitting the headlines.
But Barber has always denied romancing Johnson before his and Cha's separation.
Tiki Barber denied having an affair with Traci Johnson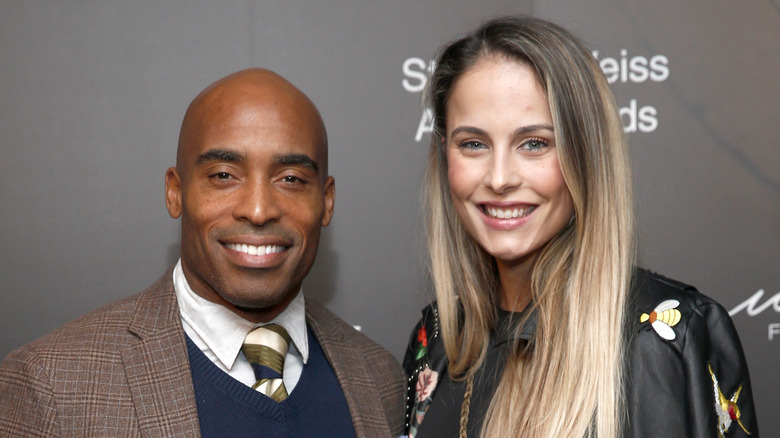 Brian Ach/Getty Images
Despite rampant speculation Tiki Barber and Traci Johnson's romance began while he was still married to Ginny Cha, he has always maintained they were separated. "It's hard, because everything is so skewed by the coverage, and by the perception," he told Entertainment Tonight in 2010 (via Majic 102.3). "I was separated, out of my house so it wasn't until then that we took things to the next level," he added. Johnson also claimed they only got romantic after Barber and Cha's separation.
During a 2011 interview with "Sports Illustrated," Barber claimed he and Cha underwent more than two years of counselling before going their separate ways in late 2009. He slept on the floor of his office at NBC for two nights after things broke down with Cha, and then moved in with Johnson. "I had a bad marriage. I left. It doesn't mean I'm a bad father. I fell in love with someone else. You're walking down a path, and you know it's not right. Do whatever it takes to change. Sometimes it's easy. Sometimes it's violent. Mine was violent. But somehow it seems right," he said. 
The affair rumors reared their ugly head again in March though, when the couple appeared on "The Real Housewives of New Jersey." Teresa Giudice was the one who referenced the past speculation, stating during an episode (via Page Six), "I heard she was the nanny living with them and the wife was pregnant."