Who Is Chief Stew Faye Clarke On Below Deck Adventure?
"Below Deck Adventure" takes fans far beyond the deck and the crew's cramped quarters, offering fans of Bravo's seafaring franchise a fresh perspective on yachting life. With Captain Kerry Titherage manning the luxury vessel Mercury, his yachties juggle their personal and professional lives while navigating the Nordic seas. And their charter guests aren't just there to drink, party, and enjoy fine dining as they admire Norway's scenic fjords — they're true adrenaline junkies who spend their time off-boat participating in exciting activities including mountain rappelling and zip lining.
Titherage spoke to TV Insider about the adventure aspect of the show, saying, "The most amazing part to is the location of the adventures. Massive waterfalls that have formed off glaciers, caves systems formed from centuries of erosion, paragliding, taking helicopters on top of mountains and sailing down, horse riding even riding down the mountain." His crew includes deckhands Nathan Morely, Michael Gilman, and Kyle Dickard; bosun Lewis Lupton; chef Jessica Condy; and stews Oriana Schneps and Kasie Faddah. Then there's the woman who has to keep the peace while keeping charter guests happy: Chief Stew Faye Clarke. She shares her guests' spirit for adventure, but she told ET that she wasn't a big Bravo fan before joining the "Below Deck Adventure" cast.
Faye Clarke has been a boxer and a makeup artist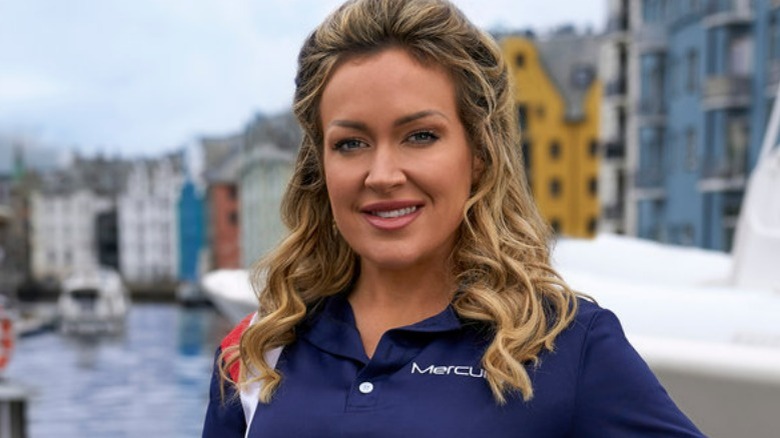 Vincent Cerone/Bravo
Faye Clarke's brief Bravo bio touches on her fascinating life story, describing her as a London native who began traveling the world on her parents' dime at age 21 before embarking on her yachting career in Italy. Clarke described some of her adventures during her pre-yachting years to Showbiz Cheatsheet. "I've done bungee jumps and skydives," she said. "I've practically hitchhiked around Vietnam and Cambodia. I was a boxer for eight years, trained in Thailand."
In a 2020 interview for the Stewardess Training Cape Town Instagram page, Clarke revealed that she worked as a professional makeup artist for 15 years, listing her previous employers as the beauty brands Estée Lauder and Bobbi Brown. She said of her decision to make a drastic career change, "I was so exhausted with my job I had at the time, and I couldn't do it anymore. I was so stressed all the time, and I said, 'I need a job where I go to work in a pair of flip-flops."
Applying online for jobs in the yachting industry proved fruitless, so she jetted off to Viareggio, Italy — which might be described as a yacht hotspot — and began trying to physically hand her CV to some of the many yachties working there. This attempt also failed, but she ended up landing her first job after chatting with a wealthy yacht owner and his captain at a local café.
Faye Clarke had no idea who her Bravolebrity charter guests were
In a confessional for "Below Deck Adventure," Faye Clarke speaks a bit more about her beauty background, as well as her low tolerance for drama. "I went to an all-girls school," she says. "Southeast London girls do our hair and makeup, we like our nails done, you don't want to mess with us. We can have a fight." While it might sound like the Bravo star would find a few kindred spirits among members of the network's "Real Housewives" franchise, she told ET that she's usually too busy to watch TV, so she had no idea who "The Real Housewives of Salt Lake City" stars Angie Harrington and Heather Gay were when they boarded her boat.
Clarke explained how she ended up on a reality series herself, saying that one of the yacht owners she used to work for was a huge fan of the OG "Below Deck" and encouraged her to join the franchise. She also revealed that she saw a familiar face on "Below Deck Sailing Yacht" — she'd worked with Jean-Luc Cerza Lanaux before.
According to Clarke, the toughest challenge of her new job isn't dealing with guests or her crew. "In Norway, what everyone needs to understand, is that the sun doesn't go down," she explained. "So I was working probably from 7 o'clock in the morning sometimes 'til 4 o'clock in the morning the next day because people forgot to go to bed."