The Tragic Death Of Former Mets Player Chuck Carr
Matthew Stockman/Getty Images
Former New York Mets star Chuck Carr has died at 55 years old. Carr joined the Mets in April 1990 and was later traded to the St. Louis Cardinals. After this, he joined the Florida Marlins in the first iteration of that team in 1993, which has since become the Miami Marlins, according to the Daily Mail. He also played for a time with the Milwaukee Brewers and Houston Astros. Carr's claim to fame in Major League Baseball was nabbing 58 stolen bases in 1993, so he's something of a legend in the baseball world. The MLB has lost several greats, like Mets pitcher Pedro Feliciano.
Baseball contributor Craig Mish posted the news on Twitter. "Former Florida Marlins Outfielder Chuck Carr has passed away," he wrote. "His family made the announcement today on Facebook. He was 55." Carr's niece, Meka Queenstewart Carr, shared a post on Facebook, writing, "I'm rich with memories," adding that her uncle died on November 12, 2022. "I just thank God that my children were able to enjoy uncle like we all got to," she continued. She also noted that the date of his funeral has not yet been finalized. 
Chuck Carr was a legend in the MLB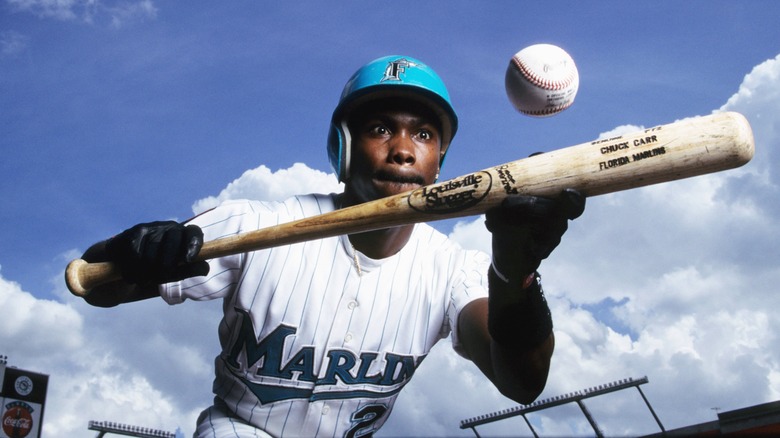 Ronald C. Modra/Getty Images
Chuck Carr had been battling cancer for some time, but reports suggest that Carr might've been ill for longer than fans initially thought. According to the Milwaukee Journal Sentinel, "The tribute from his family suggested Carr had been battling health issues." Forbes baseball contributor Nick Diunte tweeted on November 13, 2022: "Chuck Carr, key centerfielder on the inaugural Florida Marlins team has died at age 55 after battling cancer. He led the NL in steals in 1993. Also played for Mets, Cardinals, Astros and Brewers in eight-year MLB career."
Carr became a legend after he made it to third base on "a two balls, no strike count," per the Daily Mail, and when he was asked about it, he responded: "That ain't Chuckie's game. Chuckie hacks on 2-0." Following his time in the major leagues, Carr went on to play in the minor leagues, teaming with the Long Island Ducks, per the New York Post, before going on to play in Taiwan. Our condolences go out to his friends and family.