How Tom Brady's Worst On-Field Injury Led To An NFL Rule Change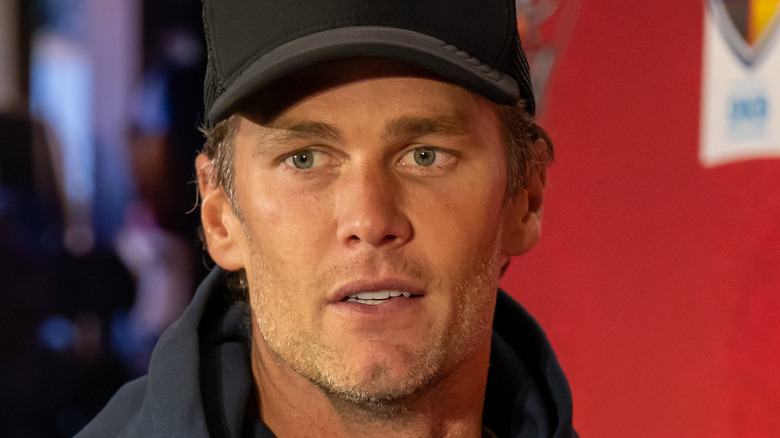 Sebastian Widmann/Getty Images
Tom Brady's name has been all over the headlines, thanks to his football career and relationship with Gisele Bündchen. Brady and Bündchen tied the knot in 2009 after two years of dating, per Brides. As one of the best athletes in history, and one of the highest-paid models of all time, they were a very hot couple. Bündchen and Brady went on to have two children, move all over the country for his job, and walk all kinds of red carpets together –- but the marriage didn't last.
In 2022, after much speculation, Brady and Bündchen announced their intention to divorce. "We arrived at this decision amicably and with gratitude for the time we spent together," Brady wrote in a since-deleted Instagram Story (via NBC News). "We are blessed with beautiful and wonderful children who will continue to be the center of our world in every way." Bündchen reportedly posted a similar message and added that, "We will continue co-parenting to give them the love, care, and attention they greatly deserve." While neither spoke about the circumstances of the split, rumors swirled that it had everything to do with Brady leaving retirement and signing another contract with the Buccaneers, per NPR.
Of course, Brady is more than just a model's husband. He's an incredibly talented athlete, and his contribution to the sport has surpassed his contribution to the pop culture zeitgeist. Thanks to Brady's initiatives, professional football has changed to become a less dangerous game for all teams.
Tom Brady's knee injury made him advocate for safety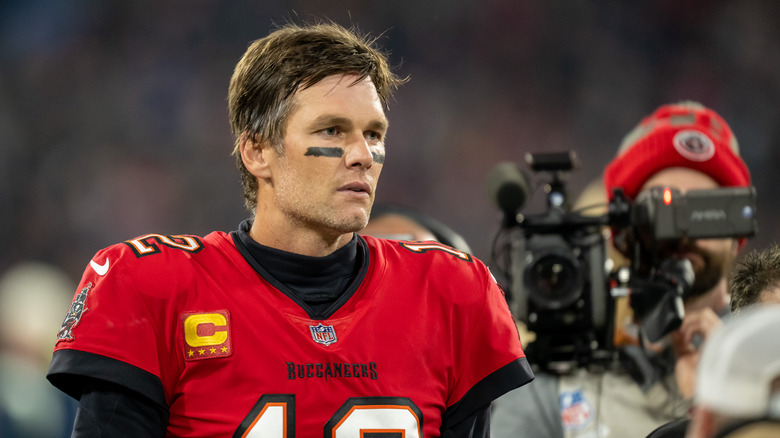 Sebastian Widmann/Getty Images
In 2008, Tom Brady was battered in the knee and taken off the field for the entire season. However, after pressure from Brady and his fans, the commission decided to formally change the game's rules so that quarterbacks could not be hit in the knee in the same fashion –- thus preventing season-ending injuries, per Boston.com. Specifically, the rule forbids a defender who has not been blocked or fouled from tackling a quarterback at or below the knee.
While the Brady rule may have been beneficial to its namesake, in recent years, Brady has been extra cautious about changing the game's parameters to protect offensive players like himself. "The only thing [offensive favoring rules are] going to do, they're actually gonna blame the defensive player for making a good, solid hit," he said during a 2021 interview for the Tampa Bay Buccaneers. "So, in the end, I think it's really a disservice to the sport because the sport isn't being played at a high level like I believe that it once was," he continued. "It actually deteriorates because you're not teaching the players the reasons and the fundamentals of what the sport should be."
Even though Brady has been outspoken about not changing too much of the game, there are some things he believes need to be altered in order to keep the game safe for everyone, and he's not shy about pushing for reforms.
Brady wants football to be safe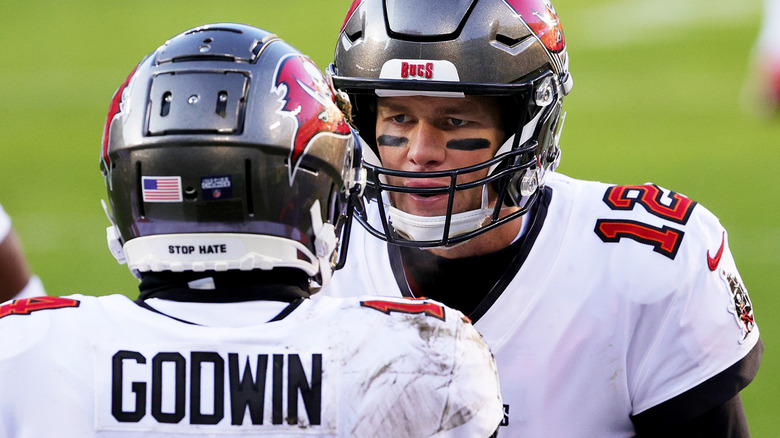 Stacy Revere/Getty Images
While Tom Brady is cautious about changing the rules too much, he does want to make the game safer for everyone. When Chris Godwin, Brady's Tampa Bay Buccaneers teammate, sustained a season-ending ACL injury in 2021 -– not unlike Brady's 2008 knee injury –- Brady spoke out against the rules that made the dangerous play legal within the league, per CBS News. Godwin sustained the injury while he was catching a pass and was roughly tackled by a defensive player.
After watching his friend sustain the brutal injury, Brady lambasted the play during an episode of his podcast "Let's Go!" He explained, "Chris got hit in the knees yesterday, which is a play that I think they ought to take out of the game of football, from a receiver standpoint. He then revealed he spoke to the NFL Players' Association, and has plans to do the same with the Competition Committee. Brady complained that he had seen similar plays "too many times" and that the rules needed to be changed. "[Those rules don't] make any sense to me," he said.
As for Godwin, he's undoubtedly grateful to have Brady in his corner, given the extent of his recovery. "For a few months there, it felt like there was a war being fought inside of my leg," Godwin said during an interview for the Buccaneers website. Godwin added that his leg was full of screws and cut tendons thanks to that dangerous play.