Everything You Need To Know About Donald Trump's Alleged Mistress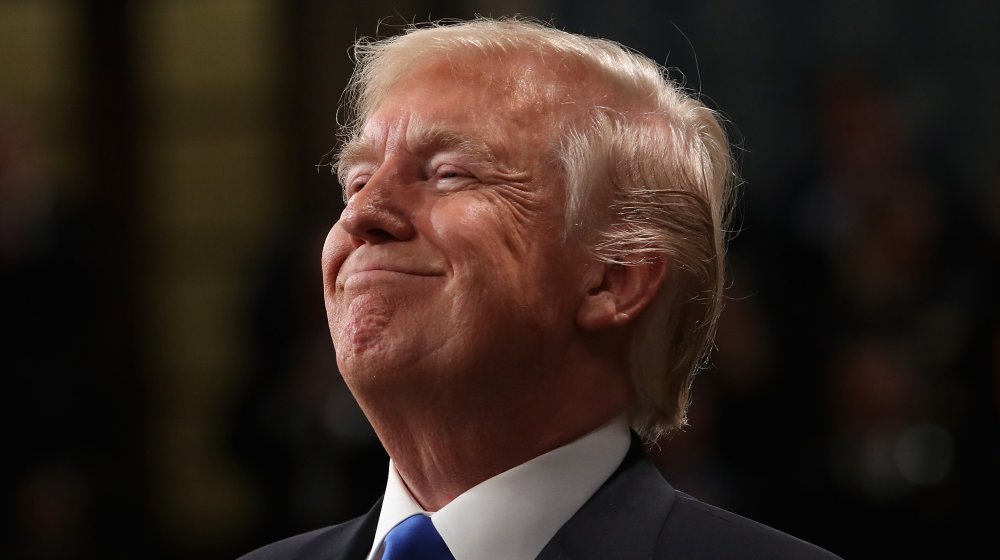 Win Mcnamee/Getty Images
President Donald Trump's third marriage has taken its fare share of hits. Of the numerous allegations of sexual misconduct levied against the president, many are said to have occurred during his marriage to Melania Trump. And while the president has consistently denied any and all allegations of such wrongdoing, evidence of his alleged consensual affairs has also surfaced. 
The most notable, of course, came to light when Donald's lawyer, Michael Cohen, confirmed that he orchestrated a hush money payout of $130,000 to porn star Stormy Daniels in exchange for her silence regarding her alleged affair with Donald.  
And in yet another bombshell report, journalist Ronan Farrow accused Donald of cheating on Melania Trump again. This time, the alleged consensual extramarital affair was with Karen McDougal, a Playboy Playmate, and it supposedly occurred between 2006 and 2007, when Donald's son with Melania, Barron Trump, was an infant. The report also accused the one-man brand of using a careful network of collaborators to hide his affairs from the prying eyes of the media and his wife.  
So, who is the mysterious Playmate at the center of this high-profile accusations? Keep reading to find out everything you need to know about McDougal and her connection to the 45th President of the United States.
Karen McDougal went from the heartland to the hot seat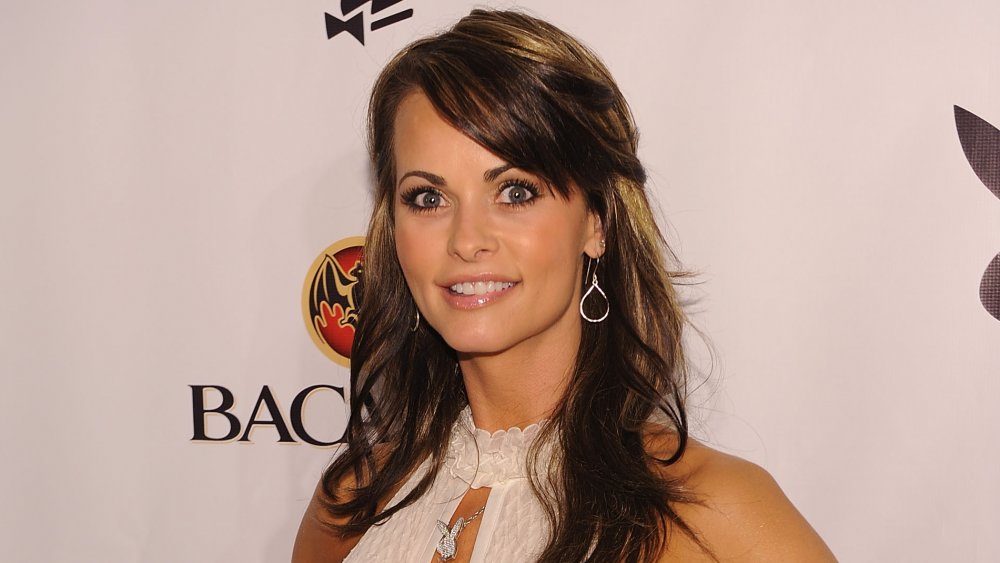 Dimitrios Kambouris/Getty Images
Karen McDougal was born in Indiana in 1971. She grew up in rural Michigan as the fourth of five children. In addition to the number of athletic and artistic activities she took up in school, her sweet demeanor and beauty earned her the nickname "Barbie."
After high school, McDougal attended college for two years at Ferris State University before departing to a suburb of Detroit to work as a preschool teacher — and she may have stayed in that lane indefinitely had it not been for a friend convincing her to join a swimsuit contest, which led to an opportunity to begin competing internationally. 
During one of the international competitions, McDougal met a photographer affiliated with Playboy, a connection which encouraged her to move to California for a test shoot with the magazine. She didn't know it yet, but as soon as she set foot in the Playboy Mansion for the first time, she was launching a lucrative and highly successful new career.
Karen McDougal moved through the Playmate ranks fast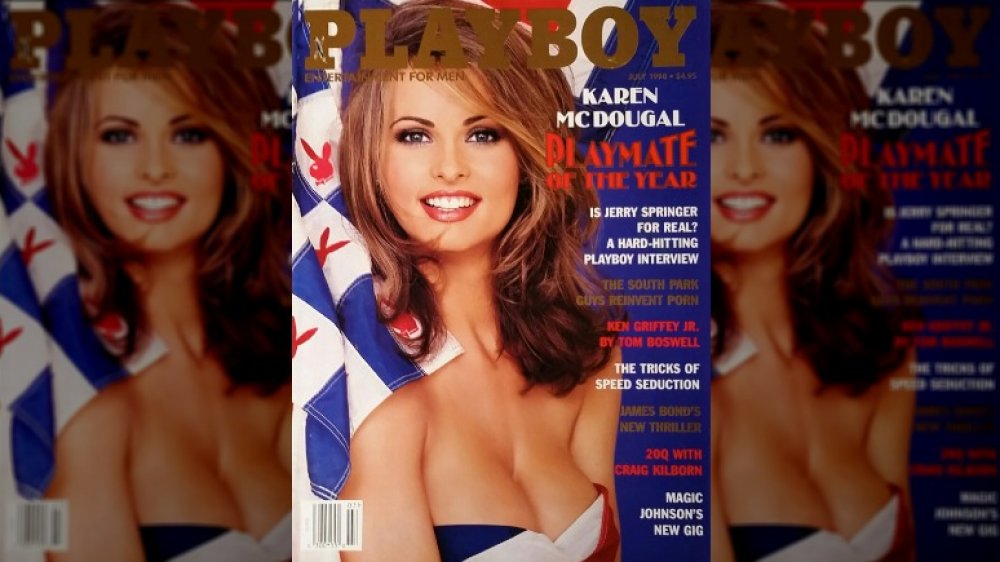 Two days after her first test shoot, Karen McDougal got the call booking her for her first professional photo spread in Playboy. Soon after she began working with the magazine, she was crowned Miss December 1997.
"It all happened very fast," McDougal related on her website. "I honestly didn't think that I was going to be accepted considering that Playboy has tens of thousands of girls apply every year."
Thanks to a deluge of votes earned through call-ins, write-ins, and Playboy TV, McDougal became the magazine's 1998 Playmate of the Year, and by 2001, she had become so popular through her evocative photo spreads and promo work that she was voted the no. 2 Playmate of the '90s by the magazine's readership (bested only by superstar Pamela Anderson.)
Hollywood called Karen McDougal into... The Arena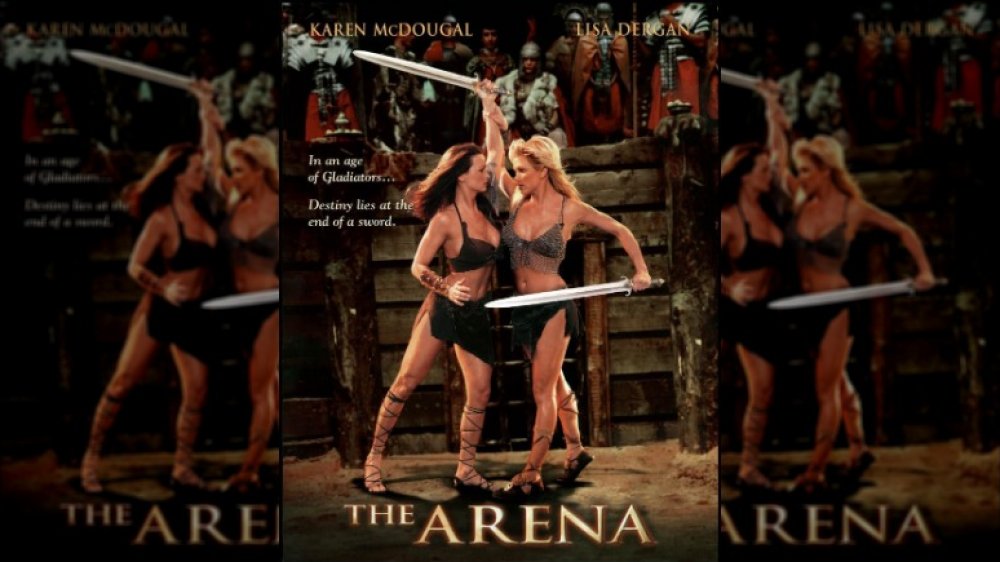 In 2001, Karen McDougal's career took a detour into acting when she starred in the Roger Corman-produced B-movie The Arena, playing a Roman slave who becomes a gladiatrix named Jessemina. 
Overall, the model hasn't made much of an impression on the silver screen, unless you happen to be a big fan of her small role in 2008's Stiletto or her appearance opposite Charlie Sheen in an episode of Anger Management called "Charlie and Lacey Piss Off the Neighborhood."
Karen McDougal kept a diary about her alleged affair with Donald Trump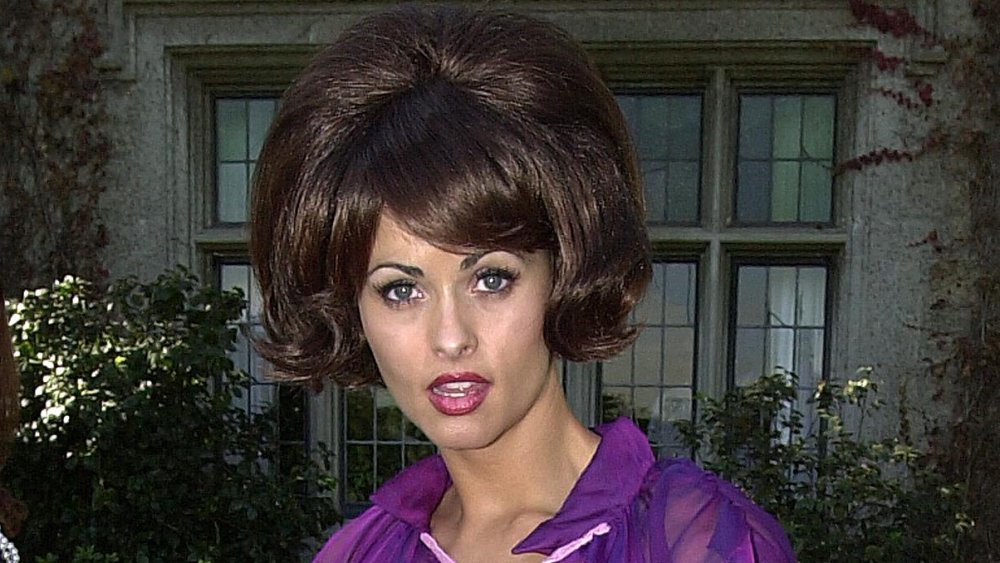 Vince Bucci/Getty Images
Karen McDougal reportedly met Donald Trump when The Apprentice host was 60 years old and she was 29. According to The New Yorker, the two met in 2006 during a party for The Apprentice at the Playboy Mansion, and quickly instigated a physical relationship. From the start, McDougal kept a diary of their time together, keeping track of Trump's behavior while providing an account of their first dates. McDougal later gave the eight-page document of the affair to a friend, John Crawford, who in turn provided the writing to The New Yorker.  
According to the model's writings, Trump "immediately took a liking to me, kept talking to me — telling me how beautiful I was, etc. It was so obvious that a Playmate Promotions exec said, 'Wow, he was all over you — I think you could be his next wife.'"
Hitting the town, but not the links
About a month after their meeting, Karen McDougal and Donald Trump were appearing at public events together all around the country. Her travels and lodging were supposedly paid for on his dime with the utmost secrecy. "No paper trails for him," she wrote of the visits. "In fact, every time I flew to meet him, I booked/paid for flight + hotel + he reimbursed me." 
Their travels took them to California, where the future President would reportedly do his best to keep her away from the orbit of pro golfer Tiger Woods, another notoriously unfaithful public figure. According to her diary, McDougal found this particular scenario amusing. According to her notes about Woods, she says she was told "to stay away from that one, LOL."
Karen McDougal didn't want Donald Trump's money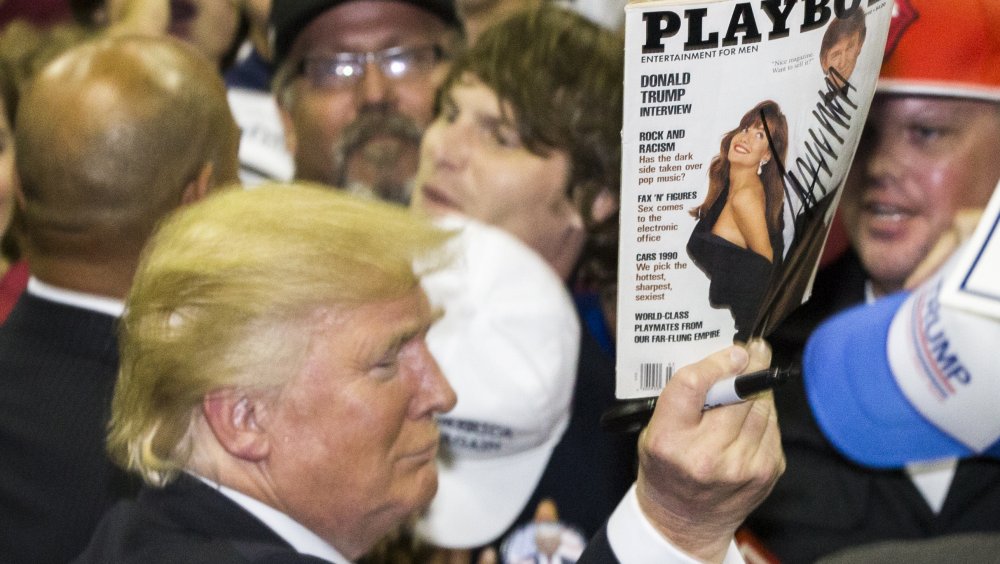 Mark Wallheiser/Getty Images
Karen McDougal and Donald Trump began seeing each other with what she described as a first date at the Beverly Hills Hotel, with Trump favoring one bungalow that they would allegedly return to often. According to her diary, McDougal "went to see him every time he was in LA (which was a lot)."
McDougal made several observations about Trump in her writings during this time. For one, he was supposedly a man of serious habits. Secondly, while he seemed to view their relationship as transactional, she didn't see it that way at all. 
"He always ordered steak and mashed potatoes," she wrote. "He never drank. We talked for a couple hours — then, it was 'ON"! We got naked and had sex. After, we got dressed to leave. He offered me money. I looked at him (I felt sad) and said, 'No thanks — I'm not that girl.'"
"I slept w/you because I like you — NOT for money'," she wrote. "He told me 'you are special.'"
At the same time that Trump was reportedly seeing McDougal, he was also allegedly carrying on affairs with several other women. Some of the events Trump took McDougal to were also attended by the other women with whom he was having affairs, including the 55th Miss Universe contest and a launch party for a new vodka.
The alleged affair hit close to Donald Trump's home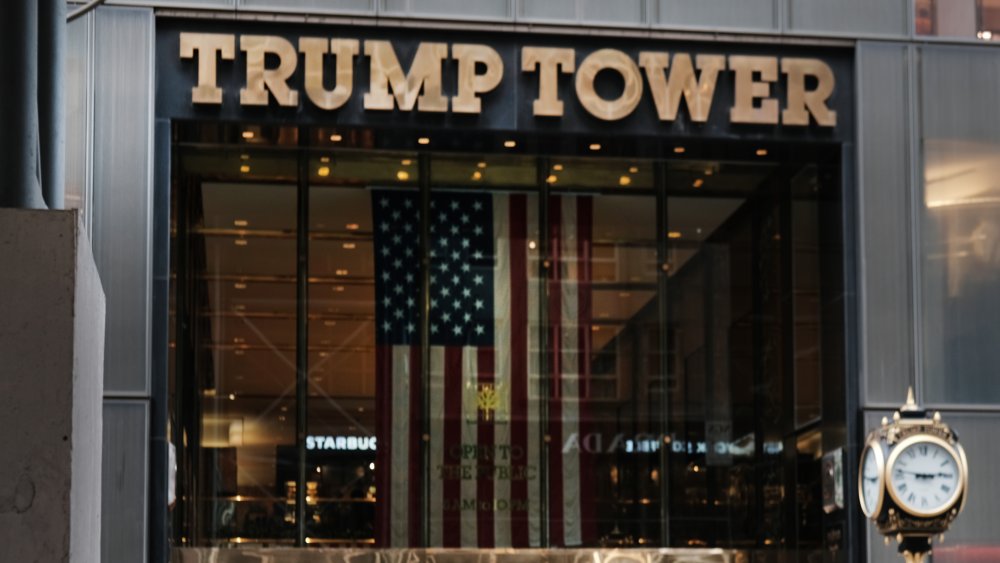 Spencer Platt/Getty Images
Karen McDougal claimed that during their alleged affair, she paid multiple visits to Trump Tower in midtown Manhattan. There, she noted in her diary that Melania Trump had a separate bedroom. At the time, Donald Trump and Melania had reportedly been married for less than two years.
"Flew to NY a time or two," McDougal wrote. "Stayed @ a hotel. He did take me to his house — showed me around. Pointed out his wife's bedroom. Said she liked her space — to read or be alone sometimes."
This wasn't the only uncomfortable moment she had with Trump's family. According to McDougal, Trump had a habit of frequently remarking on similarities he saw between herself and his daughter Ivanka, sending her articles about himself or his daughter and showing off her appearances on magazine covers.
McDougal's encounters with Trump's sons were more muted. She ways she sat with Donald Trump, Jr. and his wife during an event for Trump Vodka. (They shared a table with, of all people, Kim Kardashian.) She also supposedly had an encounter with Eric Trump during a party for The Apprentice held at the Playboy Mansion. 
"I was working as a 'Bunny' that night," she wrote. "[Donald's] whole family was there. We took pics together alone and with his family. He told me he asked his son, Eric, who he thought was the most beautiful girl here and Eric pointed [at] me. Mr. T said 'He has great taste' and we laughed!" 
Anxiety, angst, and guilt ended the affair for Karen McDougal
Karen McDougal ended her relationship with the real estate mogul after nine months, supposedly unable to get beyond feelings of guilt about intervening in his marriage. According to her friend who provided her diary to The New Yorker, "She couldn't look at herself in the mirror anymore, and she was concerned about what her mother thought of her."
McDougal raised her concerns about their affair to Donald Trump, particularly the one about her mother's disapproval, to which Trump allegedly replied, "What, that old hag?" This, among other inflammatory comments about gender and race supposedly offended McDougal to the point where she finally felt comfortable breaking off the relationship.
Today, she reportedly regrets the affair. "This is a new me," McDougal told The New Yorker. "If I could go back and do a lot of things differently, I definitely would."
McDougal says that she came forward about the affair to add her voice to the chorus of other women who are standing up to showcase the abuses made by high-profile, powerful men. As The New Yorker piece notes, several of the women Trump has allegedly had affairs with have accused him of sexual assault. "I know it's a different circumstance, but I just think I feel braver." McDougal said. "Every girl who speaks is paving the way for another."