Who Did Melania Date Before She Was With Donald Trump?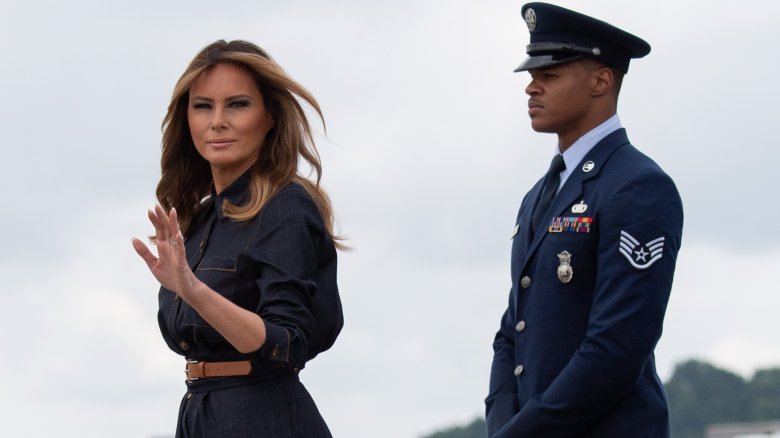 Saul Loeb/Getty Images
If Donald Trump is re-elected President in 2020, he will give his second inauguration speech on Jan. 20 and celebrate his 15th wedding anniversary with Melania Trump two days later on Jan. 22. As far as weeks go, that's not too shabby.
Even in the public eye, Melania remains "the reluctant First Lady," and even less is known about her personal life before she became a Trump. But was there a man before Donald? Well, a fellow named Jure Zorcic claims he dated the former fashion model when she was 21 and still living in Slovenia.
"We met each other like in a movie," Zorcic told ABC News in 2016. "It was a hot summer day, in between wars in Slovenia [in 1991]. It was the beginning of a new political era for us, the city was empty, blocked by the army. I was on my motorbike, and she has been walking down a street. As I passed by her, I had a moment and thought, 'Wow, who is this girl? She is so beautiful, I must turn back and follow her."
Zorcic claims he dated the future Melania Trump for several months and spent the summer during their romance hanging out with friends. "I was impressed by her beauty from the very first moment. She was very nicely dressed, and her behavior was classy. She was tall, had long hair across her face — I could hardly see her eyes — such style!"
The relationship reportedly ended when Melania left her home country to pursue a career as a fashion model in Paris, Milan, and eventually New York City — which is where she met The Donald. "I think her marriage to Trump was fate," Zorcic said. "Nobody believed 20 years ago that she would live at the top of the world, on Fifth Avenue in Trump Tower — even her!"
Zorcic does sound like something out of a movie, and that might be the case. Hope Hicks, a former spokesperson for Donald Trump, told The Daily Mail that Zorcic's story about Melania Trump's former (alleged) flame was "fiction." She added,  "This is yet another person trying to use Mrs Trump's name for publicity. The facts are not accurate."
On the other hand, Donald Trump's own romantic exploits, including his multiple marriages and rumored affairs, are famous for being tabloid fodder. In 1977, he married Ivana Trump, and they share three children — Ivanka, Eric, and Don, Jr. Although they divorced in 1992, Ivana told Jim Axelrod at CBS' Sunday Morning in 2017 that she and her ex-husband still talk about once a week. According to the former model, Trump asked her advice on using Twitter. She encouraged him to embrace the platform, telling that the media would "twist every single word" he said if he didn't communicate directly with the public. So, uh, thanks?
It's impressive that Ivana and the Donald still speak because Trump's marriage to Ivana ended due to his affair with Marla Maples, who is the mother of Donald Trump's fourth child, Tiffany Trump. The couple married in 1993 and divorced six years later (via People). Despite how their relationship began, Maples said she never considered herself "a mistress" during a 2018 appearance on the Journeys of Faith with Paula Faris podcast. "It was two people that came together that truly loved each other in a period of time," she explained (via ABC News). "I wanted him to see how loved he could be for his soul, not for his money."
Of course, Donald Trump didn't stay single for long. He met Melania Trump in 1998 and the couple married in 2005. However, adult film star Stormy Daniels (pictured below with her attorney Michael Avenatti) maintains she started an affair with the real estate mogul the very next year. A month before the 2016 general election, The Wall Street Journal reported that a lawyer for Trump "arranged a $130,000 payment" to Daniels in exchange for her silence about the affair. Daniels went on to sue Trump in an effort to be released from her non-disclosure agreement, but The New York Times reports that the suit was dismissed by a judge in 2019.
In Feb. 2018, The New Yorker published an investigative report into Donald Trump's alleged 2006 affair with former Playboy Playmate Karen McDougal that started when Barron Trump — Donald's only child with Melania Trump — was only a few months old. The report found that American Media, a publisher that owns the National Enquirer and has close ties to Trump, bought the exclusive rights to McDougal's story, and killed it from being made public.
But as far as Melania Trump's opinion is concerned, none of these affairs are a big deal. "I'm a mother and a first lady, and I have much more important things to think about and to do," she told ABC News in a 2018 sit-down interview. "It is not a concern and focus of mine."