The Rumors That Once Swirled Between Tarek El Moussa And His Kids' Nanny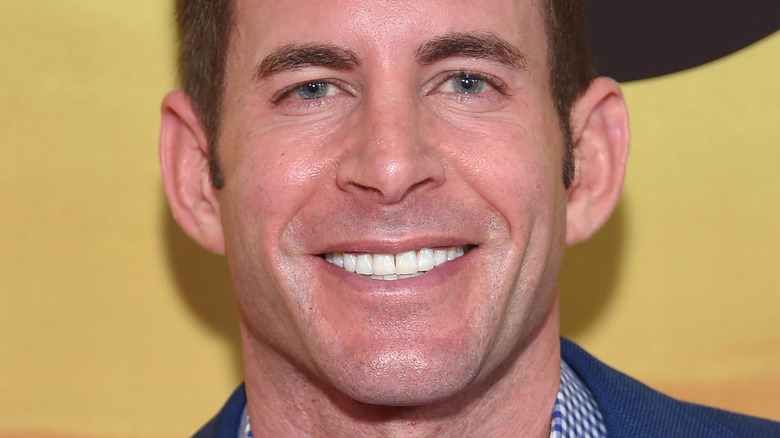 DFree/Shutterstock
In 2016, after years of a seemingly picture-perfect marriage, "Flip or Flop" stars Tarek El Moussa and Christina Hall announced that they had called it quits. Per People, their decision to end their marriage came months after a terrifying incident at their home in California where police were alerted of "a possibly suicidal male with a gun," referring to El Moussa. (He, however, denied that he was suicidal in an interview with "Today", saying the fight was "blown out of proportion.") "Like many couples, we have had challenges in our marriage," the two said in their joint statement announcing their separation. "We had an unfortunate misunderstanding about six months ago and the police were called to our house in an abundance of caution. There was no violence and no charges were filed."
The two, who share kids Taylor and Brayden, sought counseling to fix their relationship before deciding to ultimately go their separate ways, according to their statement. They officially divorced in 2018, and as noted by People, both El Moussa and Hall moved on from their split pretty fast. They immediately see to see other people, with Hall reportedly seeing her family's former contractor Gary Anderson at the time. El Moussa, meanwhile, was rumored to be going out with Alyssa Logan, who'd also worked for the couple as a personal assistant and nanny to their two children. Here's what we know about their rumored fling.
Tarek El Moussa 'hooked up' with his kids' former nanny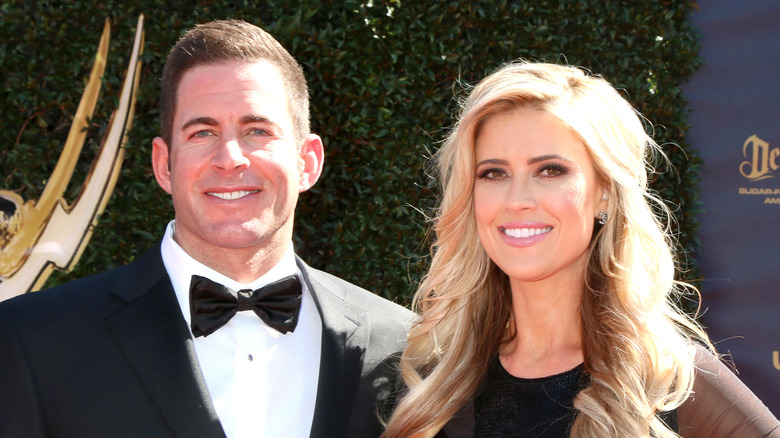 Kathy Hutchins/Shutterstock
Tarek El Moussa and Christina Hall had been separated for several months when he started "hooking up" with their kids' former nanny in 2016, according to TMZ. Sources who spoke to the outlet claimed that El Moussa had his eyes on Alyssa Logan for quite some time, but his friends warned against pursuing a relationship with her while she was still working for the family. Thus, he eventually fired her, and he and Logan started dating in September 2016. But unfortunately, it was a short romance that ended as soon as it started; he and the young nanny parted ways in October, shortly after they were seen together attending a Florida Georgia Line concert.
Speaking to Us Weekly in 2017, the "Flipping 101" host confirmed that he did date his kids' former caregiver, but only for a very short amount of time. "I did date her for a month," he said. "I was going through a tough time, and she's amazing. I never held hands with her around the kids, though." He also reacted to rumors that his ex-wife was dating their family's former contractor Gary Anderson. "It bothered me [at first]" he confessed. "But she can live her life. I've totally moved on." At the time, El Moussa stated that he was single and was not dating anyone specifically. "It will be a long time before I'm in a relationship," he added.
Tarek El Moussa went on to marry Heather Rae Young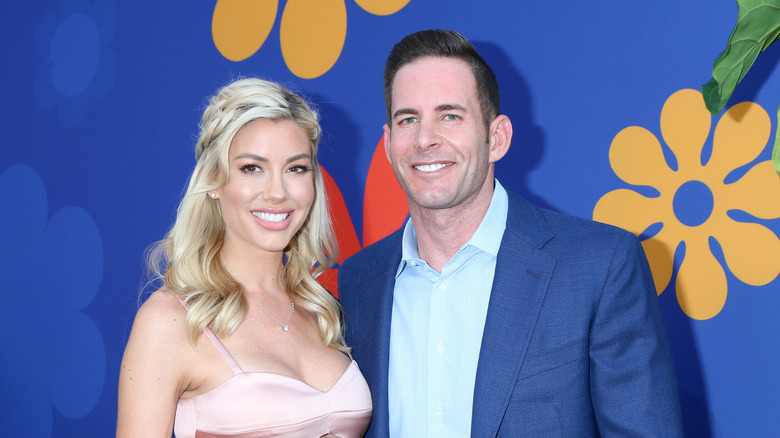 Kathy Hutchins/Shutterstock
Since splitting from Christina Hall and dating nanny Alyssa Logan, Tarek El Moussa married Playboy model and "Selling Sunset" star Heather Rae Young. Per Us Weekly, they met on July 4, 2019, while celebrating with some friends in Newport Beach, California. They announced their engagement in July 2020 after a year of being together and tied the knot on October 23, 2021. On July 20, the pair announced they were expecting their first child together. Young wrote about her pregnancy on Instagram, "If you know us, you know our journey has been far from 'normal.' ... I've been really open about my pregnancy journey — we've been doing IVF and went from having 7 frozen eggs to being told we were only supposed to get 2 follicles to then being able to get 8 to... having an all-natural pregnancy. You just never know what life has in store for you." She and El Moussa confirmed that they are having a baby boy.
As for Hall, the "Christina on the Coast" star has been married twice since her divorce from El Moussa in 2018. She got married to TV presenter Ant Anstead, with whom she welcomed a son, Hudson, in 2019. However, they also parted ways in 2020, after being married for just two years. Then, last April, she exchanged vows with her third husband Joshua Hall in a ceremony in Maui, Hawaii after over a year of dating, per People.