Russell Wilson's Rocky Relationship With Golden Tate Explained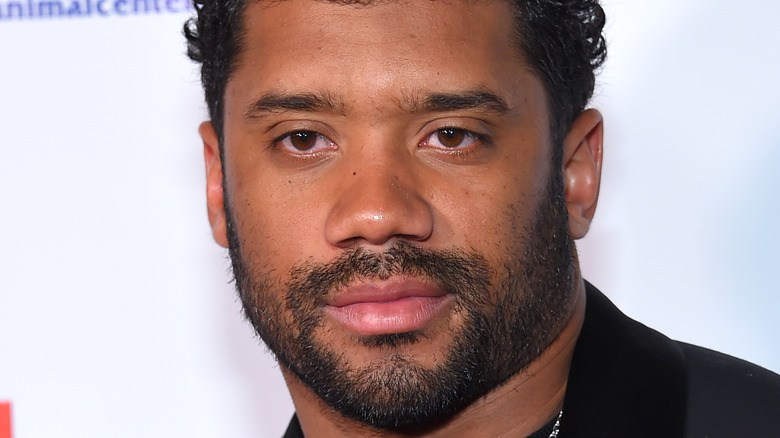 DFree/Shutterstock
The NFL certainly knows how to expand its fan base. In recent months, the professional league has been hosting games overseas to attract an international audience to the sport. For those who have no interest in football at all, its players have also been serving up plenty of tantalizing drama to keep things interesting.
From the high-profile Tom Brady divorce to Isaac Rochell's wife blowing up on TikTok, there's something for everyone. If you're already all caught up on the latest gossip, you might want to tune into earlier seasons. Back in 2014, salacious rumors began swirling about an affair between Lion's receiver Golden Tate and the ex-wife of Broncos quarterback Russell Wilson, Ashton Meem.
Wilson and Meem were married in 2012, shortly before the pro got his big break and was drafted to the Seattle Seahawks. Just two years later, however, Wilson told the Seattle Times that the relationship was over. It didn't take long for fans to speculate about what may have caused the split — and things got so bad that the third party had to speak out.
Golden Tate addressed the affair rumors in 2015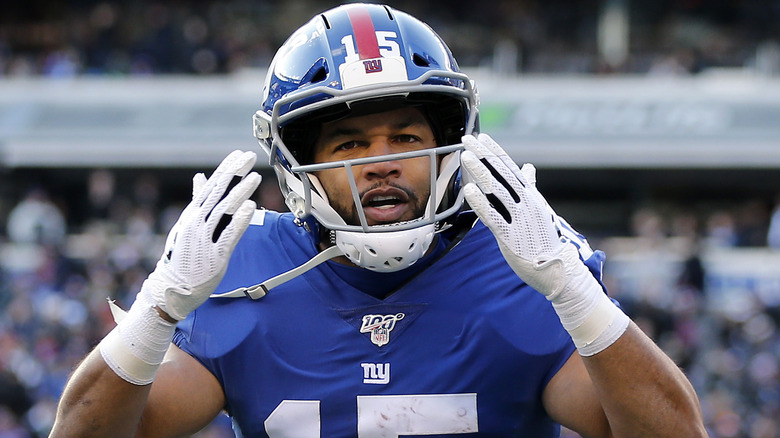 Jim Mcisaac/Getty Images
Leading up to Russell Wilson and Ashton Meem's divorce, both Wilson and Golden Tate were playing for the Seattle Seahawks. Although it's unclear exactly how the rumors got started, many fans began speculating that the Wilson-Meem divorce was the result of an affair between Meem and Tate.
Just a few days after Wilson announced his divorce filing, Tate took to Twitter to condemn the "ridiculous rumors." He went on to point out that his girlfriend at the time, Elise Pollard, remained close friends with Meem. Four years after the drama, Pollard became his wife.
While many seemed willing to accept his dismissal, the rumors still followed Tate throughout his career. In 2015, the star took to The Cauldron to pen a blog post clearing up long-standing allegations about his personal life and character. Alongside addressing an alleged fight between him and Percy Harvin, he once again firmly denied a relationship with Meem. "I did not have an affair with Russell Wilson's wife, nor did I have anything to do with his divorce," he wrote. "This is laughable for anyone who knows us."
There may still be some bad blood between the athletes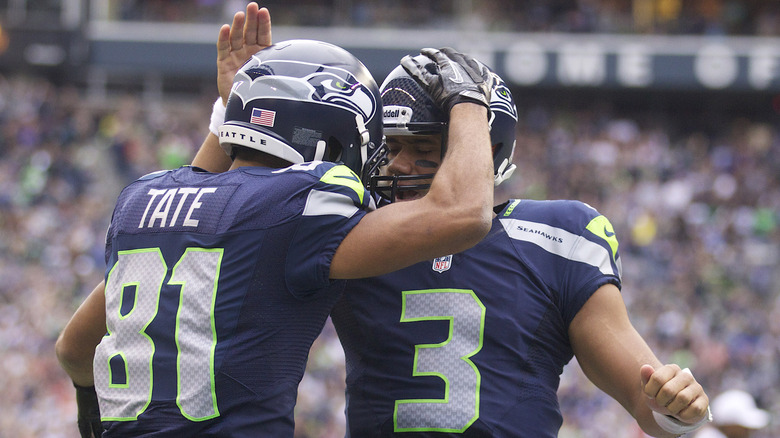 Stephen Brashear/Getty Images
Despite denials of an affair, Golden Tate and Russell Wilson do not seem to have much of a relationship beyond being former teammates. Tate departed from the Seahawks following the 2013 season, leading some to speculate that a falling out with Wilson was the cause. Though he asserted in his blog post that he and the quarterback were "good friends ... on and off the field," he also expressed frustration that Wilson did not assist in squashing the rumors.
In an interview with TMZ, Tate once again asserted that the rumors were "a bunch of bulls***," and that it was "sad" Wilson was allowing them to circulate. Although he concluded the interview by saying his relationship with Wilson was "alright," the beef has continued to circulate as recently as 2022.
In an October tweet, Tate appeared to throw shade at Wilson's quarterback performance with the Broncos. Taking aim at Wilson's low scoring record, he penned, "Correct me if I'm wrong but [the Broncos' kicker] has scored OVER half their points this year ... Is that normal?" Ouch.