Eva Mendes' New Tattoo Sparks Speculation About Her Relationship Status With Ryan Gosling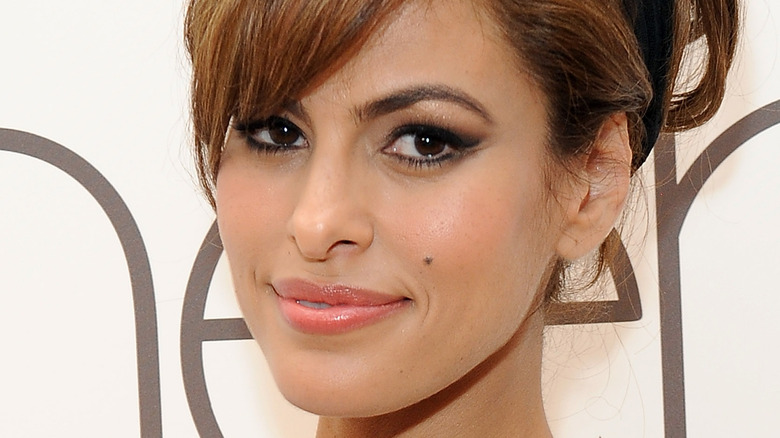 Angela Weiss/Getty Images
Eva Mendes and Ryan Gosling first sparked dating rumors back in 2011, and they've remained one of the most private couples in Hollywood ever since (via People). The pair share two daughters together, Esmeralda and Amada, per E! News, and seem to enjoy keeping their relationship out of the spotlight. In a 2015 interview with Hello!, Gosling said, "I know that I'm with the person I'm supposed to be with." And during the pandemic, Mendes seemed to be more than happy to be stuck at home with Gosling. When a fan insisted that Gosling should take her out more, she replied via Instagram, "No thank you, I'm good. Rather be home with my man than anywhere else in the world" (via People).
Mendes and Gosling have made rare comments about parenting together over the past few years. In January 2022, Gosling told GQ that the pandemic was difficult for his family. He revealed, "Our kids were at a difficult age not to be able to see other kids and interact with people, even though Eva and I did our best." Despite keeping their relationship rather private, the couple have seemingly always been supportive of each other's careers and appear to be as happy as ever. 
In fact, in September 2022 Mendes showed off a tattoo on social media that caused marriage rumors to circulate.
Fans think Eva Mendes and Ryan Gosling are married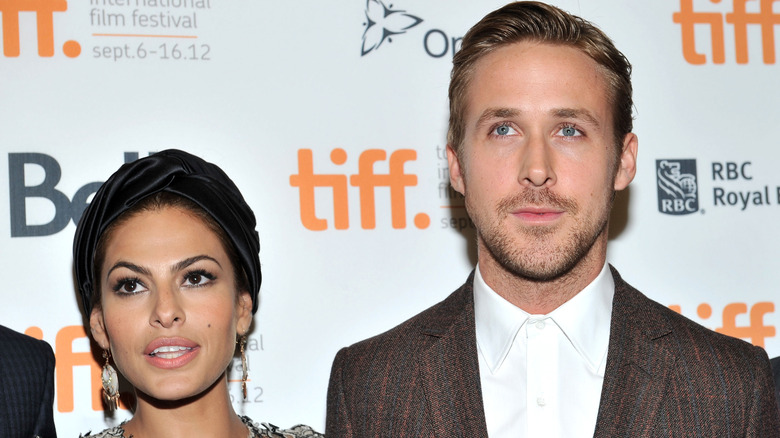 Sonia Recchia/Getty Images
Eva Mendes and Ryan Gosling have never publicly revealed whether or not they are married, but some are completely convinced the pair have tied the knot solely based on a tattoo. In September 2020, Mendes posted a photo on Instagram that finally showed a clear image of the tattoo on her wrist, which reads "de Gosling." Many Hispanic women choose to keep their maiden name or add their husband's last name to their own by adding "de" in between the two. 
This, of course, had fans thinking that Mendes and Gosling decided to tie the knot. One fan commented, "Can you tell ya husband that The Gray Man was good!" while another wrote, "Loving the 'De Gosling' tattoo! You just gave me an idea for me?! My hubby would love that!" The tattoo, however, is not new as fans first noticed the ink back in 2020.
This isn't the first time rumors have started circulating that the pair may have decided to wed. In 2016, Us Weekly broke the news that Gosling and Mendes secretly gotten married "among a small group of family and friends." The couple never confirmed the news and a representative for Gosling and Mendes denied that there was ever a wedding. It's unclear if or when the couple decided to wed, but it appears that they're still very much in love.