Cristiano Ronaldo Opens Up About The Difficult Process Of Mourning His Son's Tragic Death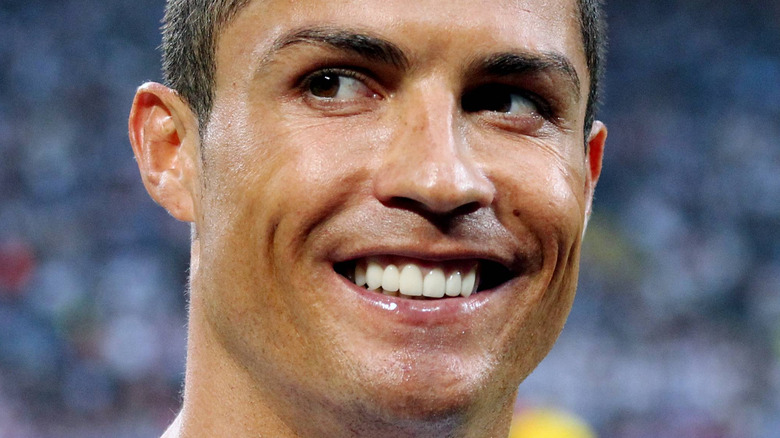 ph.FAB/Shutterstock
Cristiano Ronaldo and partner Georgina Rodriguez faced every parents' worst nightmare this year. In April, Ronaldo and Rodriguez lost one of their twins during childbirth, a loss he announced on social media. "It is with our deepest sadness we have to announce that our baby boy has passed away," he wrote. "It is the greatest pain that any parents can feel." Losing a twin means Ronaldo and his family had to grieve while still have a special reason to celebrate at the same time. "Only the birth of our baby girl gives us the strength to live this moment with some hope," he added.
Some days later, Ronaldo expressed gratitude for his girl, named Bella Esmeralda, and partner's health, choosing to focus on the positive as they struggled with their loss. "Gio and our baby girl are finally together with us ... Now it's time to be grateful for the life that we've just welcomed into this world," Ronaldo captioned an Instagram photo showing the entire family, including his other four children.
Bella Esmeralda is the second daughter Ronaldo shares with Georgina, who gave birth to Alana in November 2017. Before meeting the Spanish model, Ronaldo was a father to twins Eva and Mateo, born via surrogate in June 2017, according to The Sun. Early in his career, Ronaldo also welcomed his firstborn, Cristiano Ronaldo Jr., whose mother's identity he has chosen to keep private, BBC reported. Clearly a family man, losing a much-wanted baby devastated the soccer star.
Breaking the news to his children was heartbreaking
Cristiano Ronaldo and his family had been eagerly awaiting the arrival of the second set of twins ever since they discovered the news. So when Georgina Rodriguez came home from the hospital with just Bella Esmeralda, the children were confused. "Gio arrived home and the kids start to say where's the other baby, where's the other baby?" Ronaldo told Piers Morgan  (via The Sun) in a preview of an upcoming interview released on November 15.
Breaking the news to them made his grief that much harder. So much so that he needed time to muster the courage. "After one week I say, 'Let's be up front and let's be honest with the kids, let's say that, Ángel, which is his name, he [went] to the Heaven,'" Ronaldo explained. In another preview, Ronaldo described the complexity of mourning Ángel while celebrating Bella. "It's crazy ... I'd never felt [being] sad and happy at the same moment. It's hard to explain. It's so difficult."
Ronaldo has always been upfront about how he feels about fatherhood. "Seeing my family grow is, honestly, the greatest privilege I have had. " Seeing my family grow is, honestly, the greatest privilege I have had. I enjoy every second," Ronaldo told Hola! (via Marca) in 2017, after welcoming Alana. "Fatherhood has taught me aspects of love that I never knew existed. It has softened me up and given me a new perspective on what really matters in life."