Meri And Janelle Brown Were Connected Long Before Sister Wives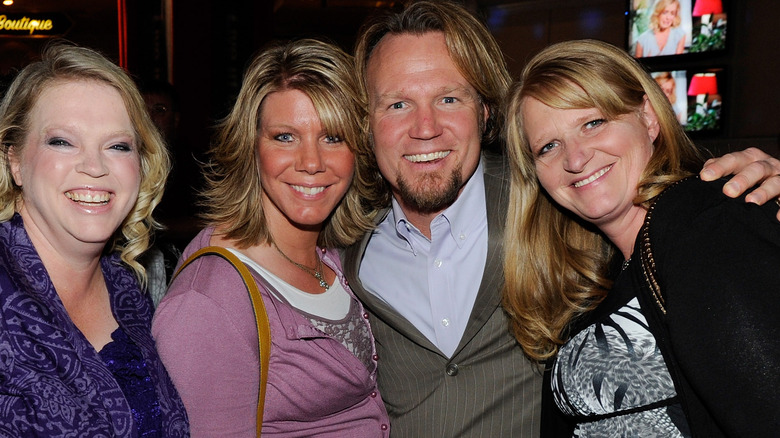 Ethan Miller/Getty Images
No matter how TLC viewers feel about polygamy, it's hard to deny that the Brown family is one of the most fascinating clans in popular media. Featured on the long-running series "Sister Wives," Kody Brown, his three wives, Meri Brown, Janelle Brown, and Robyn Brown, and now ex-wife Christine Brown are admittedly hard to look away from.
But while you're already familiar with their family dynamic, there are still a few things about them that may warrant a good head-scratching. For one, did you know that Janelle and Kody were step-siblings once upon a time? Years before they became an item, Janelle's mom, Sheryl, and Kody's dad, William, were married. "Before Kody and I were really courting, I was actually friends with his family," Janelle said in a 2013 episode of the series (via In Touch Weekly). "My mom was worried I was getting sucked into some polygamous cult. But she ended up meeting Kody's dad, and they ended up falling in love and getting married before Kody and I started courting."
Interestingly, Kody is not the only one Janelle had a connection to prior to being a Brown. You may be surprised to find out that in the past, she was also married to a relative of one of her sister wives, Meri.
Janelle Brown was once married to Meri's brother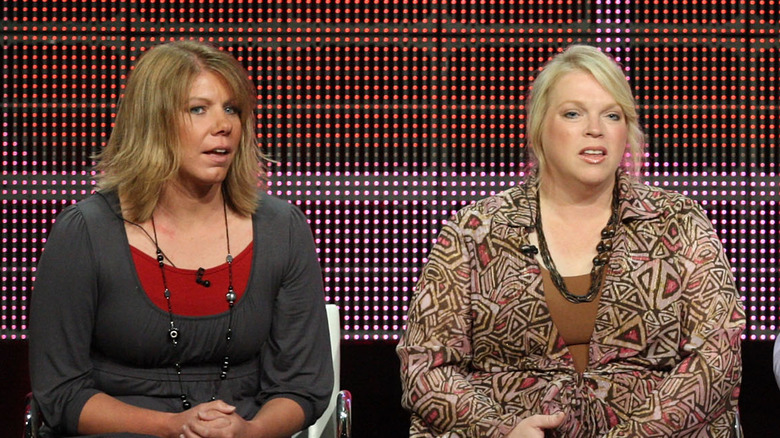 Frederick M. Brown/Getty Images
Kody Brown was apparently not the first man who romanced Janelle Brown. Before they ever became husband and wife, Janelle was married to someone else — and surprisingly, it was Meri Brown's brother, Adam Barber. In short, prior to becoming sister wives, Janelle and Meri were sisters-in-law.
Per Entertainment Tonight, Janelle and Adam met in high school, but she was apparently more fascinated by his religion than by him. "My husband wasn't really interested in either his new faith or the branch of fundamentalism he'd been raised in," she wrote in her memoir "Becoming Sister Wives," noting that Adam "had very little spiritual conviction. His family, however, fascinated me." But they ended up marrying anyway, and funnily enough, they attended Kody and Meri's wedding. As we all know, Janelle and Adam's union didn't pan out, and it was apparently riddled with problems from the get-go. "We weren't spiritually, emotionally, or romantically compatible," Janelle added in the book. "We lived together for only six months before he moved out."
Documents obtained by Radar revealed that Janelle and Adam finalized their divorce in June 1990 after two years of marriage. However, it's worth noting that they were still together when Janelle first laid eyes on Kody. "I met Kody in the fall of 1989, even though he may not remember it," Janelle recalled in her show bio (via Us Weekly). "When he walked into the room I looked at him and had that feeling of remembering something I had forgotten. It was a singular experience."
Janelle and Meri's relationship has had struggles
Out of all the sister wives, Janelle Brown and Meri Brown are the two that have butted heads the most. As it turns out, the animosity stemmed from how Janelle joined the plural family. "Janelle was in my picture before I even knew Kody," Meri said in an episode of "Sister Wives" (via TV Shows Ace), adding that when Janelle became part of the brood, she somehow felt "rejected."
Meanwhile, Janelle told Meri that she was attempting to "make all these little overtures" when they became family, but Meri "wouldn't respond" whenever she would reach out. Janelle also said that becoming sister wives ultimately "changed the dynamic" between them, and she has long accepted that they will never "forge a new friendship."
Still, they do try to cultivate a civil relationship at times. In a December 2021 episode of the show, Meri admitted that she has a hard time striking up a bond with people, which was what happened with Janelle. "I've got a lot of relationships that I would like to improve, and I know that it really takes honesty and openness to do that," she confessed (via Starcasm). She then went on to say that she's trying to work through it. "I've got a little conversation that I'd like to have with Janelle because I keep here comments and ideas and thoughts about an issue that I feel like I need to bring up with her. Hopefully, this technique of just listening can help with other relationships as well."