The Sweet Way Zooey Deschanel And Jonathan Scott Met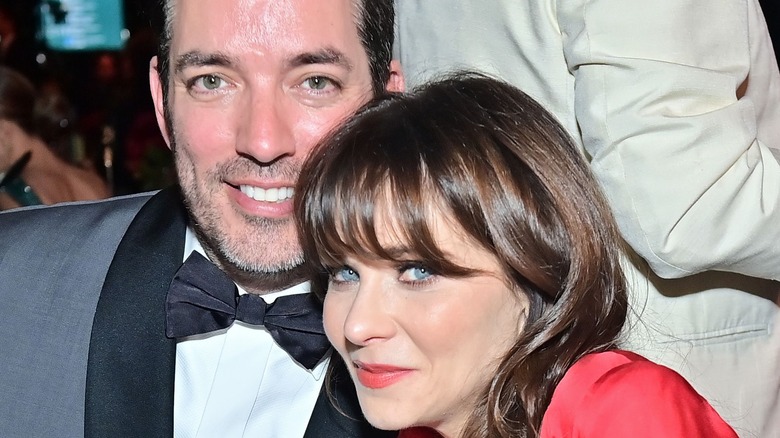 Stefanie Keenan/Getty Images
Though their relationship caught many by surprise at first, actor Zooey Deschanel and television host Jonathan Scott have a sweet love story behind their romance. The couple announced in December 2021 that they had bought a home together, but love actually blossomed for the two of them in what might sound like a unique way, as famous couples go.
According to a timeline of their relationship from Us Weekly, Deschanel and Scott met in 2019 and were first spotted together publicly in September 2019. At that time, Deschanel was married to her second husband, Jacob Pechenik, although the former couple released a statement announcing their separation that same month, via People.
As it turns out, Deschanel and Scott have another famous face to thank for the start of their romance. The set-up, however, wasn't exactly the classic blind date, and the two had their siblings as third and fourth wheels.
Zooey Deschanel and Jonathan Scott met during a guest appearance
Zooey Deschanel and Jonathan Scott met while they were filming an episode of James Corden's "Carpool Karaoke" segment in which Corden had invited four celebrities into the car at once, as reported on by "TODAY" after the fact. These celebrities were none other than Deschanel and Scott and their respective siblings, Emily Deschanel and Drew Scott.
Recalling how he met Zooey while working on "Carpool Karaoke," Jonathan revealed on an episode of the podcast "At Home With Linda & Drew Scott," via Us Weekly, "The producer says I was flirting so hard that they had to cut a bunch of that out. I was being gentlemanly and cute."
The episode of "Carpool Karaoke" for which Jonathan and Zooey met can be seen on YouTube. Jonathan and Zooey are seated in the front seat of the vehicle, while Drew and Emily are seated in the backseat at a diagonal from their siblings.
The couple later recreated how they met
In May 2022, Zooey Deschanel and Jonathan Scott appeared on "Carpool Karaoke" for a second time, as reported on by People. Their siblings didn't join them for their second appearance, but both stars discussed how they had met during their first "Carpool Karaoke" segment. 
In the 2022 video, as posted to YouTube, Scott starts off by commenting after a video recap of the 2019 episode plays, "A lot has definitely happened since the last 'Carpool Karaoke.'" Deschanel agrees, replying, "Yeah," as text appears on the screen that reads. "So, we're basically matchmakers now."
To celebrate his second anniversary with Deschanel, Scott posted to his Instagram account and included in the caption, "Who knew that two years ago, walking into the Carpool Karaoke offices, I'd meet you and my life will change forever." Said Deschanel in her Instagram caption to mark the same occasion, "2 years and still my favorite."