Where Kyle Richards' Daughter Farrah Stands With Cousin Paris Hilton Amid Their Mothers' Feud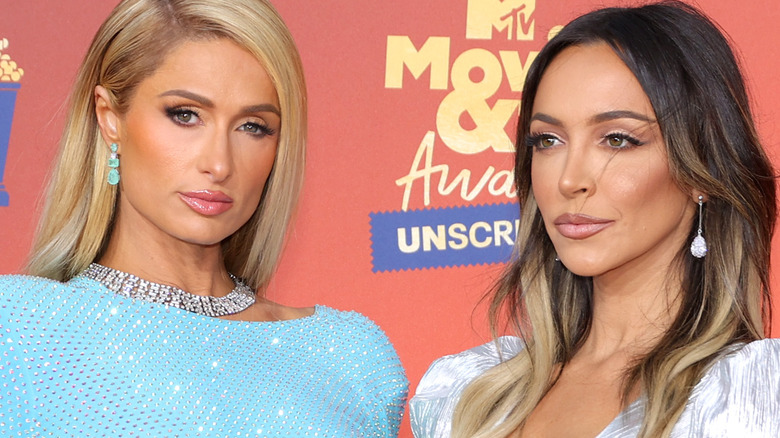 Rich Polk/Getty Images
Kyle Richards was seemingly in a good place with sister Kathy Hilton when she introduced her to world of the "The Real Housewives of Beverly Hills" in Season 11. The two had formerly feuded when Richards produced "American Woman," which was a scripted television show loosely based on their mother's life. Hilton was upset that her family's past was going to be exposed, even though Richards explained that it was a "fictionalized version" of her life (via Us Weekly). Richards and Hilton eventually mended fences and tearfully addressed their rift during the "RHOBH" Season 11 reunion.
Unfortunately, Season 12 would find them at odds again. The beef started when the women were in Aspen, Colorado and Hilton attempted to promote her tequila but was snubbed by the other women, including Richards. Following the episode, a fan tweeted, "She was so cute, all excited to show the ladies the tequila... and then Kyle just scoffs at her/none of them even acted slightly interested. It was so sad to watch." Hilton's daughter, Paris Hilton, replied, "So unkind."
Richards' daughters, who are close with their cousins, have remained quiet about their mother's feud with Hilton. However, Farrah Aldjufrie opened up about how she and the family navigate the tense situation.
Farrah Aldjufrie tries to stay out of her mom's drama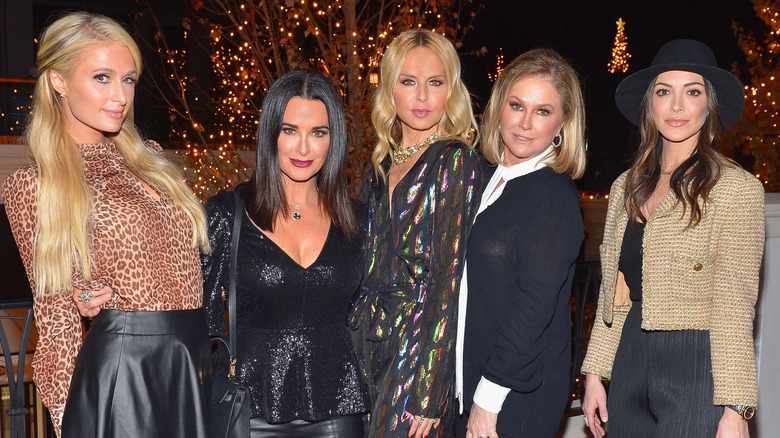 Donato Sardella/Getty Images
Kyle Richards and Kathy Hilton's drama has put a strain on the whole family, but their respective daughters Farrah Aldjufrie and Paris Hilton try to stay out of it as much as possible, per Us Weekly. "We do try to keep it separate as much as possible. And we are very close, so we try not to get involved in their stuff, but, you know, I always will have my mom's back," Aldjufrie shared. The "Buying Beverly Hills" star went on to say that she and her sisters are trying to give Hilton as much support as they can, which was difficult given that viewers didn't have "all the pieces to the puzzle."
Despite Richards and Hilton's feud, their daughters are not letting their mothers' drama get in between them. On October 25, 2022, Hilton's youngest daughter Nicky Hilton shared an Instagram pic of the cousins together. "When the cousin squad links up to shower our latest addition," Nicky captioned, in honor of Kim Richards' daughter Brooke Wiederhorn expecting her baby. Amongst the crew was Aljudfrie, along with her sisters Sophia and Alexia Umansky. Paris was also in attendance. 
Richards and Hilton's daughters are apparently able to put family matters aside for the sake of getting along. Only time will tell if their example rubs off on their mothers.