Paris Hilton Isn't Holding Back About Her Aunt Kyle Richards' RHOBH Behavior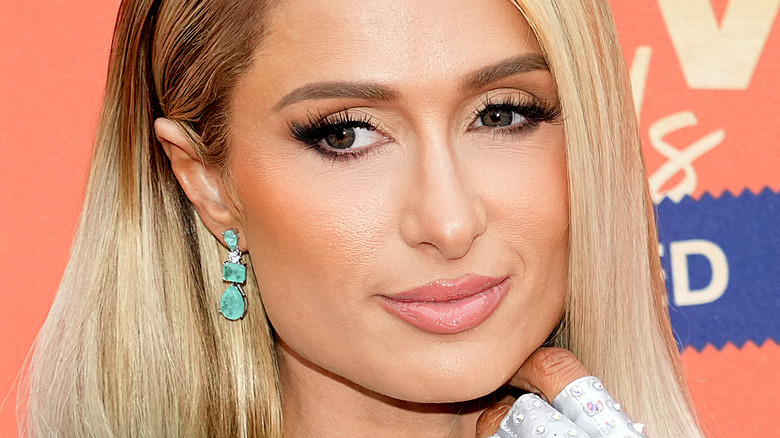 Jeff Kravitz/Getty Images
Ever since the series premiere of "The Real Housewives of Beverly Hills" in 2010, Kim and Kyle Richards have frequently mentioned their Hilton connection. As the sisters of Kathy Hilton and aunts of niece Paris, it effectively added to the series' sense of glamour back when the show was still a rookie in the franchise. However, minus a few cameos, Kathy and Paris loomed in the background for more than a decade to let the Richards sisters have their own claim to reality fame.
That all changed in Season 11 of "RHOBH," though, when Kathy joined the show in a recurring capacity as a "friend of" the housewives. Despite not being an official diamond-holder, she's appeared in most of the group events in Seasons 11 and 12, often serving as the quirky comic relief. However, midway through Season 12, Kathy has finally found herself in the center of the drama "RHOBH" is known for. After first poking fun at the questionable name of Dorit Kemsley's favorite charity (it's Homeless, not Toothless), she's also begun clashing with sister Kyle and other housewives on the heavily-teased cast trip to Aspen. It wouldn't be the first time the Richards-Hilton clan fought on the show: back in Season 5, Kim told Kyle during a fight that "Kathy would have my back like a real sister." However, Kathy herself has never been involved until now.
After September 7's episode of "RHOBH," Kathy's daughter Paris Hilton is publicly speaking out about her aunt Kyle's treatment of her mother.
Paris Hilton calls Kyle Richards 'unkind'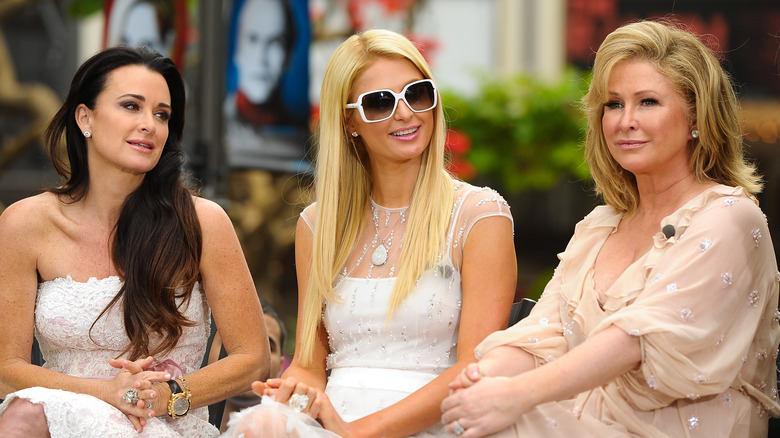 Noel Vasquez/Getty Images
Like many viewers, Paris Hilton wasn't too impressed by aunt Kyle Richards' behavior on the most recent episode of "RHOBH." After Paris' mother Kathy offered to let the ladies try a tequila line she and her family invested in, Richards and their fellow cast members quickly shut her down. As Richards ignored her sister, Erika Jayne claimed, "No, the last time I was on tequila, I cussed out Garcelle's son!" Lisa Rinna also rejected Kathy's offer.
The social media backlash was swift, with one fan saying, "I can't believe Kathy was laughed at and mocked for introducing a tequila line. This cast is evil and ugly." Another replied, "She was so cute, all excited to show the ladies the tequila... and then Kyle just scoffs at her/ none of them even acted slightly interested. It was so sad to watch." Despite usually refraining from commenting on her family's "RHOBH" drama, Paris replied for once. In a quote-tweet, she said, "So unkind," accompanied by a sad face emoji.
Fans previously speculated Paris had a bone to pick with Richards after posting a picture of her "faves" on the show, which didn't include her aunt. Prior to Paris' tweet about the recent episode, she was also found liking a tweet about Richards' husband, Mauricio Umansky. With the "RHOBH" reunion set to film any day now, Paris' reaction might just make the agenda.