What Kim And Kyle Richards' Relationship Is Like Today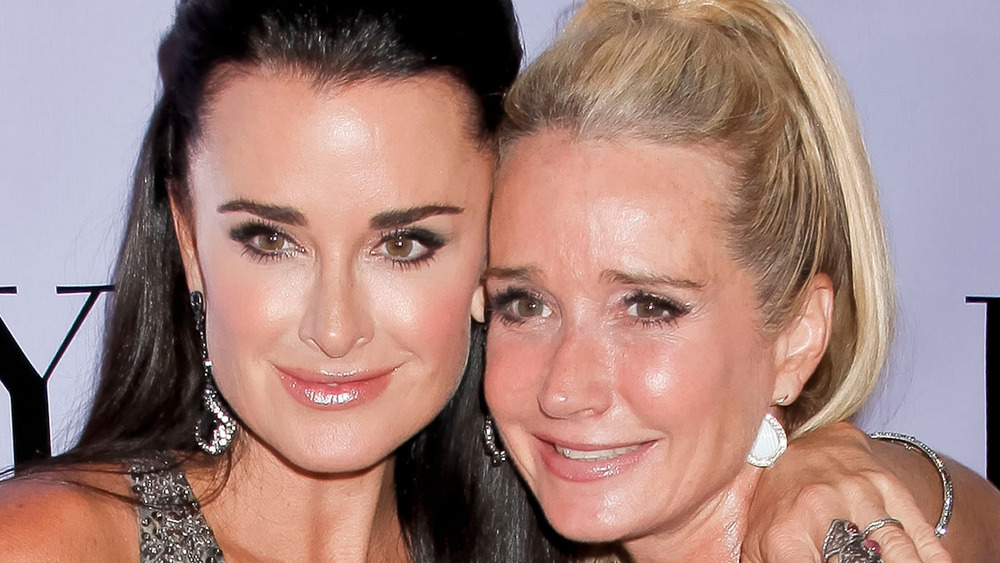 Tibrina Hobson/Getty Images
A decade ago, Kim Richards and her younger sister Kyle Richards made headlines for one of the biggest celebrity sibling feuds ever seen on TV. On the debut season of The Real Housewives of Beverly Hills, the celeb sisters had a major trainwreck moment when they were featured in a shouting match in a limo in the finale episode.
After Kim accused Kyle of "stealing" a vacation house their mother left for them in Palm Desert, Calif., Kyle exploded and called her "an insane person," adding that everybody was "sick" of what Kim had put them through. Kyle then told Kim she was 'sick" and needed "help," calling her out as an alcoholic before storming out of the limo.
The public outing caused a major strain in the sisters' relationship, which played out during the early seasons of the Bravo reality show. While Kim did eventually go to rehab, she spiraled downward even further when she was arrested for shoplifting and public intoxication. After hitting rock bottom, she sought treatment once again.
After more than a year of estrangement, Kyle later told People in December 2015 that her rocky relationship with Kim was back on track. The mom of four also admitted that she used to be "very angry" at Kim and her issues, but after seeing her behavior on RHOBH, she realized that alcoholism is a disease and her sister could not help herself. She told TMZ that the infamous reality show fight may have actually "saved" Kim. But what is their relationship like today?
Kim and Kyle Richards are close once again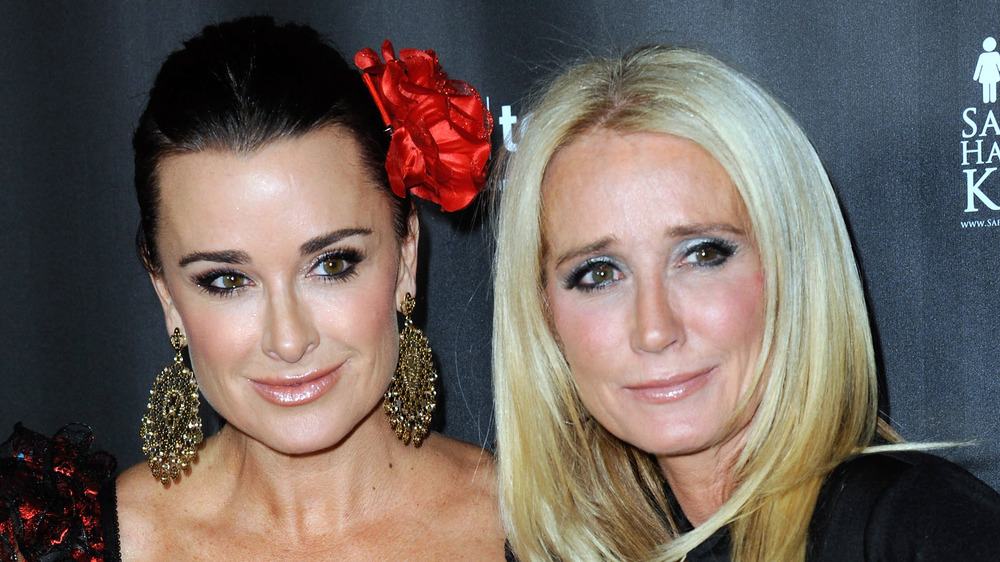 Albert L. Ortega/Getty Images
While Kim Richards is no longer a Real Housewives of Beverly Hills cast member, viewers have since seen the sisters' rekindled relationship on the long-running Bravo hit. The two former child stars also share a close bond with older sister, Kathy Hilton. Even so, Kyle recently revealed that she was blindsided by news that Kim was preparing to spill all about her life — and their family! — in a tell-all book titled The Whole Truth: The Reality of It All. The book was set to detail Kim's life, career, and being "a whipping post as a sister," per a press release shared by Us Weekly. Yikes!
"I didn't really know about the book," Kyle admitted to People in February 2020 after the press release for the project was released. "I mean, she started saying she was working on, you know, something and I didn't really — I don't really know a lot about it." Kyle added that she is in a much better place with her older sister today and she hinted that she hoped the book would not spoil that. "All I know is we're in a good place, so hopefully we're going to stay there," she said. "Let's hope we stay at that!"
It was recently reported that, after multiple setbacks, plans for Kim's memoir have been scrapped by her publisher. And, from the sound of it, that's probably best if the Richards sisters hope to keep their once-strained relationship intact!