Kathy Hilton: The Truth About Kyle Richards' Older Sister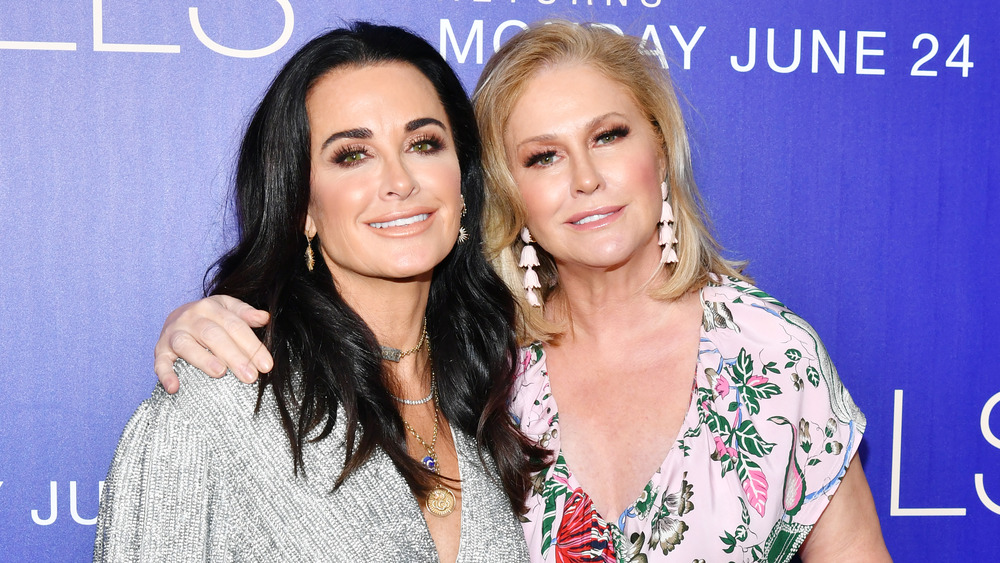 Amy Sussman/Getty Images
Kyle Richards has turned her time on The Real Housewives of Beverly Hills into a family affair. As an OG housewife on the show, Kyle starred in the first five seasons alongside her sister, Kim Richards. During the first season, the two former child stars shared pieces of their family history and drama. A sometime visitor to the show was their older half-sister, Kathy Hilton. Kim and Kyle would lightly mention their aunt roles to Kathy's famous daughters, Paris and Nicole Hilton. But while Kathy wasn't a leading housewife on RHOBH, she's certainly no stranger to the spotlight.  
The actress, philanthropist, entrepreneur, and designer married Rick Hilton in 1979 after meeting in a private high school. Together they have four children, including sons Barron and Conrad. Long before her daughters became leading socialites, Kathy secured roles in classics like Nanny and the Professor, Bewitched, and Happy Days. But after a few years in Hollywood, she transitioned over to business and design. Following the opening of gift and antiques store The Staircase in Los Angeles, she became a regular face on QVC and HSN, per The Wall Street Journal. Through her appearances, Kathy would sell her signature fashion and skincare line. 
With the launch of the Kathy Hilton Collection in 2012, the fashion line worked its way into four hundred stores worldwide, including Neiman Marcus, Saks Fifth Avenue, and Nordstrom. Basically, while her daughters and half-sisters were busy dominating the social scene, Kathy was building her multi-million-dollar empire. 
Kathy Hilton is headed for the housewives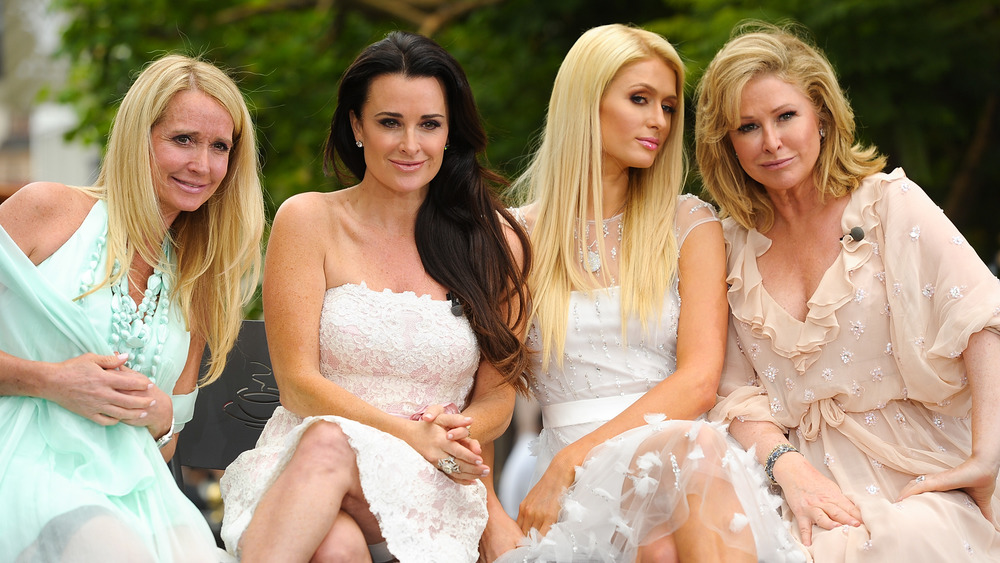 Noel Vasquez/Getty Images
With a successful career outside of Hollywood, Kathy Hilton hasn't expressed much of a desire to appear on reality television. But after years of making brief cameos on The Real Housewives of Beverly Hills alongside half-sisters Kyle and Kim Richards, she's finally landed an official gig. In October 2020, it was confirmed that Hilton would be joining Kyle on the hit Bravo series, appearing in a "friend" role. Per TMZ, this essentially "means she'll make regular appearances and possibly do confessionals."
"Kathy is so excited to join the ladies of BH ... She won't have a full-time role, but will be around a lot when it's involving Kyle and her family," a source cited by E! claimed, calling her "a perfect match" for the famous ladies of Beverly Hills. As for Kyle, she's reportedly "excited" about her half-sister's involvement, with the insider adding, "They have a close and unique bond. We'll see them both laughing and arguing this season."
Of course, RHOBH fans may have been shocked by the casting news, as Kathy previously shared her refusal to watch the show after Season 1, because her sisters' notorious finale argument caused her to "break down" in tears. "It was just heartbreaking that my family could fall apart like that," Kathy told PR.com in 2012 (via Express). If this silly luncheon selfie with castmates Lisa Rinna and Sutton Stracke is anything to go by, it's a good thing Kathy Hilton had a change of heart.