How Kim Kardashian Blew Off Pete Davidson Before They Ever Dated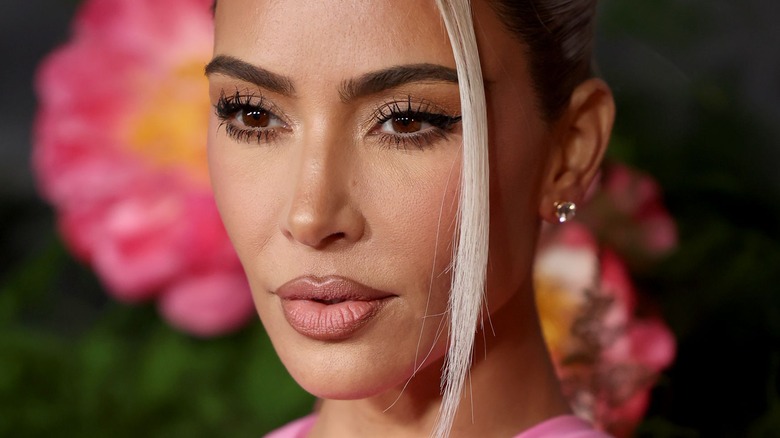 Phillip Faraone/Getty Images
Kim Kardashian and Pete Davidson hit it off after the reality television star hosted "Saturday Night Live" in October 2021, where she kissed the comedian in a skit. "When we kissed in-scene, it was just a vibe," Kardashian said on Season 1, Episode 8 of "The Kardashians" (via Distractify). "I was like, 'Oh s***. Maybe I just need to try something different.'"
The social media influencer mentioned that, at first, she was simply looking for a friends-with-benefits relationship, but after Davidson planned a rooftop dinner date in November 2021, he eventually won her over romantically. "She is very much into him and this is not a fling it seems," a source told Hollywood Life. Another insider added that Kardashian was "very attracted" to the comedian's sense of humor.
And in January, the two were reportedly getting "very serious" with their relationship. "They are really happy and seeing where it goes," an insider told E! News. They mentioned that Davidson had started to come over to the aspiring attorney's house to hang out. "She's trying to not make a big deal about it but is super into him," the source added, mentioning that Kardashian was into the excitement of the relationship. But, it seems that these two didn't hit it off upon their first meeting.
Kim Kardashian rejected Pete Davidson due to a wardrobe barrier
Gotham/Getty Images
In August, it was reported that Kim Kardashian and Pete Davidson broke up after nine months of dating. "Kim and Pete have decided to just be friends," a source told Page Six. The insider added that long distance and busy work schedules made it hard to keep the relationship going. Yet, while the two ultimately went their separate ways, the comedian made his first appearance on "The Kardashians" on November 17.
"Remember when I asked for your number at the last Met and you pretended you couldn't give it to me because you had gloves on?" Davidson said in the newest episode of the Hulu series (via Entertainment Tonight), reminiscing as the two were getting ready for the 2022 Met Gala. Kardashian joked back, asking the comedian if he'd ask again since she didn't have gloves. The "Saturday Night Live" alum saw it as a rejection, but called it the "nicest excuse ever."
But Kardashian didn't see it as rejection. "I couldn't give him my phone with the gloves, so I was like, 'Oh, I have gloves,' and he was like, 'Alright, cool,' and he walked away," she said on the "Not Skinny But Not Fat" podcast in April. The reality television star mentioned that Davidson offered his number so he could give her advice and tips for hosting "SNL," but he walked away before she could offer her number.