What The Geico Caveman Is Up To Today
Using one's acting abilities to promote major corporations may not be every aspiring thespian's dream, but commercials can be a fruitful and impactful path to take. Stephanie Courtney, who plays Progressive's Flo, has acted opposite Jon Hamm and become a staple for Halloween costumes, while numerous actors have put away some serious cash for ads. Courtney, for instance, was worth around $5 million, according to a 2015 report from Forbes.
Some commercials have a hook that just sticks. It's why Flo is still popping up on TV screens or why popular catchphrases run for decades. It's why the Geico Gecko is still trying to convince us we could save 15 percent or more by switching insurance. But before the Gecko became the primary pitch person for the company, there was the Geico Caveman. Anyone who remembers a time before streaming took over our television screens likely remembers these ads, featuring cavemen offended in one way or another by Geico's slogan: "So easy a caveman could do it." These ads, which first debuted in 2004, were so successful that they were honored at the Madison Avenue Advertising Walk of Fame in 2008 (per NBC News). The TV spots inspired a short-lived and bizarre television series (more on later).
A number of actors portrayed the various Geico Cavemen over the years, including McManus Woodend, who took on caveman duties for years after landing the gig in 2009. Now, he's moved on to a new gig — and the pivot is arguably quite surprising.
McManus Woodend was in numerous Geico Caveman commercials
Jeff Daniel Phillips and Ben Weber were two of the original actors to play Geico Cavemen and popular Geico caveman, John Lehr, was another actor behind the Neanderthal prosthetics. This Geico ad concept was gold for the company and consumers, so they needed more actors. This is where McManus Woodend came in. Courier & Press reported that Woodend beat out 1,000 actors auditioning for the role and started his work as a Geico Caveman in 2009. A lot of the Geico commercials on his resume are brand partnerships, such as the History Channel or the NHL. Courier & Press reported that one of his first shoots was for the Discovery Channel and its show "The Deadliest Catch," meaning he had to be in some gnarly weather from the jump. Woodend also did in-person appearances as the Geico Caveman. Seven of his Geico Caveman videos are on his website, with a popular TV spot being the curling Geico Cavemen commercial. He has over 20 TV spots on his resume for the company and portrayed that character for nearly a decade.
But imagine taking classes from a former Geico Caveman. No, this isn't another Geico ad idea, but instead the newest career path for Woodend. Courier & Press reported in November 2022 that Woodend was in his first semester teaching English at the University of Southern Indiana. "It's definitely in my blood," he said. "I have a lot of friends in the teaching profession."
McManus Woodend dodged a sitcom bullet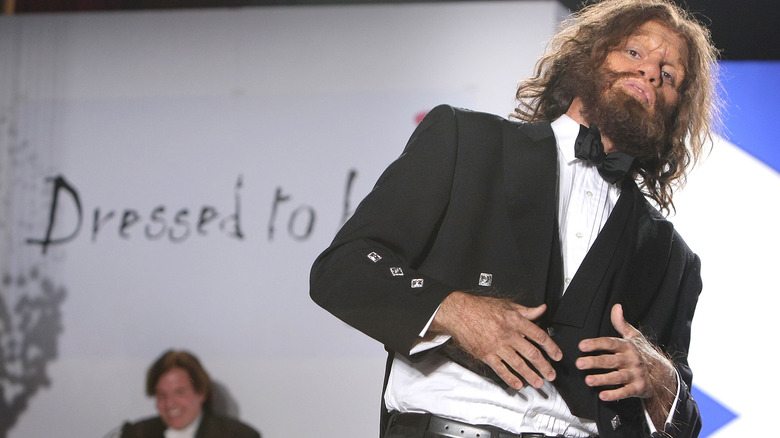 Michael Loccisano/Getty Images
McManus Woodend started as a Geico Caveman right after the company made one their worst moves with the copyrighted characters. The commercials began to evolve and show the Geico Cavemen in more complex environments, really fighting to be treated fairly. That's when studios saw a way to make even more money out of the famous Neanderthals: with a TV show.
"Cavemen" premiered on ABC in 2007 and took on the idea of "What if the Geico Cavemen were really living out life in America?" What would their lives be like with discrimination, only being seen as stupid Neanderthals? As Hats Off Entertainment reported, it was a silly premise that worked for the brand's advertising and sales so studios took a gamble at its success as a series. But the ratings suffered, and it was slammed by critics too. In fact, the Chicago Tribune deemed it one of the worst TV shows of all time the year it came out.
Thankfully, Woodend's stint as the Geico Cavemen didn't overlap with the show. In fact, he has a surprising connection to a director who probably could have turned things around for the sitcom. In Woodend's college years, he attended the David Lynch Graduate School of Cinematic Arts in Iowa, meeting Lynch himself on a Skype call and visiting his Los Angeles studio. Of the famous "Twin Peaks" co-creator, Woodend told Courier & Press, "He has such an iconic persona ... Speaking with him was pretty amazing."