What Really Happened Between Ben Simmons And His Ex Maya Jama?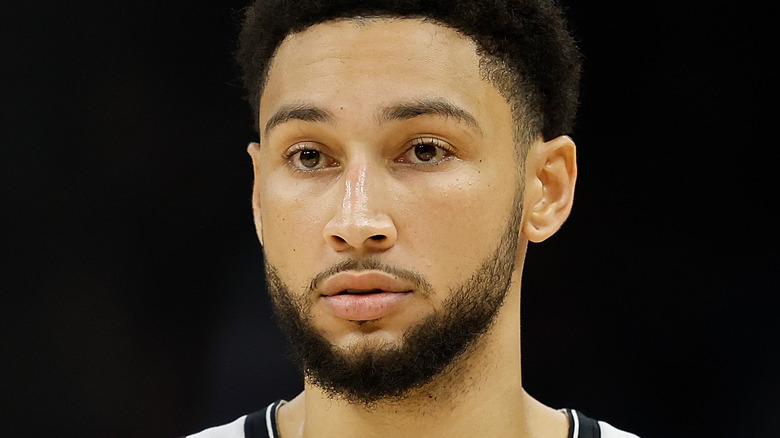 John Fisher/Getty Images
People always talk about having a strong work-life balance — and Ben Simmons' work and home lives seem equally tumultuous. The professional baller was first linked to British radio personality Maya Jama by The Sun in 2019, a few months after Simmons' split from Kendall Jenner. In January 2022, the Daily Mail spotted Jama sporting a massive diamond ring, and broke the couple's engagement.
Experts for the outlet estimated that the ring could be worth upwards of $500,000. While certainly impressive, the gem is well within budget for Simmons, who is set to be paid over $35 million from the Nets for 2022, according to Spotrac. Since the engagement, the duo has been captured sitting courtside by the Daily Mail, enjoying a reprieve from their typical long-distance arrangement.
Unfortunately, we can't help but hope the diamond has a return policy — as both Simmons' relationship and career have taken a turn for the worst.
Ben Simmons and Maya Jama have ended their engagement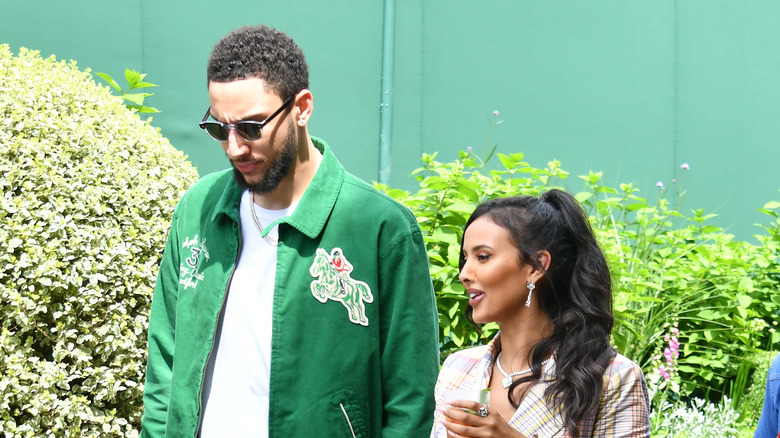 David M. Benett/Getty Images
Maya Jama's Instagram has been wiped clean of Ben Simmons, and her latest glamorous posts have been sans-ring. At the end of August 2022, the New York Post confirmed that the couple had officially called it quits, citing their packed schedules and the endless challenges that accompany long-distance relationships.
A source for the outlet went on to note, "While they both care for each other so much, they truly gave it their all and realize that they just come from two different worlds. They now understand they don't have the time they thought to dedicate to this relationship."
As Cosmopolitan noted, the couple was separated by an ocean throughout their relationship, with Jama living in London and Simmons playing for the Nets in New York. Unfortunately for Simmons, it isn't just Jama who has been having problems with his role on the team. The NBA franchise itself has been less than thrilled about his performance on the court.
Ben Simmons has been having a hard season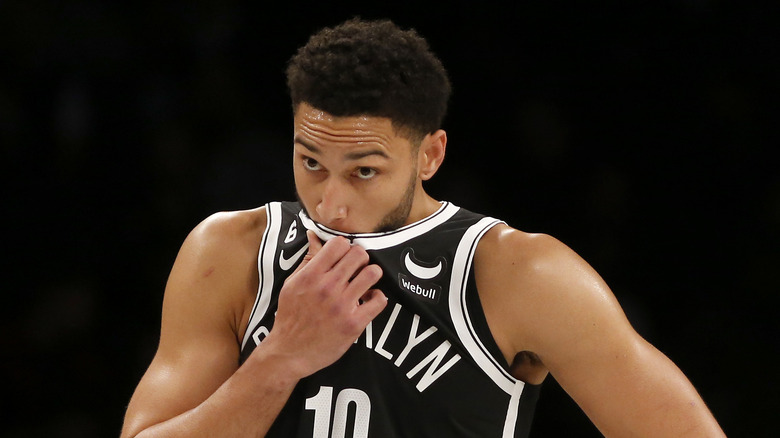 Jim Mcisaac/Getty Images
Ben Simmons' professional basketball career started out extremely promising: he was even compared to LeBron James. As Sporting News reports, he was drafted as the No. 1 pick in 2016 after just one year at LSU. He was picked up by the Philadelphia 76ers, and in 2019 signed a five-year, $170 million maximum contract according to ESPN. Unfortunately, after facing a foot injury and endless fines, he was traded to the New York Nets. 
The change of venue did not change Simmons' luck. The former Rookie of the Year has had limited availability and poor in-game performance with the Nets, some coaching staff and players "questioning his passion for the game," according to The Athletic. Simmons also spoke to the outlet, acknowledging concerns but also clarifying that his absences and poor performance have been the result of legitimate injuries. 
Between the end of his long-term relationship and ongoing career and health struggles, 2022 is not shaping up to be Ben Simmons' year. Hopefully things turn around for the star soon.