What Tiffany Trump's New Husband Michael Boulos Really Does For A Living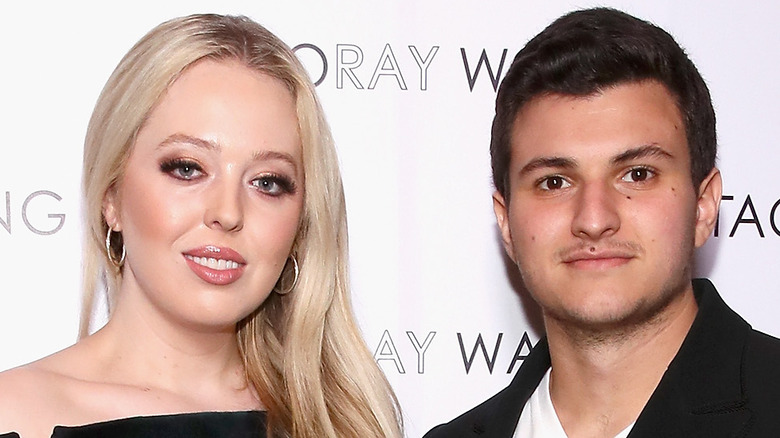 Astrid Stawiarz/Getty Images
On November 12, 2022, Tiffany Trump married Michael Boulos at the prestigious Mar-a-Lago. The wedding of the daughter of Donald Trump and Marla Maples brought together the whole Trump clan, and they put politics aside to enjoy the beautiful ceremony. "We are focused on this sacred union and welcoming beloved friends and family, not on politics," Maples told People on the big day while mentioning that the nuptials took place at "Tiffany's childhood home."
The pair started dating in 2018 after meeting while vacationing in Mykonos, per the Daily Mail. Boulos popped the question to Tiffany in 2021 at the White House while her father was still in office. She announced the engagement in a post to Instagram where she mentioned the "many milestones" the Trumps had enjoyed at the White House. At the time, Boulos proposed to Tiffany with a 13-carat emerald-cut ring worth a whopping $1.2 million. Although the ring was impressive enough for Tiffany to say "yes," she still decided to upgrade the ring by adding diamonds to it before the wedding. That extra bling increased the ring's value to approximately $1.5 million, per the Daily Mail.
Boulos, who comes from a wealthy Lebanese family, earned the approval of his in-laws. "[Maples] is so proud of her daughter and feels she chose the right man," a source told People on the day of the wedding. In addition to his familial wealth, Tiffany's husband has embarked on several business ventures.
Michael Boulos has several high-profile positions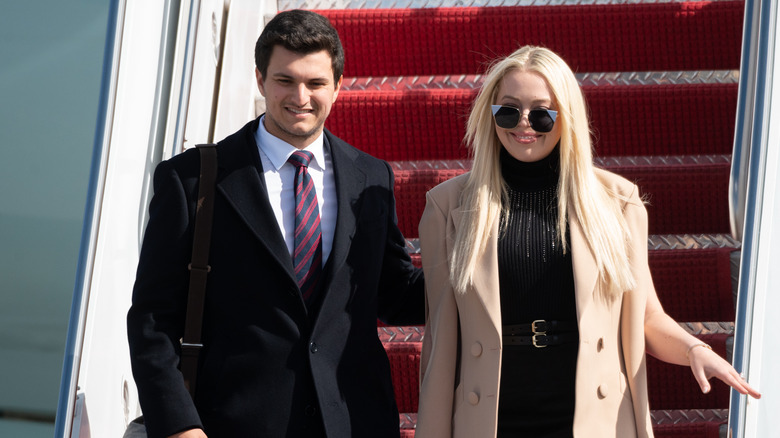 Noam Galai/Getty Images
Michael Boulos' family is worth billions, and he is positioned to inherit a great deal of wealth in the future — but he also works for multiple family companies. He was able to amass a personal fortune of approximately $20 million at a relatively young age, per Celebrity Net Worth. Tiffany Trump's husband works for and is heir to Boulos Enterprises, which "is a leading distribution and trading company for commercial motorcycle, power bikes, tricycle and outboard motors in Nigeria," according to Crunchbase. Boulos has not remained idle with the company, as he was part of a reported $532 million deal Boulos Enterprises made, per Celebrity Net Worth. That position only tells part of the story of his career.
In addition to his work with Boulos Enterprises, the businessman is associate director of another family business, SCOA Nigeria PLC, which has multiple companies in Western Africa, per SCMP. "SCOA Nigeria Plc is a conglomerate active in furniture production and interior design, automobile assembly and distribution, power generation, retailing and trade," per Bloomberg. His father, Massad Boulos, is the CEO of SCOA, but the family business roots do not end there, per Hollywood Life.
Trump's husband is also the director of Fadoul Group, an oil company from his mother, Sarah Fadoul's side of the family. When Fadoul married Massad, her father showed him the ropes, per the Daily Mail. Michael's courting period with Trump was similar to how his father met his mother.
What did Michael Boulos do when he met Tiffany Trump?
When Michael Boulos met Tiffany Trump, he was still a student. Boulos, who already had a bachelor's degree, was working on a degree in project management, finance, and risk, from City University London. Although he had not yet fully immersed himself in the workforce, Trump had faith in her husband-to-be. "They are both dedicated to their studies and are really supportive of each other's career aspirations," a source told Town & Country while they were dating. Of course, Boulos went on to acquire high-profile positions within multiple family businesses.
That was a similar career trek to his father, Massad Boulos, who married Michael's mother — Sarah Fadoul — while he was still a student. This led to Massad being welcomed into the Fadoul family business. In 2021, after the announcement of his son's engagement to Trump was made public, Massad gushed over the union. "This is just one chapter that they're starting now on a long journey of hopefully love and prosperity," he told the Daily Mail at the time.
The union was not only between the couple but also the Trump and Boulos families. Before they were even engaged, Donald Trump welcomed the Boulos family into the fold by inviting them to the White House to celebrate Christmas in 2019. Michael shared a photo of the two families on Instagram to commemorate the occasion. It appears both families saw a lot of potential in the Trump and Boulos union.