Who Was Actually At Tiffany Trump's Mar-A-Lago Wedding?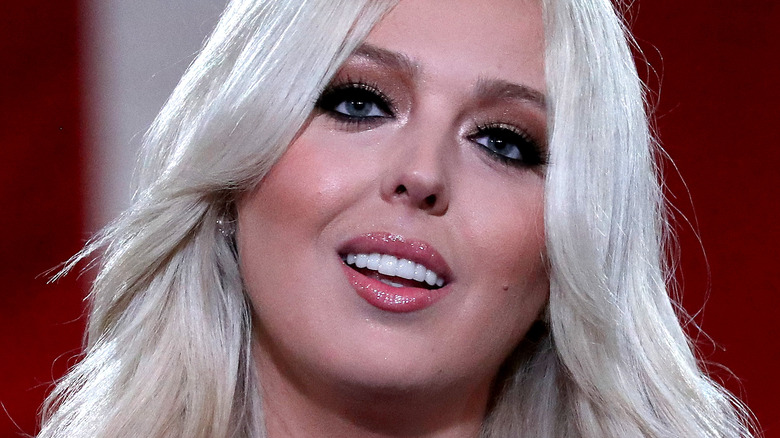 Chip Somodevilla/Getty Images
Just three days ahead of his 2024 presidential bid announcement, Donald Trump's focus was on a different bash taking place at Mar-a-Lago: daughter Tiffany Trump's wedding. The 29-year-old said "I do" to Michael Boulos, the son of a Lebanese billionaire, at the Palm Beach, Florida club just days after Tropical Storm Nicole threatened to ruin their nuptials. In the end, the weather cooperated and the ceremony and afterparty went ahead without a hitch.
Ahead of the wedding, a source told Page Six, "This is Tiffany's big moment, and it will be lavish," and they weren't lying. The young couple exchanged vows on Saturday, November 12, per People, with Tiffany wearing a gorgeous Elie Saab gown — a nod to her hubby's Lebanese heritage. As for the reception, there were plenty of over-the-top touches, including masked dancers, gigantic floral centerpieces, and an eight-tier cake, per Washingtonian. The gateau was actually a replica of the seven-foot cake her parents had at their wedding. As for why it all went down at Mar-a-Lago, Tiffany's mom, Marla Maples, told People it was a sentimental choice. "This was Tiffany's childhood home and where she was brought into the world," she explained. However, despite the extravagance, there was one aspect that wasn't all that outlandish — the guest list.
Tiffany Trump's wedding was a family affair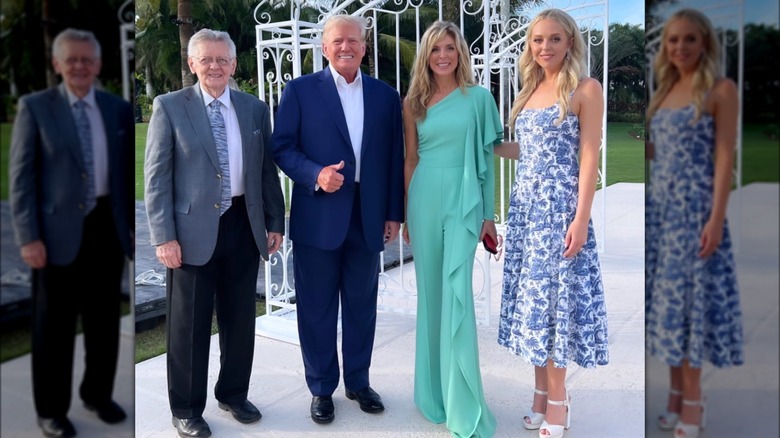 Instagram
Speaking with People following her daughter's nuptials, Marla Maples was adamant that Tiffany Trump's wedding was not about politics or drama, but rather, all about love. "This is a joyous family occasion," she told the mag, and indeed, the entire day was a huge family affair. For one, dad Donald Trump took center stage during his daughter's big day. Not only did the nuptials and reception take place at his beloved Mar-a-Lago, but the former president walked his daughter down the aisle and danced with her to The Beatles' "Here Comes the Sun" at the reception, per Page Six. He also gave a (surprisingly) sweet toast during which he addressed his son-in-law directly, saying, "Michael you better take care of her." He then praised Michael Boulos for his business acumen and drive and added, "You are just two spectacular people and this was a beautiful day." Tiffany's mom also offered some touching words, and underscored the fact that she and Tiffany's stepmom, Melania Trump (who was also present), have no beef between them. "I just want to thank your wonderful father, Donald, and the beautiful Melania and all the family for holding so close to Tiffany throughout the years," Maples said.
Also present were Barron Trump, as well as Ivanka, Eric, and Don Jr. with all of their partners, per Us Weekly. Their kids were there too and Tiffany made sure to include her nieces and nephews in the bridal party. Even Donald's sister, Elizabeth Trump Grau, whom we rarely hear from, was present.
Who else made the guest list?
Tiffany Trump's wedding may have been a lavish affair, but where it didn't make a splash was the guest list. According to one source who spoke with Page Six, "There were really no political people at all." As it turns out, there weren't many celebrities, either. Family friend Elvira Grau told the Mirror there were less than 300 guests in attendance explaining, "It's a smaller, handpicked crowd of just the closest family and friends." Noting that the bride wanted the day to be all about her and not her dad, she added, "Tiffany picked the people she wanted. She picked all the guests. It was all up to her." Said people included reality TV star and Kim Kardashian's BFF Jonathan Cheban, artist Alec Monopoly, Papi Steak co-owner David Einhorn, and billionaire casino mogul Steve Wynn. According to Guest of a Guest, Florida Rep. Matt Gaetz was also invited, as were model Daniela De Jesus Cosio, jewelry designer Samer Halimeh, and "a few of her New York socialite friends," including Karen Shiboleth and Peter Brant Jr.
Indeed, there was nothing extravagant about Tiffany's guest list, especially when compared to her sister Ivanka Trump's. When Ivanka said "I do" to Jared Kushner back in 2009, they had 500 guests, per New York Post, and many were A-list names, including Anna Wintour, Natalie Portman, Russell Crowe, and Barbara Walters.