How Todd And Julie Chrisley Really Met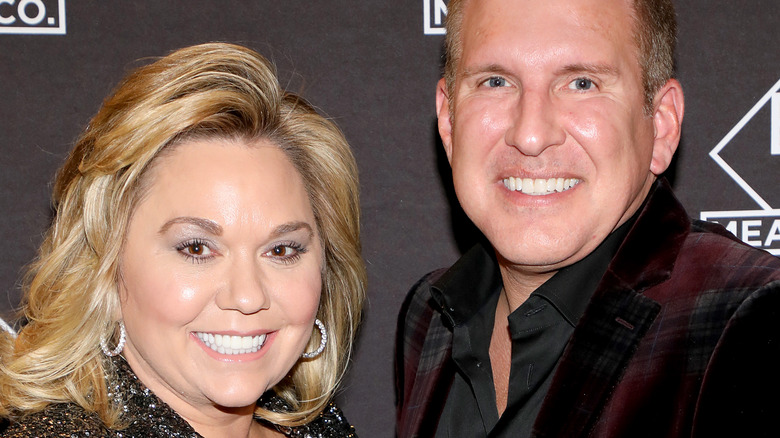 Danielle Del Valle/Getty Images
Todd Chrisley and his wife Julie Chrisley became television stars following the premiere of their show, "Chrisley Knows Best," in 2014. The reality series showcases the wacky adventures of Todd, a Nashville-based real estate broker, and his large family — namely Julie, children Savannah, Chase, and Grayson, granddaughter Chloe, and mother, "Nanny" Faye (per USA Network). 
However, the happy-go-lucky Southern family has since fallen into legal despair. In 2019, Todd and Julie were indicted on tax evasion and fraud charges, as prosecutors believed the couple had falsified several financial documents, according to TMZ. The situation worsened in June 2022 when Todd and Julie were found guilty of the charges. The two are each facing a maximum of 30 years in prison. The couple's attorney has since shared that they were "disappointed in the verdict," and plan to file an appeal.
The news may have come as a shock to some fans, who were familiar with seeing the loving duo on their television screens. While the couple has been an item for their entire public lives, their first meeting was much more subtle.
Todd first saw Julie when she was working as a bank teller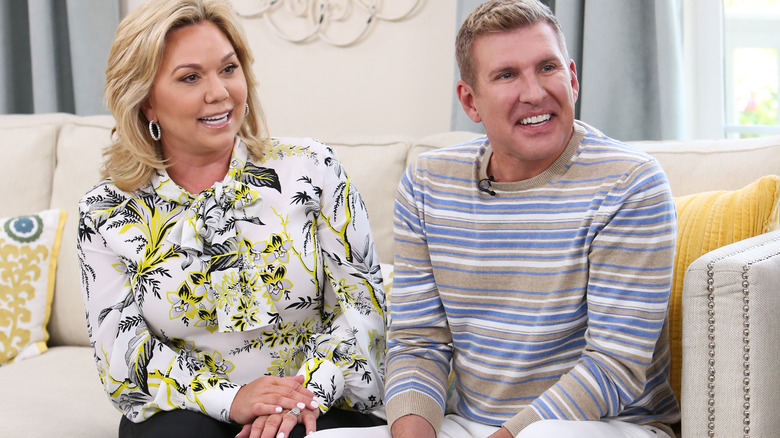 Paul Archuleta/Getty Images
Despite their ongoing legal battle, Todd and Julie Chrisley have insisted that their marriage is rock solid. In an August episode of the family's podcast, "Chrisley Confessions," Todd opened up about the continued strength of his bond with Julie. "In my perspective, it has drawn me closer to my wife," he exclaimed. "I feel like that my marriage, for me personally, internally, is the strongest that it's ever been."
Todd's declaration of love comes as no surprise as the two have been married for over 25 years, according to Us Weekly. On another episode of their podcast, Todd opened up about the first time he saw Julie. After playfully suggesting he was a "male escort," he shared the details of their chance encounter. "Julie worked at the bank that belonged to one of our friends, and I went in one day, and she was there," Todd revealed. "She was wearing a yellow dress and I thought, 'This is the most beautiful woman I have ever seen in my life.'" They were officially introduced at a friend's house a short time later. 
Todd Chrisley and Julie Chrisley were both divorcees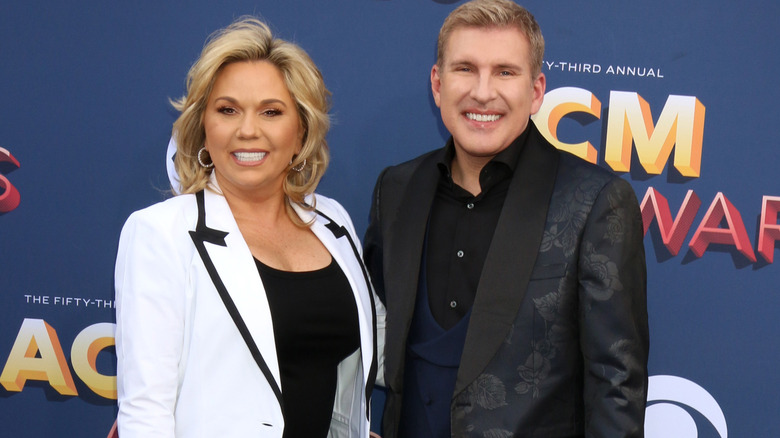 Kathy Hutchins/Shutterstock
Prior to finding each other, Todd Chrisley and Julie Chrisley each went through prior divorces. According to Todd's ex-wife, Teresa Terry, his first marriage was reportedly toxic. Terry — Todd's high school sweetheart and the mother of his older children, Lindsie and Kyle — previously told the Daily Mail that Todd was physically and mentally abusive. "He likes to control his environment. That is one part of the show that is no fiction and it drove me crazy," Terry claimed. Furthermore, Terry also claimed Todd threatened to kill her with a knife during a 1994 dispute. Todd has since denied every allegation made by his ex-wife.
Julie reportedly was married once before. According to Us Weekly, the former banker previously married a man named Kenneth Wayne Childress in 1991. Per the outlet, Julie was 18 at the time, while Childress was 24 years old. And while not much is known about Julie's first husband or their split, the publication reports that Childress passed away in 2012.