Inside Tiffany Trump's Relationship With Melania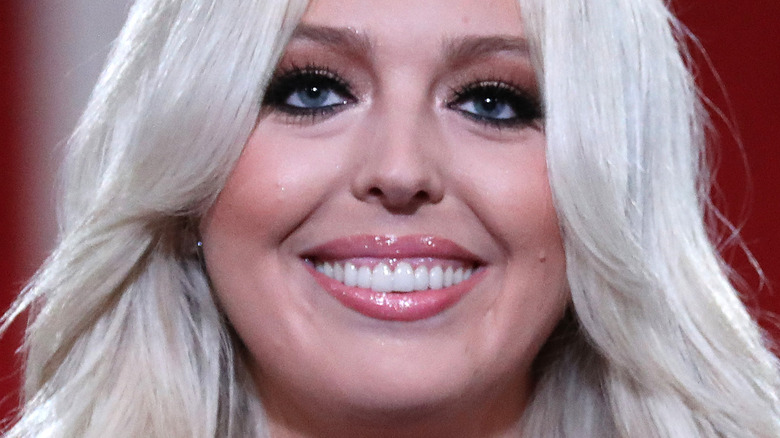 Chip Somodevilla/Getty Images
What is Tiffany Trump's relationship with her stepmom Melania Trump really like? Tiffany is former president Donald Trump's only child from his previous marriage to Marla Maples (he also welcomed Donald Trump Jr., Ivanka Trump, and Eric Trump with his first wife Ivana Trump, and Barron Trump with Melania) and has often been spotted with her famous family, particularly during her dad's time in office.
Tiffany was hand in hand with her family members back in 2017 when her dad took part in the traditional pardoning of the turkey for Thanksgiving, and even sort of matched her stepmom Melania when she joined her family again the following year for her dad's State of the Union, per Elite Daily. While Melania rocked a classy all-white look, Tiffany opted for a white blouse and black pants, which ensured the two (purposefully or otherwise) complimented one another's outfits for the big occasions. But would the two ever purposefully coordinate outfits? And just how close are they really?
Are Tiffany Trump and Melania Trump friends?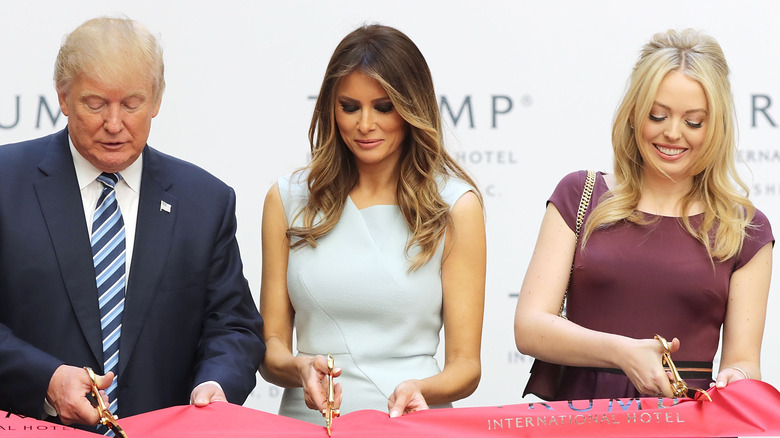 Chip Somodevilla/Getty Images
When Tiffany Trump said "I do" to Michael Boulos in November, her dad Donald Trump and stepmom Melania Trump were on hand to celebrate with her, but the latter's choice of outfit did raise a few eyebrows. Melania opted for a cream gown and tan belt, which, per Independent, some felt looked a little too similar to a wedding gown. But would Melania have worn a dress that looked bridal on purpose? That's a little questionable, though we do know that Tiffany hasn't exactly had the closest relationship with her dad and Melania over the years. Tiffany grew up in California with her mom, Marla Maples, and mainly saw her dad and his side of the family on special occasions. "I would bring her into New York a couple times a year and let her go see her dad in the office and let her go have dinner with him and Melania," Maples told People in 2016.
A source went on to dish on their relationship to People in 2018, claiming, "Tiffany and her father have sometimes gone for months without speaking and she went a very long time without seeing him. The last time she was at a family function with him, it was awkward for her and she didn't feel totally welcome." Another source also claimed things only grew more strained between Donald and Tiffany when he became president, which likely had a knock on effect on her relationship with Melania.
Tiffany Trump publicly shared her love for her stepmom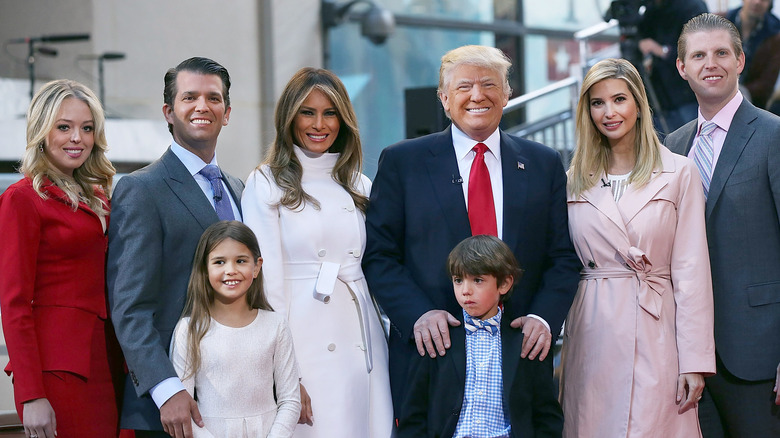 Spencer Platt/Getty Images
If there really has been any tension between Tiffany Trump and her stepmom, the two haven't exactly made it obvious. Though neither appear regularly on one another's social media accounts, back in 2018, Tiffany made her love for Melania pretty explicit when she celebrated her birthday with a sweet Instagram Story in celebration of the occasion. Tiffany shared a photo of herself and Melania, writing (via Daily Mail), "Happy Birthday @flotus Love you!" Though Tiffany regularly celebrates her dad's birthday with snaps on her Instagram grid (which sometimes include Melania) she doesn't seem to commemorate Melania's big day every year with anything quite so permanent, while her Mother's Day posts are also reserved for Marla Maples.
Tiffany and Melania do seem on good terms during their public appearances, though. A body language expert told Elite Daily in 2018 after Tifanny joined her dad, stepmom, and family for Easter mass, "Tiffany and Melania seem to know and like each other; they're glad that the other one's there." That certainly fits with what Melania said when she previously offered an insight into her relationship with her husband's children from his previous marriages, telling Harper's Bazaar in 2016, "They are grown-up. I don't see myself as their mother. I am their friend, and I'm here when they need me."