Why Tiffany Trump Spent Most Of Her Childhood Apart From Her Dad Donald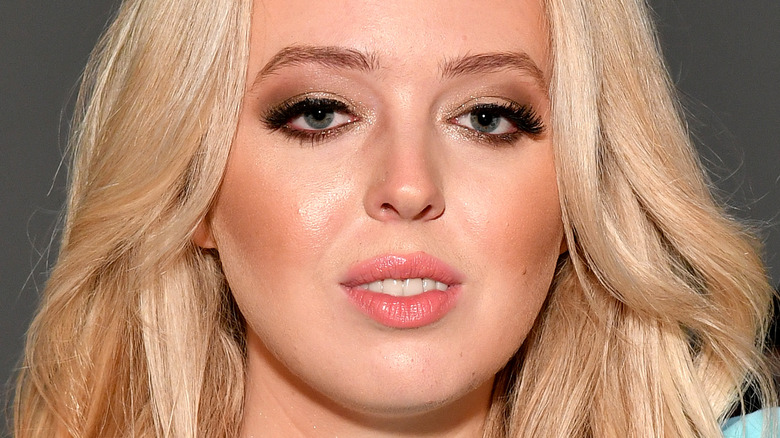 Dia Dipasupil/Getty Images
On November 12, 2022, former president Donald Trump walked his youngest daughter Tiffany Trump down the aisle minutes before she said "I do" to her longtime boyfriend Michael Boulos. Per Page Six, Donald later joined Tiffany on the dance floor for the traditional father-daughter dance. According to the outlet, the "Celebrity Apprentice" alum also gave a toast, honoring his daughter's love for Boulos. "Michael, you better take care of her," he said. "No doubt, you are a special person, and you are way beyond your years. I have seen him dealing with very big people ... You are just two spectacular people, and this was a beautiful day."
Donald, a father of five, appears to have a soft spot for his kids, including Tiffany. "Tiffany is a tremendous young woman with a big and beautiful heart," Donald once told The New York Times via email. "She was always a great student and a very popular person, no matter where she went. I am incredibly proud of Tiffany and how well she has done." Given how highly Donald thinks of his daughter, it is no surprise that Tiffany has also, without fail, supported her father's political ambitions in her own little ways.
But while these two seemingly have a great relationship now, what many might not know is that, once upon a time, Donald was not a part of his daughter's life.
Tiffany's parents divorced when she was just a child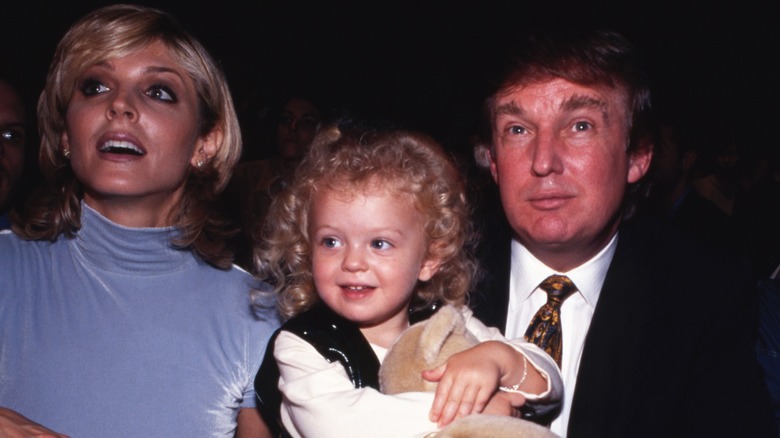 Catherine Mcgann/Getty Images
In October 1993, Donald Trump and Marla Maples welcomed their daughter Tiffany Trump. Two months later, the couple got married in a lavish star-studded ceremony, as reported by The New York Times. However, like his first marriage to Ivana Trump, Donald's love story with Maples was not meant to be. In 1999, the pair divorced. "He and I were so different," Maples once said of their divorce.
Following the divorce, Maples took a step back from the spotlight, relocating to California, where she more or less raised little Tiffany as a single parent. "Her daddy is a good provider with education and such, but as far as time, it was just me," Maples told People in 2016. "Her father wasn't able to be there with day-to-day skills as a parent. Although Donald was not physically there for Tiffany, Maples never doubted his love for her. "Her daddy loves her, of course, but ... I was the parent. I was the parent that was there in the flesh [and] with her all the time," she said per Us Weekly.
Nevertheless, Maples championed a father-daughter relationship between the two, often taking Tiffany to see Donald on the East Coast. "I would bring her into New York a couple of times a year and let her go see her dad in the office and let her go have dinner with him and [Donald's wife] Melania," the former actress told People. 
Tiffany and Donald had a strained relationship
Despite Marla Maples' attempt at getting them to share a typical father-daughter bond, Tiffany Trump and Donald Trump were never really able to get past the years-long distance that lingered between them. Thus, a certain awkwardness has existed between these two for many years. During Donald's 2016 election campaign, Tiffany famously dodged a kiss from her father, who leaned in for a peck on the cheek, according to Us Weekly. A few weeks later, things got even weirder after Donald cryptically implied he wasn't as proud of Tiffany as his older kids. "I'm very proud of my children. I mean, I'm just looking at them right now, as an example for your show," he said, per the Daily Mail. "But I'm very proud because Don and Eric and Ivanka and — you know, to a lesser extent 'cause she just got out of school, out of college — but, uh, Tiffany, who has also been so terrific."
But if things were awkward before Tiffany and Donald before, it became even worse after he was elected President of the United States. "They always had a strained relationship her whole life, and it got exacerbated by the presidency," a source confirmed to People in 2018. "It's gotten much worse now."
Though it remains uncertain how these two get along these days, if Tiffany's wedding is anything to go by, this father-daughter duo has definitely found their groove.