Jay Leno And David Letterman's Rocky Relationship Explained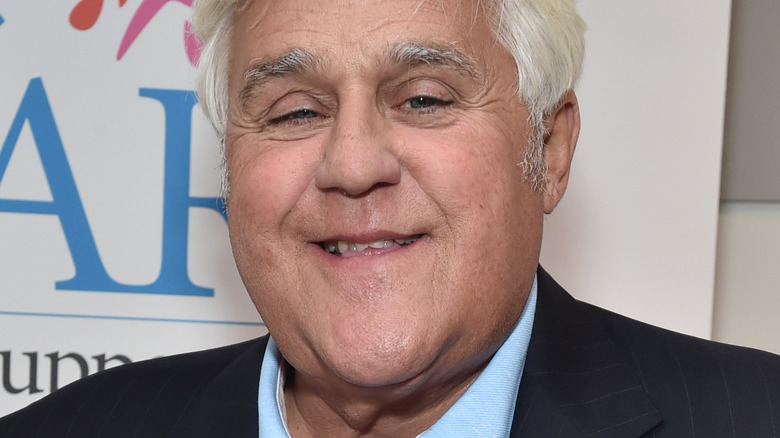 Alberto E. Rodriguez/Getty Images
Late-night talk shows may be filled with cheeky antics and political jokes, but the feud between Jay Leno and David Letterman was no laughing matter. Leno previously hosted NBC's "The Tonight Show with Jay Leno," from 1992 until 2014. Meanwhile, Letterman manned CBS's "Late Show with David Letterman," which premiered a year after Leno's late-night venture. However, despite their likenesses, the two hosts often through shade at one another.
Following the announcement of Leno's retirement in 2013, Letterman took a jab at his colleague — who had previously returned to his post on "The Tonight Show" after stepping away to host the failed "Jay Leno Show." "It seems like we just went through this. Didn't we just go through this? Jay Leno now is being replaced, and this is the second time this has happened," Letterman quipped during his monologue (via E! News). "I mean, it's crazy. He's being replaced by a younger late-night talk show host — what could possibly go wrong?"
And while Letterman's snarky comments about his colleague appeared to be made in jest, the two did in fact have a rocky relationship — which started when Leno joined NBC.
David Letterman lost The Tonight Show gig to Jay Leno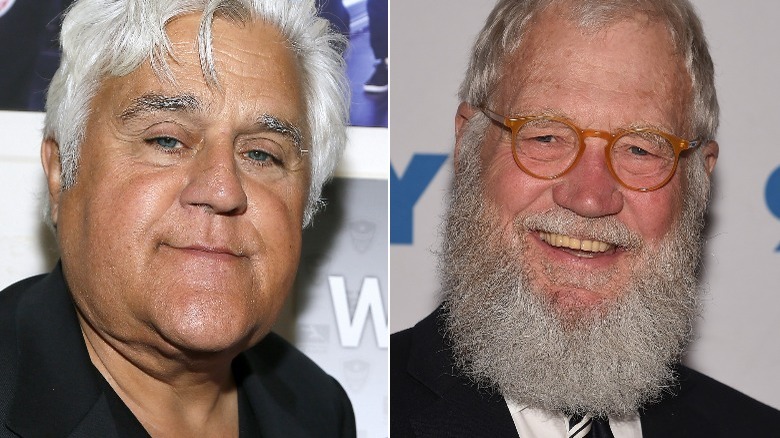 Paul Morigi & Dimitrios Kambouris/Getty
Jay Leno had a triumphant run as the host of "The Tonight Show," but his appointment came with a bit of controversy. When Leno was named as Johnny Carson's replacement, it caused an uproar — as many expected Letterman to take over for Carson upon his retirement. Letterman's show, "Late Night with David Letterman," aired immediately after Carson's NBC program – making him a shoo-in for Carson's coveted timeslot. The job was ultimately given to Leno, marking the beginning of the late-night feud.
The messy debacle between the former talk show hosts was explored in CNN's "The Story of Late Night." During the docuseries, former "Tonight Show with Jay Leno" monologue writer Jimmy Brogan revealed that Leno had signed "a secret deal" that secured his spot as Carson's replacement (via People). Leno previously stated he'd "obviously leave NBC immediately" if Letterman was afforded the spot (via The New York Times). 
Brogan admitted, "It was part of [Leno's] re-upping as the guest host and that was set." Furthermore, former Vice President of NBC Rick Ludwin suggested that Letterman had become difficult to work with. "Dealing with Dave had become bothersome and draining, and he could be unnecessarily rude to network people — not just me," Ludwin claimed. And while Letterman's career never stalled, as he left NBC for CBS, the debacle caused a decades-long rift between the two famed broadcasters.
Jay Leno and David Letterman appear to have gotten over their feud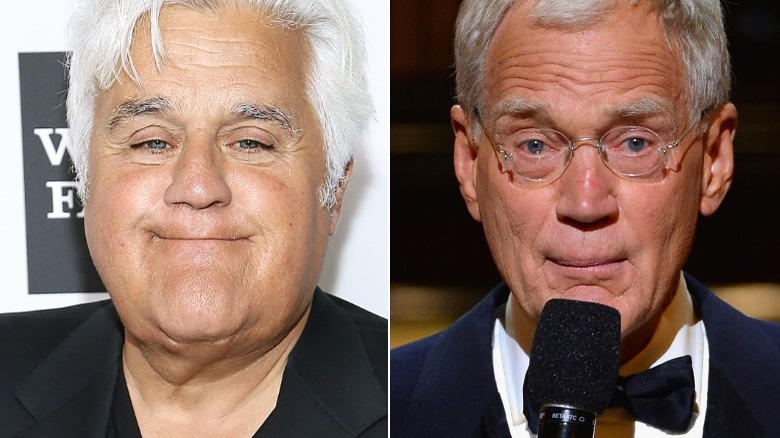 Paul Morigi/Getty Images & Theo Wargo/Getty
Jay Leno and David Letterman have both retired from late-night television and are seemingly over their spat. When Letterman was honored with the Mark Twain Prize for American Humor in 2017, Leno wrote a touching open letter to his former competitor. "The idea that there was a huge rift between me and Dave — yeah, of course there was," Leno wrote, per The Hollywood Reporter. "And our shows were very competitive. Whether it's two sports teams, or two boxers, you can trash talk each other, but it doesn't mean you don't respect each other." Leno went on to suggest that even when the two were taking jabs at one another, "it was funny, and that's all that matters."
Similarly, Letterman has accepted his part in the late-night debacle. "I kept thinking that somebody would ask me to host the 'Tonight Show.' I thought that's how it would work," Letterman told Deadline. He goes on to admit that he never expressed interest in taking over for Carson, as he simply assumed he would be given the role. "I was embarrassed by it ... It was simply that a larger number of people liked watching Jay Leno more than they liked watching me."