Why Jennifer Anison And Brad Pitt Never Starred In A Movie Together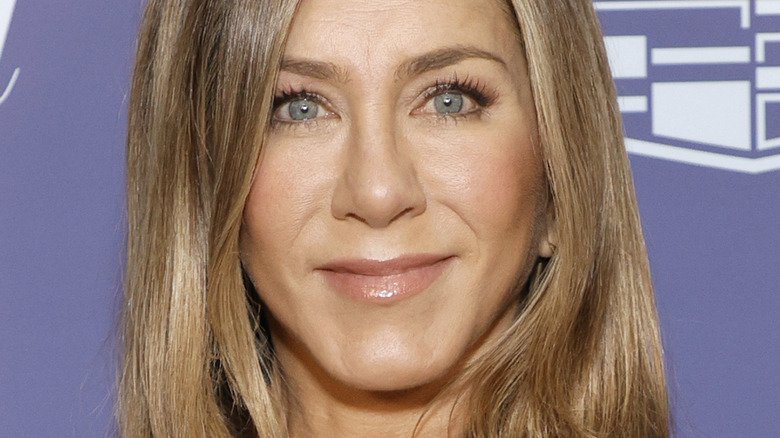 Amy Sussman/Getty Images
Jennifer Aniston and Brad Pitt were one of Hollywood's most talked about couples in the early 2000s. The actors first met in 1994, but maintained a platonic relationship at the time. However, following splits from Tate Donovan and Gwyneth Paltrow, respectively, Aniston and Pitt began their romantic relationship. The couple officially tied the knot in July 2000 during their star-studded California wedding ceremony. But after five years of marriage, the pair announced their split.
"We would like to announce that after seven years together we have decided to formally separate," the former couple wrote in a statement to People. "For those who follow these sorts of things, we would like to explain that our separation is not the result of any of the speculation reported by the tabloid media. This decision is the result of much thoughtful consideration. "
Following their separation, Aniston and Pitt's careers continued to flourish. Aniston has been nominated for a slew of Golden Globes, while Pitt went on to win his first Academy Award in 2020. There's no doubt the two are talented actors, but even during their time as a couple, Aniston and Pitt never worked on a film together for this particular reason.
Jennifer Aniston thought acting with Brad Pitt would be distracting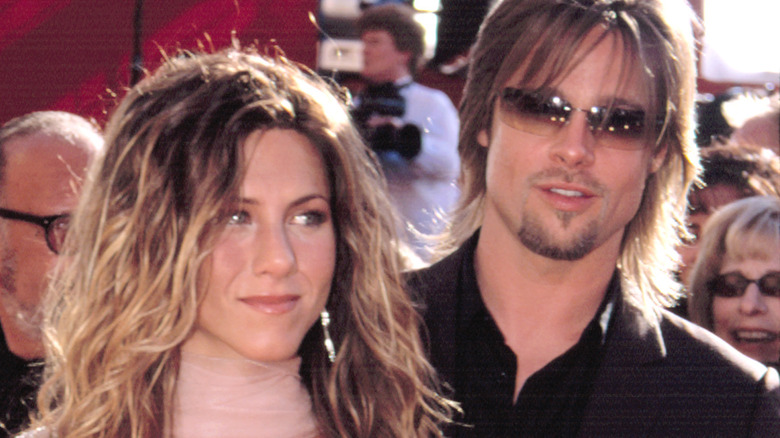 Everett Collection/Shutterstock
Immediately following his separation from Jennifer Aniston, Brad Pitt began dating his "Mr. & Mrs. Smith" co-star, Angelina Jolie. The film went on to be a huge success, grossing more than $186 million domestically and more than $300 million worldwide, according to Box Office Mojo. The film's success was arguably due to the tabloid hoopla surrounding the actor's personal lives, leaving some to question why Aniston and Pitt never starred in a film together during their relationship.
In 2004, Aniston spoke out about the potential of acting with her then-husband and suggested that it would simply be too distracting. "That would be just asking for trouble," Aniston told the BBC. "You wouldn't even see the movie, because it would be too much of a show in another way. Maybe years down the line, if the right thing came along, of course, we'd love to. Ocean's Twenty, maybe." Despite Aniston's hesitation to act alongside the "Bullet Train" star in a film, the two previously shared a spot on the small screen. In 2001, Pitt guest starred on an episode of "Friends."
Jennifer Aniston and Brad Pitt have rekindled their friendship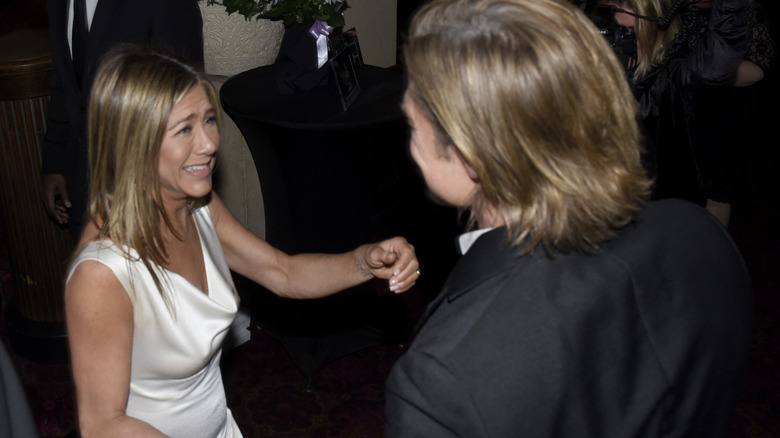 Vivien Killilea/Getty Images
Jennifer Aniston and Brad Pitt's separation was fueled by rumors that Pitt had begun a secret affair with his on-screen lover, Angelina Jolie. And while Pitt has never explicitly confirmed whether he began his relationship with the "Salt" actor before parting from Aniston, he has suggested that his marriage was less than thrilling. "It became very clear to me that I was intent on trying to find a movie about an interesting life, but I wasn't living an interesting life myself," Pitt told Parade (via The Washington Post). "I think that my marriage [to actress Jennifer Aniston] had something to do with it." However, Pitt's marriage to Jolie also fell into despair, and the couple announced their separation in 2016.
Similarly, Aniston's marriage to Justin Theroux ended in 2018. That same year, Pitt attended the "Friends" star's 50th birthday celebration, officially sparking reconciliation rumors. Since then, the duo has been spotted at the SAG Awards and even performed a "Fast Times at Ridgemont High" table read. Furthermore, Aniston revealed that the two are "friends." "Brad and I are buddies, we're friends," Aniston said during a stop at SiriusXM's "The Howard Stern Show," (via People). "And we speak, and there's no oddness at all, except for everyone that probably watched it and was wanting there to be, or assumed there to be."