Why Melania Trump Never Had Another Child After Barron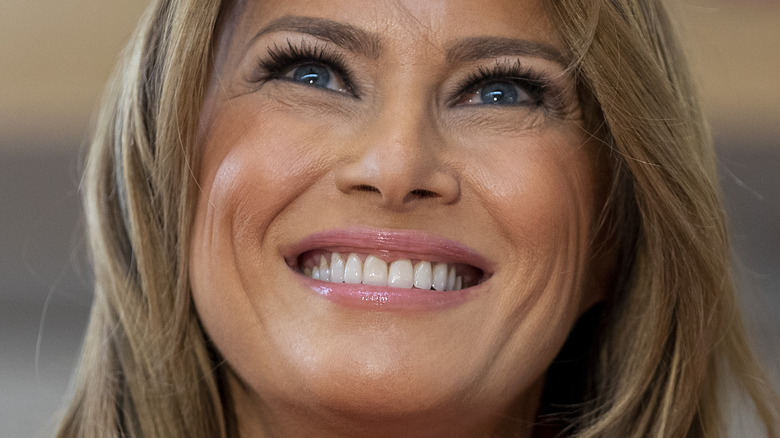 Tasos Katopodis/Getty Images
When Melania Knauss met Donald Trump at a Manhattan nightclub in 1998, she was a single 28-year-old from Slovenia who'd been trying her luck in the U.S. as a model, according to The New York Times. She'd never been married or had any children, unlike the real estate mogul she was about to start dating. In fact, Trump was married to Marla Maples when he entered into a relationship with Melania, though they had separated the previous years and divorced in 1999, The New York Times reported in 2002.
By then, Trump had four children — three with his first wife, Ivana, and one with Maples. Having more children was unlikely at the top of the 52-year-old businessman's priority list. But his relationship with the much-younger Melania continued to evolve, and the two tied the knot in January 2005, People reported. At the time, Melania knew she wanted to be a mother. "We want to have a family, yes," she told People on her wedding day.
On March 20, 2006, the 35-year-old gave birth to her first and Trump's fifth child, Barron, according to People. Melania was ecstatic about her new role. "Motherhood is amazing — there's really nothing like it," she told People a year later. In a 2006 interview with The Palm Beach Post, Melania indicated that becoming a mother was something she had been eager to experience. "It's just amazing. A great, great experience," Melania gushed. But despite Melania's feelings, she and Trump had good reasons to stop at Barron. 
Melania Trump became too busy for another baby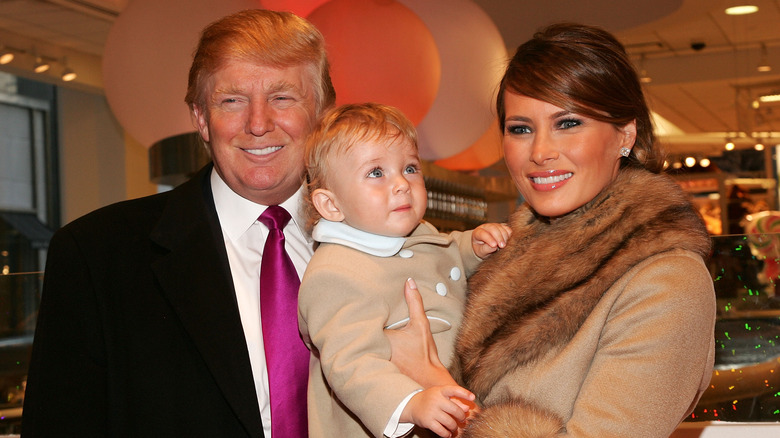 Bryan Bedder/Getty Images
Melania Trump would have liked to give Barron a little brother or sister, but the circumstances of her married life to Donald Trump made her goal hard to accomplish. "I don't like to say never, but my life is very busy," she told ABC News in 2013. Plus, she didn't just have her young son to take care of then. "We are happy and my hands are full with my two boys — my big boy and my little boy!" she said, referring to her husband. Time went by and Barron continued to retain his status as the youngest Trump child.
By April 2016, Donald shut down any and all questions surrounding his and Melania's family goals. "We're not really thinking about having more kids," the then-presidential candidate told CNN's Anderson Cooper (via People). Event then, people weren't convinced. A year later, after the Trumps moved into the White House, the rumor mill went crazy when Melania was photographed in an outfit that some thought appeared to give her a bump, Closer Weekly noted. 
That wasn't the only time. In 2020, when Melania was already 50, she inspired pregnancy rumors once more. And again the rumors arose thanks to an outfit, the International Business Times reported. But the rumors proved wrong time and time again, as Barron remains Melania's only child. As such, Melania ensured she gave him her undivided attention, even if it meant letting Donald move to Washington, D.C. alone.
Melania Trump opted to be a hands-on mother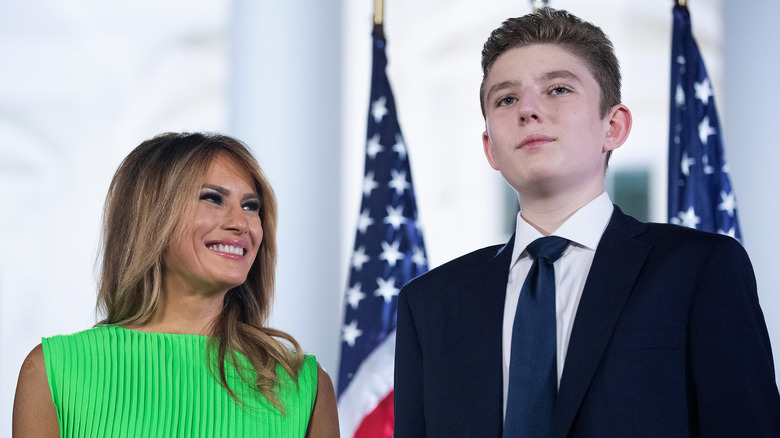 Chip Somodevilla/Getty Images
Melania Trump is a hands-on mother. She and Donald Trump even boasted about having raised Barron with no nannies. "If you have too much help, you don't get to know your children," Donald told People in 2015. For her part, Melania wished to give her son a sense of normalcy. "He needs somebody as a parent there, so I am with him all the time. As you know my husband is traveling all the time," she told the outlet.
Despite their claims, Melania previously admitted to having a nanny, though she kept her influence to a minimum. "The baby knows who the mother is. They can feel it. It's important to spend as much time with the baby as possible," she told The Palm Beach Post, while noting the importance of having help. "In one way, we still need to have a life." Regardless of how much help she hired, Melania showed she always made Barron her priority. 
When her husband moved to Washington to begin his presidential term in January 2017, Melania stayed behind in New York so Barron could finish school and make the transition smoother. "The campaign has been difficult for Barron, and she is really hoping to keep disruption to a minimum," a source told the New York Post in November 2016. She and Barron joined Donald the following June. "Looking forward to the memories we'll make in our new home!" she tweeted (via The New York Times).